Ardern speaks about Whakaari fatal eruption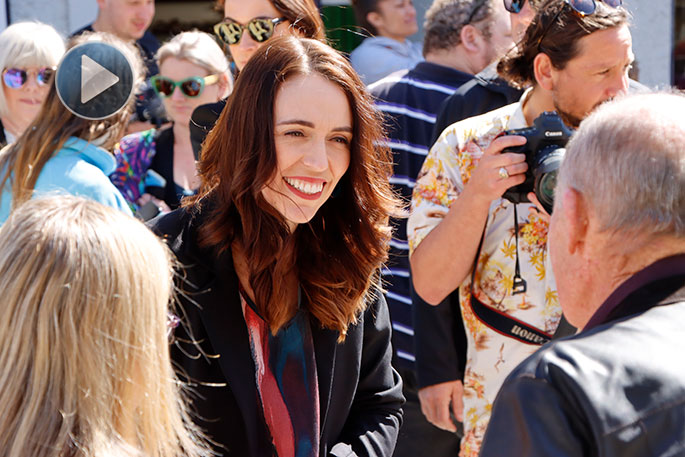 Labour leader Jacinda Ardern talks about the events of Whakaari still being very raw and also addresses her party's tax policy that was announced earlier.
Ardern today had a cup of tea with first responders at Whakatāne Library and Exhibition Centre.
She says the events of Whakaari are still very raw and they've had to deal with the double whammy of COVID-19 as well.
Ardern says they need to let the WorkSafe and Coroner inquiries take their course.
"We will get the answers that we need and what the community wants and needs as well."
The tragedies of the past few years are "part of all of us" now, she says.
Also today, the Labour Party has released its tax policy and is promising to increase tax on the country's highest 2 percent of earners and close loopholes so multi-nationals pay their fair share of tax.
The new top rate of 39 percent on earnings over $180,000 is the sole change.
Tax rates for companies and trusts would not change.
The policy is forecast to generate $550 million of revenue a year.
Labour's finance spokesperson Grant Robertson says the policy's about maintaining investment in crucial services, while keeping tax rates exactly the same as they are now for the vast majority of New Zealanders.
He says there'd be no other new taxes, or increases under a Labour government.
Ardern says the tax policy released provides certainty.
"This is the totality of our tax policy," she says.
"It's about choosing an option that's best for New Zealand in this time."
Ardern says the tax policy will only affect few New Zealanders while ensuring the government can fund high quality health and education.
"This is a really difficult time in New Zealand's history and we've chosen an option that we feel balances people's need for certainty right now."
On COVID-19, Ardern says any countries contact tracing process come up against issues from time to time.
-RNZ
More on SunLive...