Funing still on track to Singapore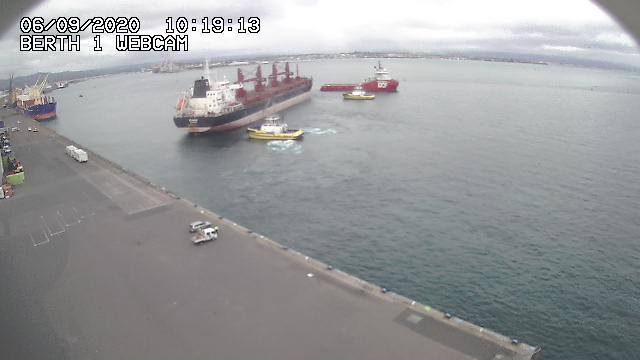 People watching bulk carrier Funing depart from New Zealand waters can rest assured it is not returning to port.
A caller to the 0800 SUNLIVE news hotline says he has been tracking the vessel since it left the Port of Tauranga on Sunday.
He says it was heading north early this morning and was positioned at the top of the North Island.
Just before lunch, the caller observed the vessel change course and begin to head south. He was concerned that something may have happened to the bulk carrier, forcing to it return to port.
Martime New Zealand says this is not the case.
"In order to stabilise the tow of the MV Funing the captain of the tug Skandi Emerald, which is towing the vessel, made the decision to move closer towards the coast into smoother water whilst the crew on the Funing work to ballast the ship down further.
"This has necessitated a reversal of course whilst the ship is held into the wind and seas for this process."
Martime NZ says the vessels are currently in international waters and are not returning to port.
"The tug master is working to ensure that the Funing is well under control before heading out into the open ocean and has been keeping Maritime New Zealand updated throughout the day.
"There are no reported issues with the tow wire itself.
"Once the tug master is satisfied with the setup on the Funing they will resume passage towards Singapore, a trip that is expected to take around 40 days."
Funing has made headlines in recent weeks after it became stranded in the Tauranga Harbour entrance on July 6.
The 40,000 DWT bulk carrier was departing New Zealand bound for China with a load of timber when it lost engine power at approximately 12.30am while in the main shipping channel.
There was a pilot aboard at the time but Maritime New Zealand reported that the weather conditions were considered poor with a 30 knot wind and significant swell.
After losing power the Funing was unable to steer and began drifting due to the high winds and tides in the area.
The vessel snagged the chains holding one of the buoys marking the shipping channel.
The tides and currents then pushed the Funing across the channel before the ship was able to anchor and hold position.
It was towed back into port, where it underwent repairs before its departure back to Singapore on Sunday.
More on SunLive...