Welcome Bay Lions donate pyjamas to sick children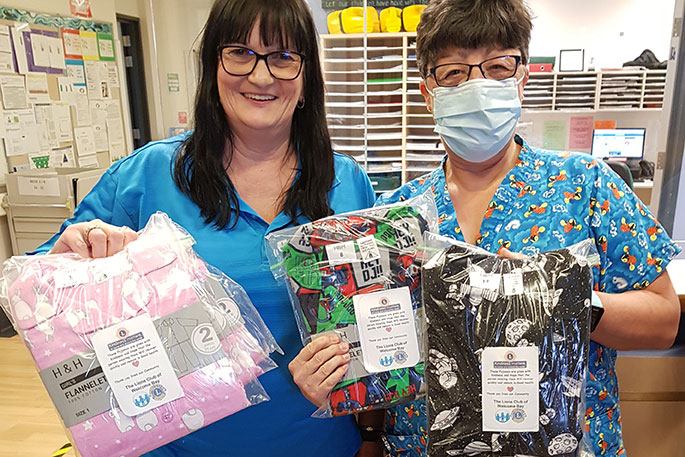 Bringing comfort to children and families in need is one of the main drivers behind the Welcome Bay Lions annual donation of pyjamas to Tauranga Hospital's Children's Ward.
Members of the Lions have handed over three boxes full of new pyjamas, in various sizes, to Children's Ward staff, including Registered Nurse Karyn Sanson.
"We want to thank the Welcome Bay Lions for their hard work in raising the funds and their generosity in using them to purchase pyjamas for our children on the ward," says Karyn.
"It's a wonderful project loved by the kids and the parents alike. As staff we love it as well, as it's great to be able to give these to the families when they come in.
"Families might be upset or stressed when they arrive, they might not have spare clothes with them, so it's just one small thing we can do that makes a difference. And it does make a difference. So thank you to the Lions again."
Welcome Bay Lions Past President Suez Reid says the pyjamas were purchased with funds raised through numerous activities such as a Christmas Raffle, a monthly coffee morning, and sales of firewood, kindling, plants and jams.
"It all goes back into the community of Tauranga," says Suez.
"We started the pyjama donations last year, so this is our second delivery. We understand there can be a lot of kids who arrive at hospital without good nightwear.
"But also when they go home they still might not be 100 per cent so some good clothes like this to take with them just helps keep them warm and aids their recovery. So we're making a difference to them at home and not just in the hospital.
"Thank you to everyone who supports Welcome Bay Lions."
More on SunLive...