Spawning a mushroom business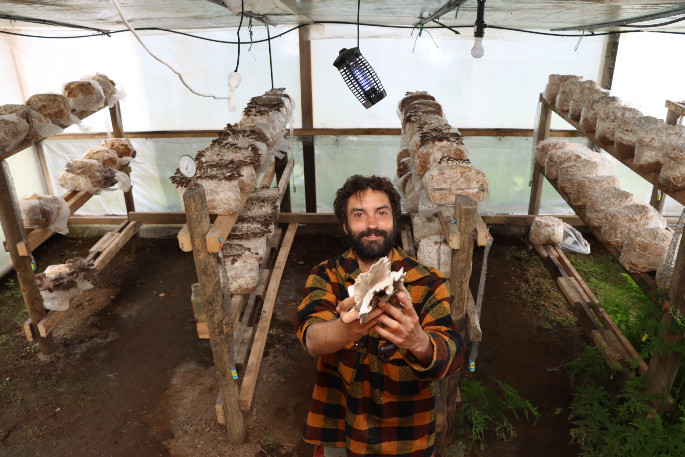 On the brink of lockdown, Whakamarama's Billy 'Mushroom' Roy launched Marama's Mushrooms, a business that sells grow-your-own oyster mushroom blocks online.
The timing sounds less than ideal, but it worked in Billy's favour thanks to people's interest in growing their own food during COVID-19's peak in New Zealand.
"We sold 300 mushroom blocks in the first month," says Billy.
"Selling blocks wasn't the original plan, but it was a more viable option than selling already grown mushrooms during lockdown. It was also much safer – the process means the bag's contents is sanitary, and untouched."
Growing mushrooms at his home in Whakamarama started as a hobby.
Becoming a full-time mushroom grower is worlds away from Billy's career in the film industry, where he worked as a prop creator.
It took a major toll on his health.
"Working in film is just go, go, go. I became chronically fatigued and developed heavy metal poisoning due to ongoing exposure to the petrochemical materials we used to make props, like polystyrene and expanding foam.
"It really hammered me. But, you can look at these things as curses, or blessings.
"For me, getting sick has been a great awareness raiser. I learned that coming back to Whakamarama to do something that feeds people and contributes to a harmonious existence is the best thing for me."
A mushroom block starts as a 5kg plastic bag full of raw materials like grain. In the right conditions, the block will produce edible oyster mushrooms in about 19 days.
Following an inoculation process, the 5kg bags are sealed and taken to an incubation room, which is kept warm enough to encourage spawn growth using a heat pump.
Once a bag is fully colonised, it's ready to sell. All customers have to do is cut a square into the bag, keep it in a sheltered area, and watch their organic mushrooms grow.
"You get a good first flush of mushrooms, and any further flushes are a bonus.
"But, if you put the block in a garden of straw or woodchips, the mycelium (the thread-like vegetative part of the fungus) can spread, extending your yield of mushrooms."
Billy strives to make Marama's Mushrooms as close to zero waste as possible.
"I'm trialling clay pots with lids as an alternative to plastic bags for growing the mushrooms in.
"So far the pots have worked well. They're more labour intensive, but if mushrooms can grow in them I'll happily make the switch and set up a container swap system.
"I'd rather put in more work now then create more mess for future generations to clean up."
Catch Marama's Mushrooms at the Tauranga Farmers Market, or order online: www.maramasmushrooms.nz
More on SunLive...