Opening up the Lions demographic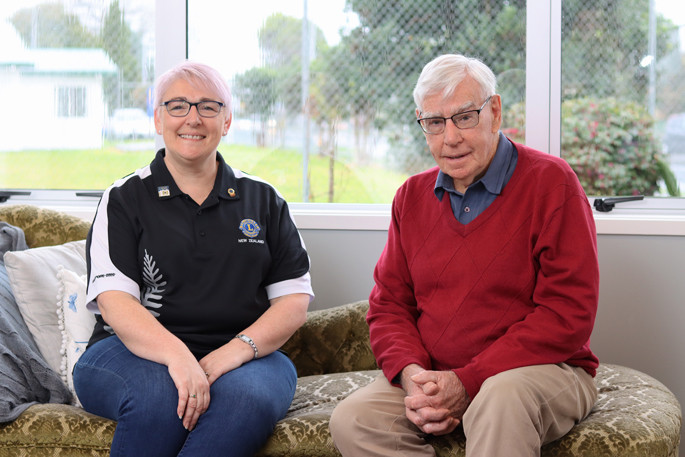 A Bay of Plenty Lions Club leader is eager to move away from the 'male, pale and stale' stereotype.
Margaret Gill, district governor for the Bay of Plenty, Waikato and King Country areas, says she's striving to make the clubs more inclusive to all ages and genders.
"We are slowly trying to change our demographic. Although in saying that, I don't care if new enthusiasm comes with grey hair or not.
"I really want to expand the inclusivity –– we are trying to move away from the pale, male and stale look.
"I want people to see Lions as an opportunity to serve the community but also an opportunity to develop that sense of connection and belonging."
Margaret follows in the footsteps of her father Colin Gill.
He has been a Lion for more than 40 years and was district governor for the same area in 1986 and 1987.
The pair agree that there's nothing better than mucking in, helping the local community and connecting with like-minded people as a Lion.
"You go to a Lions club and you find that all the members have a social conscience - they want to help people and the community," says Colin.
He initially joined the Paengaroa Lions Club when he was farming in Te Puke.
"I was farming 600 acres and I was so lonely."
During his time as district governor, he led a Lions initiative raising funds to support victims of the Edgecumbe Earthquake.
A committee distributed about $54,000 to affected community members and also put in $54,000 towards the Edgecumbe Community Centre.
"It was a heck of a busy year, but it was so rewarding.
"There was a guy whose cowshed was shattered, whose life was shattered – we gave him $1250 to take his wife and three kids away on a week's holiday. And he told us we saved his life."
A philosophy that has stuck with Colin during his time as a Lion is that people matter most.
Margaret is driven by the same philosophy, but says her responsibilities as district governor look at little different today.
"It's about being a cheerleader for the clubs - travelling around the district and doing different club visits," Margaret says.
"A lot of challenges our clubs are having this year are around regulatory compliance and health and safety regulations – it can become really overwhelming.
"Thirty years ago it was easy for a Lions Club to demolish a house, or build a playground. They would just muck in and do it. Now we are very tied down as to what we can and can't do."
She spends about 30 hours a week putting in the work for Lions NZ, alongside her full-time job.
"It is worth it. I want to empower and encourage our club members to try new things and to help clubs find ways to remain relevant."
Margaret hopes local clubs will see an increase in membership this year, as this will help sustain their existence.
"I want to help make sure our clubs continue to exist. Clubs and societies don't just happen, they take work."
More on SunLive...