'Handy Wheels' ready to roll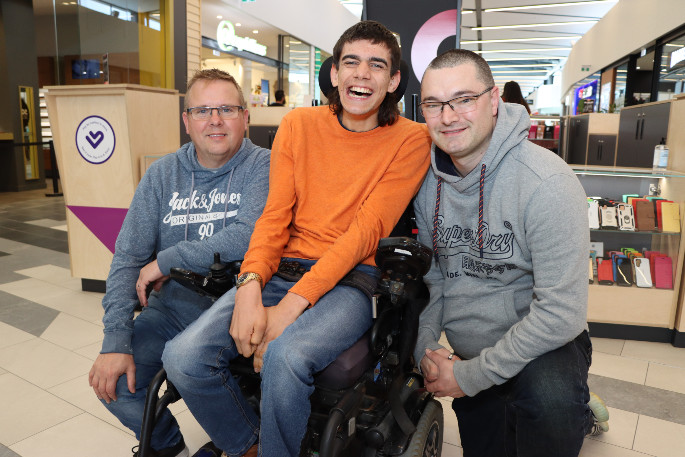 Tauranga man Alessio Di Giandomenico knows more than most about how hard it can be to get work experience, let alone employment.
After numerous unsuccessful job applications, the 21-year-old has decided to venture into self-employment.
Alessio lives with cerebral palsy and is wheelchair bound but he also has a keen desire to work and find a purpose and role in the community where he can help people.
The impressive result of his grit and determination is that as of next week his business 'Handy Wheels' will be ready to roll.
Handy Wheels is available throughout the CBD and Tauranga suburbs to help businesses and individuals with pick-ups, deliveries and everyday errands they might need done.
"I can pick up scripts, drop your dog at the groomers, even do your shopping," Alessio says.
And his rates are reasonable too.
His first customer is businessman Mark Blackstone who owns two Phone Life kiosks at The Crossing in Tauranga.
Mark, whose business repairs mobile phones and tablets and sells accessories, first met Alessio a year ago and the two have become good friends since then.
When Mark saw how strong Alessio's desire to get a paid job was, he offered him the opportunity to deliver advertising pamphlets for him, something that took Alessio all over the Bay of Plenty.
Unfortunately COVID-19 then hit which almost brought business to a halt.
As a result, Mark and his partner identified a need to provide an alternative way to repair phones, in the form of a pick-up and drop-off service.
And that's where motivated Alessio has once again come to the rescue, this time with his convenient, professional, and very affordable delivery service.
Mark's become a bit of a mentor for the young man and says they plan to market the Handy Wheels service via a Facebook campaign – something he'll help with.
Tuesdays and Wednesdays when Alessio calls by for a visit are the highlight of Mark's week, he says, and he's looking forward to being part of his friend's new enterprise.
For Alessio self-employment means independence and a personal sense of purpose.
"I'm excited and can't wait to start" he says.
Assisted by his two support people Richard and Wayne, Alessio has a van for the pick-ups and everything else needed to run errands and deliveries when you can't.
Handy Wheels can be contacted on 021 124 3968.
More on SunLive...