Margaret's safaris lead her to Piccadilly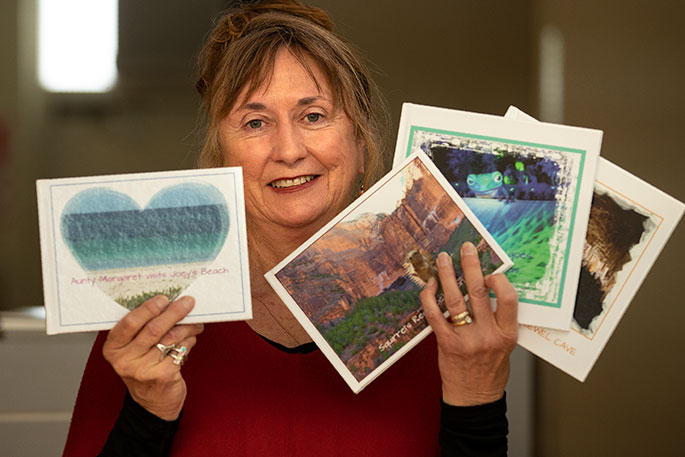 For Margaret Cowey-Rodger, a new challenge began on a campervan trip with husband Ian Rodger around south-west Australia.
"We came across a kangaroo and her joey in the wild and I was able to take a series of pictures," says Margaret.
"The photos became the focus for my first children's book for Lily, my first grandchild, titled 'Granma' and later 'Aunty Margaret visits Joey's beach'."
Margaret had had a dream to write children's books when her own were small, about 30 years ago. "There was no internet at the time so I made a few books by hand, and attended some writing seminars but didn't go any further.
"Over the last few years I produced a number of photographic albums from our various overseas trips, arriving home each time with 2,000 photos from which I select about 200."
When Margaret learned that her first grandson Lachlan was on the way she decided to create something special from her memorable trip to Jewel Cave south of Margaret River.
"It's an adventure story written in poetic ballad form. The photos showcase the unique wonder of this cave, hence 'Granma' then 'Aunty Margaret visits Jewel Cave'."
The next two books were developed after a motorhome trip around the south west of the United States. The couple made it home to Tauranga barely two days before the March lockdown.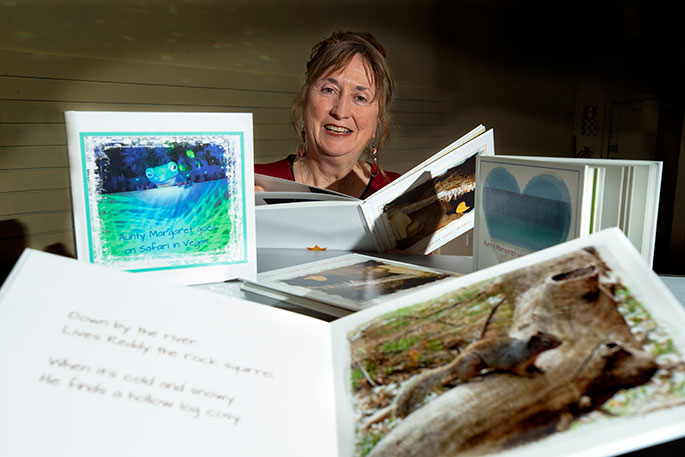 "In Zion Canyon when I saw the leaching of minerals across the red cliff face I thought it looked like a set of black and white piano keys."
She found the tame squirrels further up the valley amusing, so the book 'Squirrel's red rock piano' was born.
"We actually began this last trip with a conference in Las Vegas and were invited to a bar at 'The Wyn' which featured a giant frog appearing from behind a wall, singing Frank Sinatra's
'It's a beautiful world'!
"It amused me to consider an animal safari in Vegas of all places."
She rose to the challenge the next day on her stroll down the strip, and 'Aunty Margaret goes on safari in Vegas' was born.
The books can be personalised with a child's photograph on the first page.
"We saw some amazing wonderful sights when we went to different national parks around the world, including incredible rock formations and strange trees."
She's realised that with the global pandemic, kiwis are not going to be readily travelling to other parts of the world for a while.
"I still want children to know there's a big, wide, amazing world. But also to appreciate the wonderful part of the world we live in here."
Next weekend she and Ian plan to set off on a South Island campervan safari which will no doubt result in some New Zealand stories. Later in the year a North Island trip is also planned.
"It will be something along the lines of magical places in New Zealand. We have iconic towns and villages. I've already taken photos of the knitted critters in Greerton."
She is launching the four children's books at 3.15pm on Friday September 4 at The Terrace Café in the middle of the Piccadilly Arcade.
The books will be available at The Collection, Piccadilly Arcade from October 1 and will be on display in the window until then, or by contacting Margaret at marg.pearlcoaching@gmail.com
More on SunLive...