Two new cases of COVID-19 today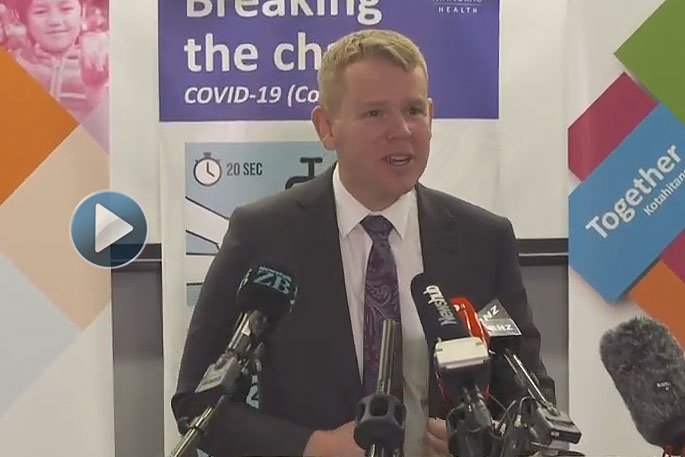 There are only two new cases of COVID-19 in New Zealand today – one in the community and one in managed isolation.
The community case has epidemiologically linked to the Auckland cluster.
Minister of Health Chris Hipkins and Auckland Regional Public Health Service director William Rainger provided today's update on COVID-19.
The officials spoke from Middlemore Hospital today.
William says the case at the border is a woman in her 30s who arrived from the Philippines via Hongkong on August 29.
She tested positive on day three, he says.
There are seven people in Hospital with COVID-19 – two of those cases are in intensive care.
William says 16 previously reported community cases have now recovered.
This brings the total number of active cases to 115, including 79 people from the community and 36 people in managed isolation.
Laboratories completed 10,521 tests yesterday.
There are 92 people linked to the Auckland cluster who have been transferred to the quarantine facility.
This includes 67 individuals who tested positive for COVID-19.
William had some advice for those who are identified as close contacts of someone with COVID-19.
He urges close contacts to get tested.
"All close contacts need to be tested even if you don't have symptoms."
Secondly, he told people they must stay at home in self-isolation for 14 days.
"The 14 days starts from when you last had contact with an infected person.
"Even if you have a negative test early on, you can still develop COVID-19 symptoms and be infectious, even if you feel well."
He says it can take two weeks to show symptoms.
Yesterday there were five new cases of Covid-19 in the country.
A study published today suggests there would be 20 percent fewer deaths from Covid-19 if steroids were part of standard care for critically ill patients.
More on SunLive...