'Piste off' skiers at Ruapehu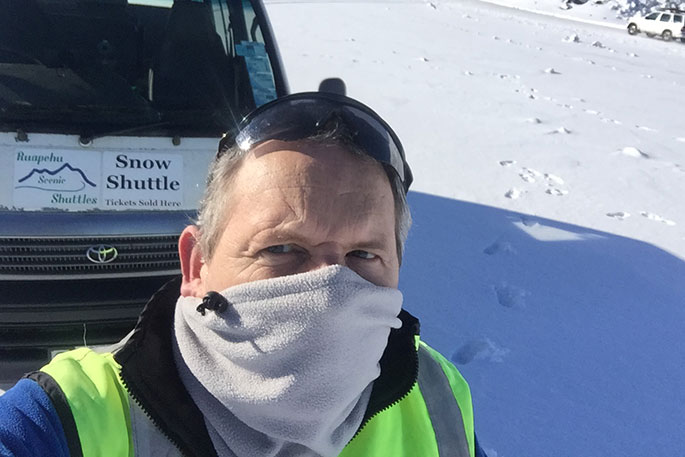 With Auckland out of Alert Level 3, Ruapehu shuttle operators are predicting even more chaos and upset for skiers and transport providers at Whakapapa this coming weekend.
An eruption of anger by a frustrated skier at the Bruce Road barrier arms on Sunday has resulted in a trespass notice being issued by the Department of Conservation.
"The incident allegedly involved intimidation of roading contractors and staff for access to the ski area and is now subject to a full investigation," says Tongariro operations manager Connie Norgate.
"The police have also been notified. Behaviour such as that alleged puts staff, roading contractors and visitor health and safety at risk and is not acceptable under any circumstances.
"The trespass notice will stay in place at least until the investigation of this incident is completed."
Tauranga resident Hayley Smith says it was a shambles on Sunday with skiers who had already paid for ski hire, season passes, accommodation, and shuttle rides being turned away from the Whakapapa ski field due to a restriction agreed on by the Department of Conservation and RAL during negotiation of the ski-field licence.
Mt Ruapehu, Whakapapa & Turoa Ski Areas protocols for operating at Alert Level 2 from August 13.
"My boy, who is six and learning to ski, his dad and granddad went down on Saturday to get a day skiing there on Sunday. They booked a National Park shuttle but it was turned around at the bottom of the mountain and they weren't allowed to go up," says Hayley.
The family group had already missed out earlier in the week on booking their own carpark at Whakapapa.
"They open up the bookable parking page on their website on Wednesdays at 10am and 6pm. We were bang on 6pm but it was booked out in a matter of about 30 seconds."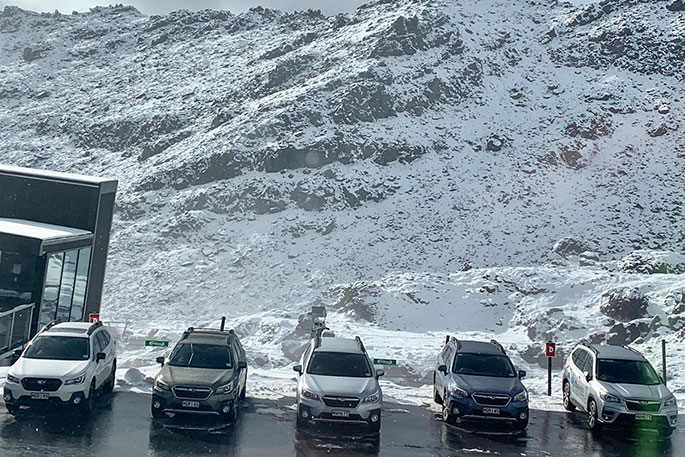 Car parking. Photo: Mt Ruapehu, Whakapapa & Turoa Ski Areas Facebook page.
Hayley's only other option was booking a shuttle for them from the village up onto the mountain.
"On the Mount Ruapehu website they clearly state you can catch any shuttle up."
Hayley says it was DOC that was not allowing the shuttles up.
"People who had prepaid arrived, only to be turned around at the bottom of the mountain.
"One lady, who was also a passenger on my husband's shuttle, got really irate and told the driver to try again and get through. The mountain people told her they would call the police if she didn't turn around and go. It was terribly frustrating," says Hayley.
"I think Ruapehu is a bit of a shambles at the moment to be honest.
"I private messaged them on their Mt Ruapehu Facebook page and they ended up calling my husband and telling him to let them know his number plate and that they'd let him through up the mountain. But that was at 11am and he'd already started coming back to Tauranga and was already near Taupo."
Hayley's husband had managed to get their ski hire refunded.
"We paid for season passes but can't use them. If you return your skis before 10am you get your ski hire back, but they'd already paid for their accommodation and shuttle."
The Department of Conservation Central North Island operations director Damian Coutts says he understands people's frustration but that the issue is driven by demand exceeding capacity on the ski-fields.
"Under their operating licence with the Department, RAL [Ruapehu Alpine Lifts] has a negotiated limit to how many people they may have on the ski-field; that number is reduced due to COVID-19 Level 2 restrictions," says Damian.
"RAL manages the ski-field patronage using bookable parking and as part of that DOC and RAL has agreed to a maximum of 300 passengers who can be delivered to the ski-field by shuttle daily.
How the shuttle companies negotiate to share passenger patronage is a matter for the shuttle operators."
An update from Mt Ruapehu, Whakapapa & Turoa Ski Areas on Facebook on Monday, August 31.
An email about the Whakapapa Ski Field transport capacity allocations was sent out to the transport operators by The Tongariro National Park senior ranger Mere Mokoraka on Tuesday, August 25.
"RAL while operating under Alert Level 2, is required to manage its reduced ski field capacity numbers, social distancing and hygiene practices in accordance with the Governments COVID-19 protocols," says Mere in the email.
"RAL has provided transport operators with an allocation of 300 pax (people) per day (total) as part of RAL's capacity management plan. This allocation took effect from 14 August 2020 and for consistency, will remain in place until 11.59 pm, Sunday, September 6.
"There will be no specific allocations of the 300 available to each transport operator, nor any increase of this allocation during Alert Level 2. Instead, we recommend that you all work together collegially regardless of the size of your business.
"Based on transport numbers Saturdays and Sundays are potential pressure points, but 300 appears to be an optimum allocation, given the circumstances."
A table provided in the email sets out transport numbers on Bruce Rd over 12 days from August 12 to August 25, and shows that three of the days which happened to be a Saturday or Sunday reached or exceeded 300 people. Four of the days the 'Book a Park' was not operational due to weather conditions, and for five days the capacity was less than 300.
Transport operators were also informed in the email that bookable carparking would take place every day during Alert Level 2 from 7am – 2pm unless the ski field was closed. Updates about Bruce Road conditions and daily transport numbers would be sent via Whatsapp.
Ruapehu Scenic Shuttle operator Colin Baker says it's a race to the top between the shuttle companies.
He witnessed the altercation on Sunday with the irate woman stopped at the entrance.
"I'm not surprised that police were nearly called. An easy fix would be if DOC gave everyone [shuttle operators] an allocation but they won't, so we're going up blind."
"Before the season began I wrote a letter to Ruapehu District Council having a real go at the planning for this coming season because, we got shunted out from one village to another village to operate. When we went to Alert Level 2, the ski field had a maximum capacity determined by the government's rules on social distancing.
"In the South Island there are a multitude of ski areas, so they can manage it better. Here at Ruapehu the weather can go from sunshine to howling weather in half an hour. So DOC put a cap on at the beginning of the season. In the last few years, in the last few weekends in August you get good snow but also good crowds. So bookable parking came in.
"At Level 2 they put a cap at 1800 but they didn't allow for the shuttles. We have been given 300 spaces."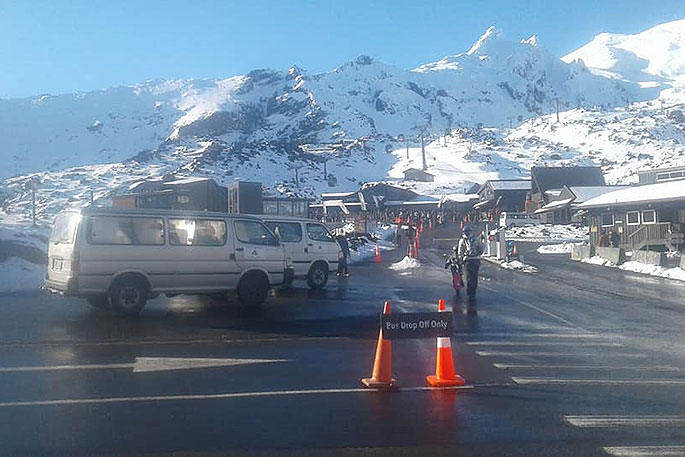 Parking and drop off area at Whakapapa. Photo: Ruapehu Scenic Shuttles.
RAL CEO Jono Dean says that at Alert Level 2, RAL has an obligation to DOC to limit capacity on the mountain, and so introduced the bookable parking system online to achieve this for customers arriving by vehicle.
"Under Alert L2, Whakapapa ski area is limited from it standard carrying capacity of 5500 people down to 1800. This imposes significant restrictions on people and we regret this situation however have no choice but to comply with the Government alert levels," says Jono.
"We have strongly urged people to plan their trip in 2020 and book their parking. This is advertised throughout our website."
Colin says there should be a cap on the number of people per shuttle operator not a not total cap of 300 for all the operators.
"It's like a pack of hungry dogs. The biggest dog with the most bites is winning. DOC is blaming us."
Colin has two four-wheel-drive vans that can take eight passengers per vehicle, with a bus as back-up for returning at the end of the day. It takes about an hour to drive up to the ski field and back.
"On Sunday I had two groups booked – at 8am and 9am. I had a niggling feeling that the 9am wouldn't get up in time. At 8am we heard the capacity was at 240. We got people on board and then heard it was 285. We know that "if you're not on the road, don't load'. We got through the barrier.
"I had a family of five booked to go up at 10am and I couldn't take them because the capacity had been reached."
As well as his Ruapehu Scenic Shuttle, there are National Park Shuttles, Ruapehu Mount Transport, Summit Shuttles, Active Outdoor Adventures and Dempseys operating a shuttle service, says Colin.
He says a couple of the shuttle companies are "greedy operators not willing to share out the 300 seats between operators" and that Ruapehu Alpine Lifts is favouring one operator over others.
"Just wait til this weekend with Aucklanders planning to come. The transport operators are out for their own skin.
"We have people arriving on a day trip from Auckland who are wanting a shuttle up at 10am but we can't guarantee bookings," says Colin.
"The blame for this is fairly on DOC's feet. Transport operators are just trying to do what they do, but DOC won't listen."
"At 10am on Friday we reached capacity and half an hour later I got a text message from DOC saying I couldn't bring anyone up and I replied 'but these people booked'."
He says he felt threatened by the exchange.
DOC had learned that Colin had booked a carpark through the bookable system and a DOC staff member texted him "I understand you have booked a carpark and taking up people as a commercial transport operator. You will be turned around at the barrier."
Colin texted back "Good luck that as picking people up on same trip. One person going to a hut. You want him to contact his boss?"
A reply back from the DOC staff member read "Good luck getting past the barrier."
He finds the lack of management between the various types of services provided on the mountain perplexing.
"I had skiers who wanted to go up at 10am and already had a ski lesson booked for 1pm. There is no coordination between booked lessons, booked parking spaces and booked shuttles."
He's told passengers that instead of going up at 10am they should plan to go up at 7am.
"But then they're stuck out in the cold for an hour until the café opens."
He thinks he may pull the pin on his own mountain shuttle service until the country goes back to Level 1, as delivering a service that meets his own business standards is not possible to ensure with the current situation.
"We are a small family run operation and heavily reliant on the ski season which is the make and break for us."
RAL CEO Jono Dean says this is a matter for DOC or the individual transport concessionaire to answer as RAL don't operate any shuttle services.
"All shuttle operators are concessionaires who the Department of Conservation is responsible for managing. The shuttle operators have been instructed by DOC to operate to a maximum volume of 300 passengers to ensure they are playing their part in managing capacity. At this limit they are to cease selling tickets."
DOC Central North Island operations director Damian Coutts says the pressure points are likely to remain while the country is in a Level 2 state of COVID-19 alert.
"The Department does not run the shuttle businesses or the ski-field but is keen to see a better distribution of passengers among companies and to see people are able to access and enjoy their day on the mountain," says Damian.
More on SunLive...