Tauranga's "bridge to nowhere"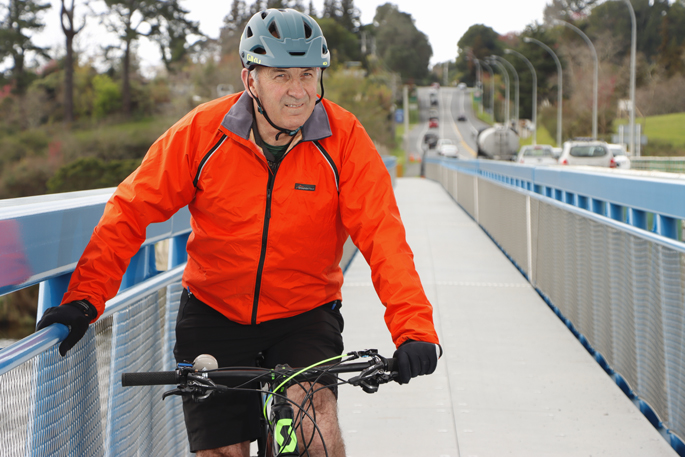 Whanganui National Park has its Bridge to Nowhere but one cyclist reckons Tauranga now has one to call its own.
The Wairoa River Bridge Cycleway is complete and well-loved but that story ends at the Bethlehem end.
John Ward jokes it is the "bridge to nowhere".
He lives near Wairoa Road and wants to know when the Bethlehem section will be complete because he says it is unsafe riding next to a busy highway.
"Cyclists they go off the bridge and then there's nowhere really, apart from along the side of the main highway.
"If you were riding up there and there was a family coming the other way it wouldn't be very nice crossing paths if there was a bloody great logging truck or something going past at the same time.
"You don't want children or groups of people exposed to the dangers of riding next to a state highway.
"I've ridden down from Bethlehem towards the traffic a few times when there's been big trucks and it's a bit scary."
John has ridden the cycle track from Wairoa out to Omokoroa and says it is a really cool ride that is being well utilised by the community.
"It's a fantastic facility, but it sort of comes to an end at that point and nothing's happening."
The Omokoroa to Tauranga Cycle Trail is a 19km route made up of both new and existing off-road shared paths and local road connections.
Western Bay of Plenty District Council is the lead agency on the joint $13.02 million project and there is no timeline for when the section linking the bridge to Carmichael Road in Bethlehem will start or finish.
WBOPDC infrastructure services group manager Gary Allis says the Omokoroa to Tauranga Cycleway is open for use between Omokoroa and the northern end of the SH2 Wairoa River Bridge.
"WBOPDC is working with Waka Kotahi NZ Transport Agency, Tauranga City Council and Ngāti Kahu on plans for the final section connecting into Tauranga city's urban cycleway network."
He says council has opened the cycle section of the bridge to provide a safe alternative for road cyclists who regularly cycle along SH2.
"For safety reasons, the extension will not form part of the official Omokoroa to Tauranga Cycleway until the final section is in place."
Instead, people wanting to use the trail from Tauranga are encouraged to park at the Wairoa River Road carpark and cycle to Omokoroa from there.
More on SunLive...