Poor observation leading factor in SH2 crashes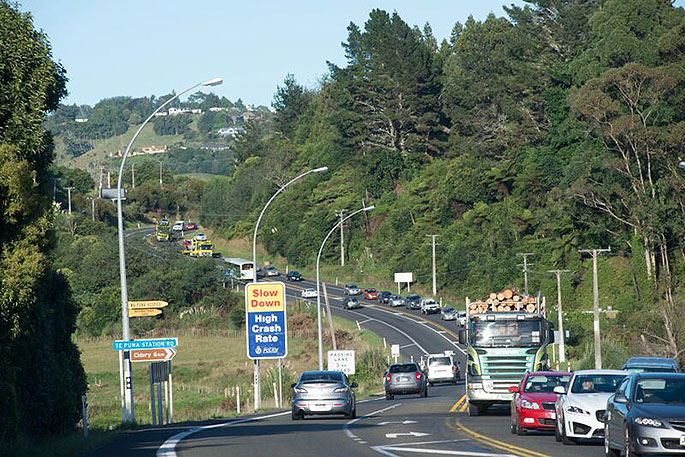 The winding stretch of State Highway 2 between Tauranga and Katikati has claimed 28 lives and left 335 injured in the past 11 years.
Statistics released by New Zealand Transport Agency reveal there have been 539 reported accidents on the highway since 2009 and most are attributed to driver error.
Poor observation is the leading factor in crashes with it recorded in 35 per cent of all crashes.
This was followed by: poor vehicle handling (22 per cent), incorrect lane use (21 per cent), alcohol (17 per cent), failure to give way (17 per cent) and travel speed (15 per cent).
Only 11 per cent of all crashes were attributed as "road factors".
Calls to upgrade the road have been prevalent for years and, with construction about to begin on a 6.8km, four-lane corridor between SH29 and SH2, some improvement is being achieved.
The upgrade, dubbed the Tauranga Northern Link, will have a separate walking and cycling path along the entire length, including across the new Wairoa River Bridge and will be completed in 2025.
National Party MP Todd Muller says the TNL could have been built in 2022 had plans not been changed.
"It [a similar upgrade] was already budgeted for," he says. "They cancelled it."
Muller, who grew up in Te Puna adjacent the highway, is frustrated safety upgrades have been left so long.
He says the TNL is a good start but the entire road between Tauranga and Katikati needs to be upgraded into a four-lane highway to save lives.
He says drivers become frustrated at the traffic on this narrow stretch of highway and make "less than ideal passing manoeuvres".
However, he says, poor driver behaviour should not be used as an excuse to stop safer roads.
"If that was the case we'll never upgrade roads.
"We've built goat track roads, and they are dangerous we have to upgrade them to make them safer. If the roads were safer we would have less carnage."
Muller says National had aimed to make the road project one of their Roads of National Significance.
Western Bay of Plenty Area Road Policing Manager Senior Sergeant Rob Glencross says the main contributing factor to serious crashes are the same in all parts of the country.
"These are people not wearing seatbelts, people driving impaired or distracted, and drivers speeding or going too fast for the conditions.
More on SunLive...