Gone today, here tomorrow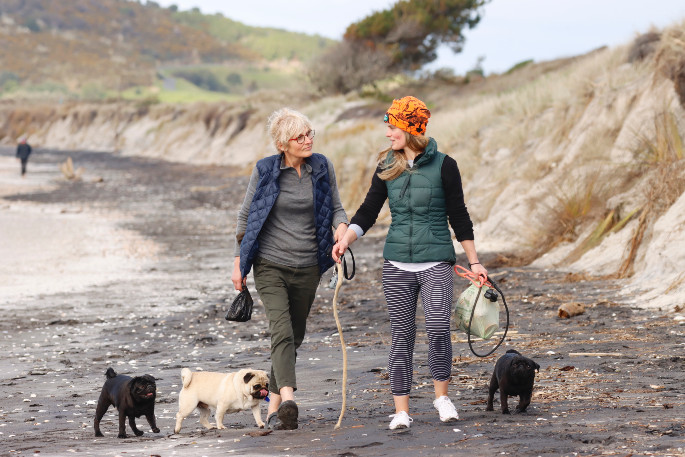 Large chunks of Waihi Beach have disappeared into the ocean, but they should return says the Bay of Plenty Regional Council.
The dunes between the settlements of Waihi Beach and Bowentown have been severely chewed up by rough seas and prevailing winds this winter.
The council's Coast Care regional coordinator Paul Greenshields says the area in question is particularly exposed to north-easterly winter wind and waves.
"With the arrival of the calmer weather more typical of summer, the sand dunes should start repairing themselves as the sand moves back onshore and dune grasses and vegetation capture and trap wind-blown sand. "
Regular beach walker Niky Jenkins from Katikati and her daughter Katie from Auckland were out walking the area recently and were surprised by the scale of the erosion.
Niky says she has witnessed the sand come and go over the years but has never seen it retreat by that much.
"It's definitely an issue. It's something to do with the tides and the movement of it. I guess it's just a natural thing."
She says it would be a shame if they had to protect the dunes with big rocks like some of the beachfront home owners are doing.
"People have lost a good two metres off the end of their section. I saw one guy and he was shovelling it back and I was thinking: 'mate, you are wasting your time'."
Paul says the formation of sand dunes is a dynamic process that is part of natural beach behaviour and there are three different stages in the process – a quiet stage, an erosion stage and a build-up stage.
"Most shorelines will fluctuate between periods of sand erosion and accretion."
He says there are nine properties on the seaward side of Broadway Road and Coast Care works with the owners to remove weeds on the dunes and replant with native dune plants which are well adapted to New Zealand coastal conditions to build healthy dunes.
Planting of native sand dune grasses was recently completed in the dunes around the Tuna Avenue car park to assist in the accretion or build-up of the dunes.
Other residents and members of the Waihi Coast Care group also do work to protect and restore the sand dunes along the full 10km of the Waihi Beach.
This is done through a combination of weed clearance and planting of native dune plants and grasses, the natural dune formation cycle is able to be assisted to ensure that healthy, functioning dunes are maintained.
More on SunLive...