BOP MP refs Papamoa v Te Puna rugby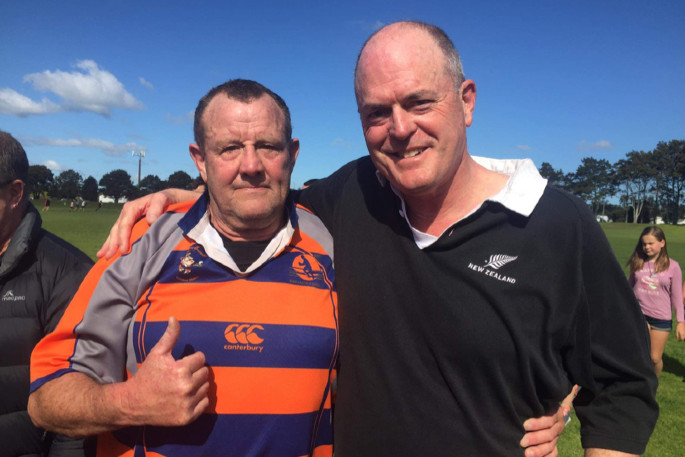 4pm update: Bay of Plenty MP Todd Muller thought he might "run out of puff" after about ten minutes taking on the role of referee for the rugby game between the Papamoa Potbellez Golden Oldies and Te Puna today.
"Todd was an awesome ref for the whole game - sixty odd minutes," says Papamoa Potbellez Golden Oldies team founder Bill Lee. "I think he enjoyed it."
Bill's team mate Rod Luxton, or Lucko as he is known by, had asked Todd to play for them against Te Puna, which also happens to be part of his Bay of Plenty electorate. The potential for injury provided another opening as referee.
No one seems to know what the final score was, which seems to be a characteristic of most of the games that the Papamoa Potbellez play.
"We don't count the tries," says Bill, "but let's say we came second. Rugby was the winner on the day."
Earlier, 9.30am: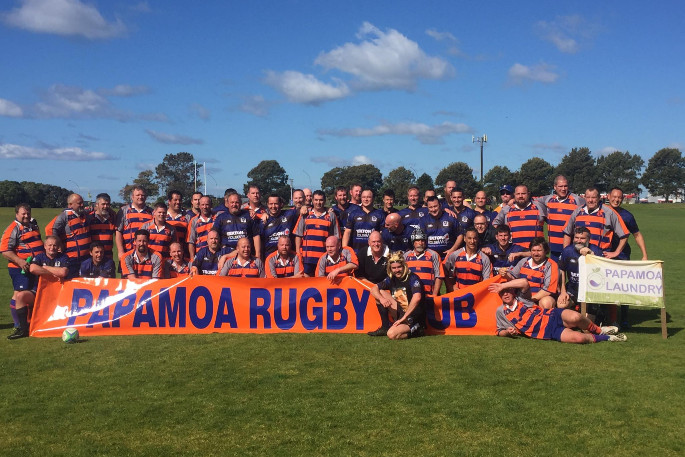 Todd Muller with the Papamoa Potbellez Golden Oldies and Te Puna rugby teams.
The Papamoa Potbellez Golden Oldies rugby team is renowned for their banter off and on the field. And for being old buggers. And for their post-match crockpots.
Somewhere in the middle of this they reportedly stagger around the field and play what they call 'low key rugby' against opponents such as the Yellow Bellies.
This afternoon they take on Te Puna's golden oldies. It's going to be community amateur rugby at its very…. what can we say – finest?
There could be a lot of grudge, mud and feisty tackles. Followed by tall stories, reminiscing the past, and boasting about the future.
The two teams last played each other in July. Apparently rugby was the winner on the day.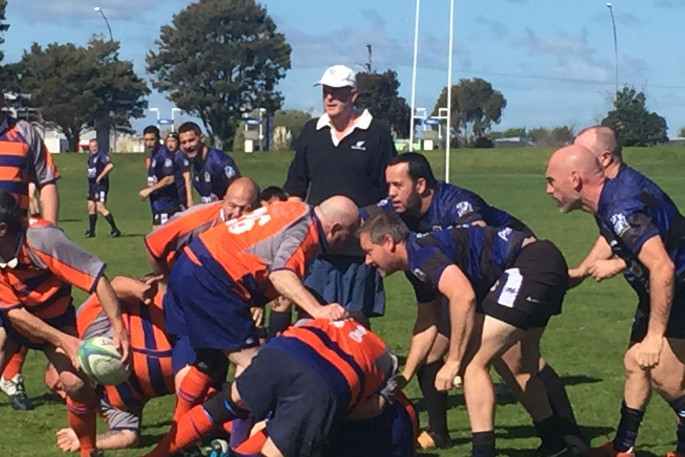 Todd Muller refereeing the game today between Papamoa Potbellez Golden Oldies and Te Puna.
"Te Puna were fantastic hosts and we look forward to hosting the boys with the Potbellez famous five different Curried Sausages," writes a Papamoa Potbellez Golden Oldies team member on their Facebook page.
To gain a psychological advantage over their Te Puna opponents, before-match tactics included the Potbellez asking Bay of Plenty MP Todd Muller to come play for their team this afternoon. He was asked to run on for Te Puna last year.
Potentially this could be a 'conflict of interests' dilemma as Todd's electorate covers both Papamoa and Te Puna.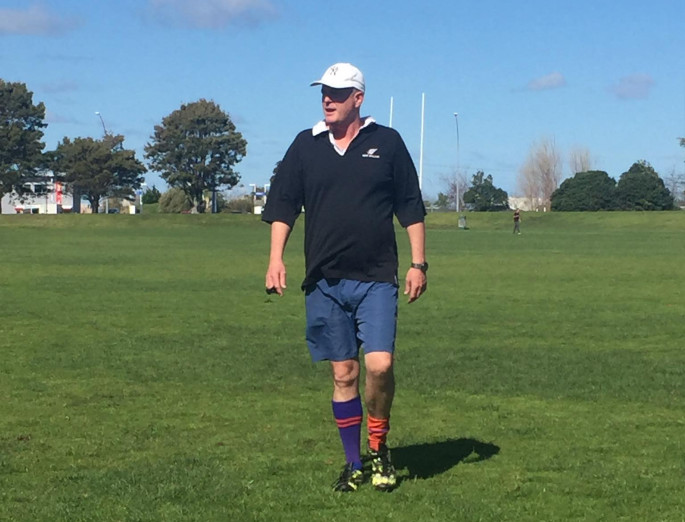 Bay of Plenty MP Todd Muller
"I said 'no' because I knew I'd blow a hammy or shoulder if I put the boots on," says Todd.
"Lucko said 'you're a good talker, why not ref?'
"So I'm the ref until I run out of puff," says Todd, "which will be ten minutes."
There is actually a wee bit of history of Bay of Plenty MPs playing rugby, stretching back to Sir William Sullivan. Well, okay, it's only one MP, but enough for a Potbellez player to probably build a story on it later today at the post-match feed and yarn session. Usually known as Bill, Sir William was a Taranaki rugby representative who served in both World Wars and was National MP for the Bay of Plenty from 1941 – 1957.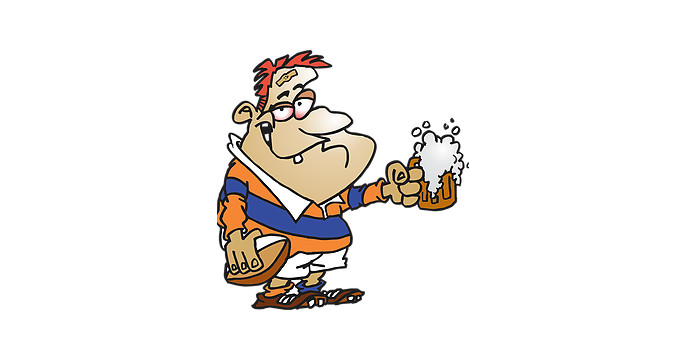 Papamoa Potbellez Golden Oldies logo
The Papamoa Potbellez Golden Oldies have a Facebook page and a website to keep their 'old buggers' updated with both home and away games. Fans and supporters can buy merchandise which features their club logo. The team plays between ten and twelve games a year, usually on a Sunday afternoon. They also generally have an annual trip away to watch the mighty All Blacks.
Other teams they go up against include the 'Whangatamata Toe Kickers' from Whangamata, Yellow Bellies in Hamilton, Eastern Districts 'ED Old Devils', Tauranga Old Stars, Te Puke's 'Mutineers' and Rotorua's 'Kahukura Kumaras'
Lucko, otherwise known as Rod Luxton, is one of the senior players and writes up the match reports. These reports are curly mind-ticklers for those who like grammar and punctuation, and a tantalising read for those who identify themselves as anti-PC. They can be found on the team's Facebook page. Lucko has been with the Papamoa Potbellez Golden Oldies since about 2009, says team founder Bill Lee.
Bill started the team back in 2008.
"We set it up to play rugby and have a bit of fun because we were too young to retire. Twelve years later looking back we think 'wow what have we done?'" says Bill, referring to the camaraderie formed between the players.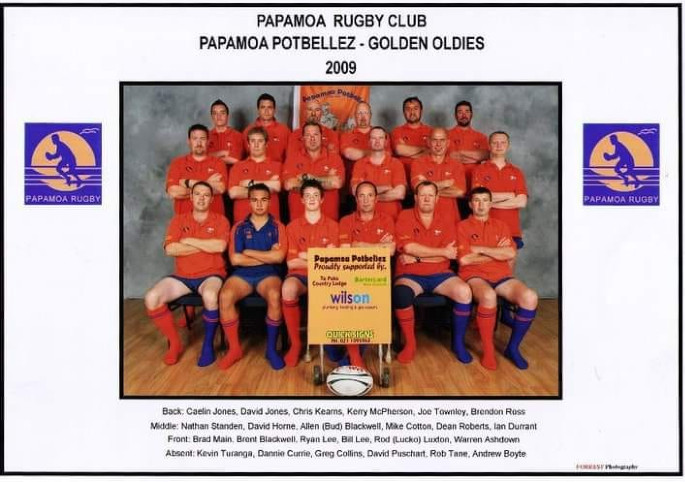 The first Papamoa Potbellez Golden Oldies team photo in 2009
"I started the team, but the other guys have made it what it is today. There's seven on the committee – Dave Hunt, Mark Roberts, Eddie Bartle, Renee van der Maat, Mike Cotton, Chris Grant and Phil Holland. They all do a tremendous amount of work in their roles.
"It's the friendships and the fun we have. And supporting each other. We give each other a bit of grief, but we're there for each other. It's belonging and being a brotherhood of guys who have a mutual interest."
There's a sense of deep emotions rising, so we quickly switch back to talking about the upcoming match this afternoon. Kick-off at Gordon Spratt Reserve in Papamoa is at 1pm.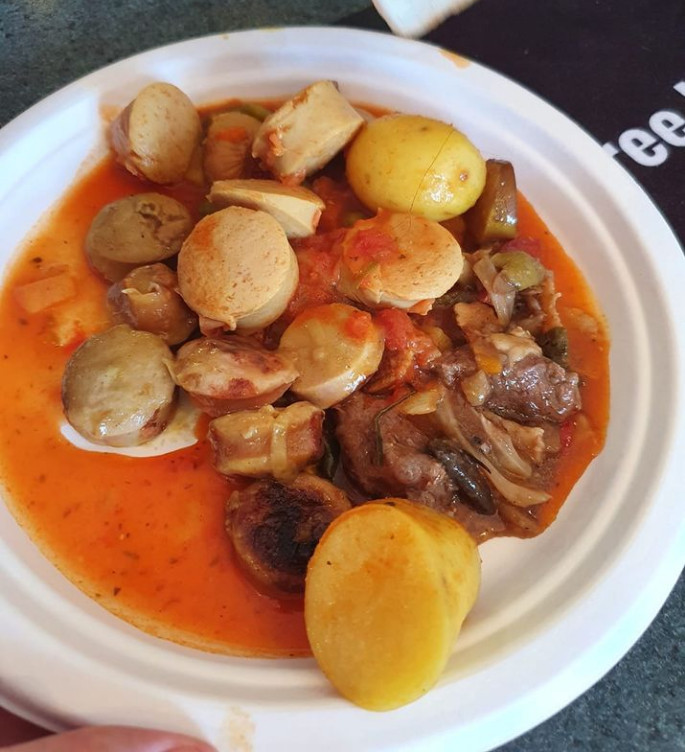 Papamoa Potbellez Golden Oldies cook up five different curry sausage crockpots to feed their visitors for the home games
"When we feed our visiting teams we cook up crock pots of sausages," says Bill. "We played Te Puna earlier in the year, and they're coming back and playing us today. So the big thing is to give them a good feed and look after them afterwards."
Team members seem to have interesting names; no doubt each has a legendary story behind it. Those cooking up their finest sausage crockpots today are 'Big Ben', 'Deano', 'Rob the jukebox', 'Mummas boy', and 'Tito the gingertruck'.
"One of our players 'Jason the Bouncer Slayer' is on the injured list, so we won't be seeing him today. He tried to take on a bouncer one night in Auckland, hence where the name starts," says Bill.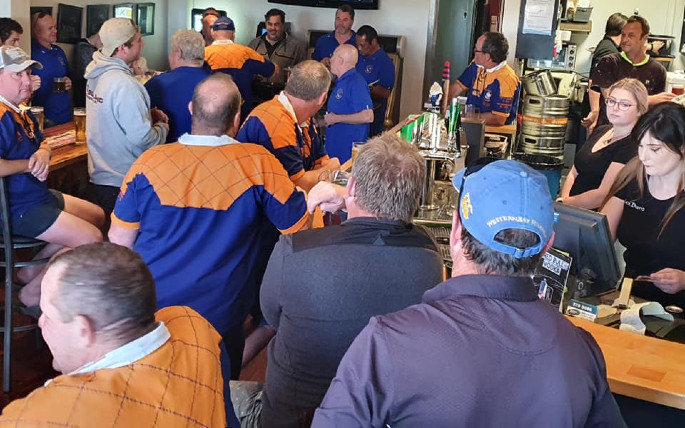 Speeches, yarns and a good feed follows
Following the game, both teams and supporters will head to Jack Dusty's.
"We still call it Bundys. He's one of our major sponsors. We play the game, have a shower and head down there, have a few beers tell a few stories and have a feed.
"We reminisce on what we used to do and what we think we can do now still."
The Papamoa Potbellez Golden Oldies Rugby team play Te Puna today at the Gordon Spratt Reserve, Papamoa. Kick-off is at 1pm.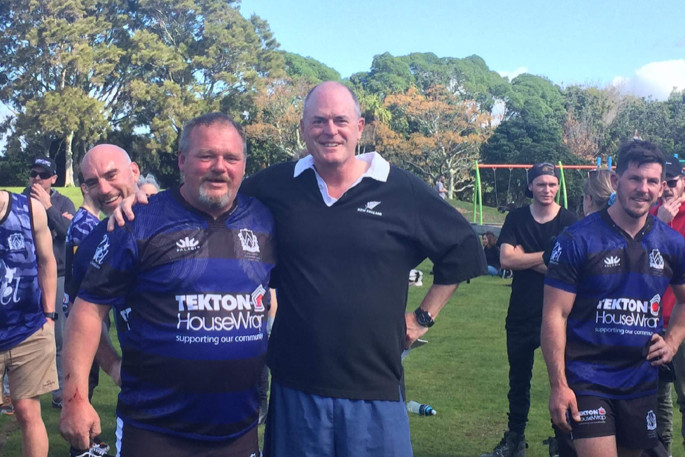 Te Puna's Sean Lett with BOP MP Todd Muller
More on SunLive...