Don't dump your dog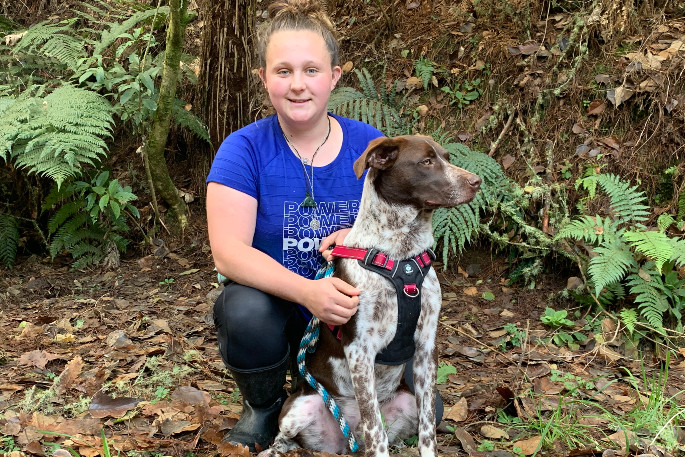 Don't dump your dog is the request from Rescue, Revive, Rehome's Rowan Elliott.
A small chocolate Labrador puppy left abandoned on the side of Pyes Pa Rd has raised the ire of many.
It was seen being pushed out of a car onto the verge and patted half-way between Tauranga and Rotorua, before the vehicle occupants sped off, leaving a puzzled puppy standing there.
"It's a recurring issue," says Rowan.
"We are seeing it more and more at the moment. Dumped animals, cats, dogs, even horses we've come across."
Motorists quickly pulled over to rescue the puppy from the side of the busy highway, but unfortunately weren't able to cross the road before more cars and motorcycles swept past in a noisy blast, scarring the dog off into the bush.
It was two days later before Rowan was called, but she brought her dogs anyway to see if they could find the puppy.
"We've been called out to a situation before up Pyes Pa Rd - to a pig dog that's been dumped. He's been there now for two years and no one can catch him. I've tried my best as well. He's been seen early in the mornings eating possum carcasses off the side of the road. He's riddled with cancer and has tumours running down his legs. We've tried for hours to catch this boy but no one has been able to."
She says people need to know there are alternatives to abandoning pets on roadsides.
"There are options that can help, as opposed to dumping an animal that can't fend for itself. Rescues, council, SPCA. Even just say on Facebook that you need to find a good home, instead of dumping it."
RRR-Rescue, Revive, Rehome is one of those organisations, run by Rowan and Siobhan Mikaere. The two women take their own animals out on rescues into the bush around Pyes Pa.
"If there's a puppy lost in there, a kind friendly animal is a really soothing thing for a scared puppy to come out to."
The two women field many calls and requests, which take up numerous hours of searching for animals and organising to arrange them to be dropped to them for care.
"Please contact us. We understand these situations. At RRR we don't judge anyone. We're here, we can help."
More on SunLive...