National Covid-19 testing rates nosedive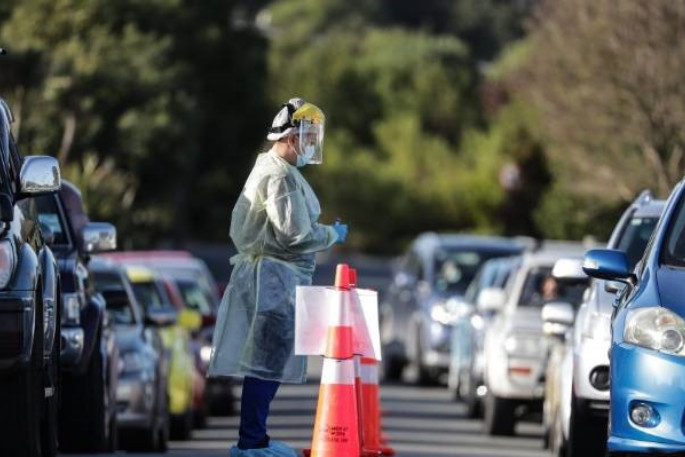 Demand for coronavirus testing has nosedived across the country.
Between August 13 and 21, nationally there were 12,000-26,000 tests done a day. Between Saturday August 22 to Wednesday, those numbers fell to about 4400 - 9200 a day.
With people able to travel in and out of Auckland from Monday, health experts are again encouraging people everywhere with cold and flu-like symptoms to get tested. Auckland will move down to alert level 2 at 11.59pm on Sunday.
There were 12 new confirmed cases of Covid-19 on Friday. Five of these were connected to the current Auckland cluster, and seven were imported cases, caught in managed isolation.
An employee at the Ministry of Business, Innovation and Employment has tested positive for Covid-19, prompting a thorough clean of its Auckland office. MBIE is one of the Government agencies spearheading the fight against Covid-19.
A group of Kiwi businessmen and former politicians are looking to strike a deal with the Kremlin to bring Russia's as-yet unproven coronavirus vaccine to New Zealand. A plan is pending approval from Moscow.
A system being developed to sample sewage needs more work before it can provide early warnings of a Covid-19 outbreak like the one now under way in Auckland.
On Monday, a Government order will come into force mandating face covering on public transport.
Global toll
The global number of confirmed cases is now over 24 million, sitting at 24,563,380 according to data from Johns Hopkins University.
The number of deaths worldwide is reported to be 833,466.
The United States leads the global tally, with more than 5.9 million confirmed cases, and 181,409 deaths reported - an increase of 941 deaths in 24 hours.
Brazil and India have surpassed 3.76 million and 3.38 million cases respectively.
What should I do?
Auckland is at alert level 3, with the rest of the country at alert level 2. Those levels are confirmed until 11.59pm Sunday, August 30, when Auckland joins the rest of the country at level 2 until at least September 6.
People in Auckland must work from home unless they are essential workers, and stay in their bubble.
The geographic boundary of the Auckland lockdown is the super city, with police operating roadblocks.
Under level 2 rules, there are restrictions on gatherings of more than ten people in Auckland, and masks will become mandatory on public transport, nationwide, at level 2 and above from Monday, August 31.
Auckland is undergoing a testing blitz.
If you are sick, call your GP before you visit, or call Healthline on 0800 358 5453.
To avoid contracting and spreading the virus, wash your hands properly, cough and sneeze into the crook of your elbow and throw tissues away immediately.
Reach out: Find support from people who care, connect with your community or help a neighbour in need.
More on SunLive...