Telling the stories of how we arrived in Tauranga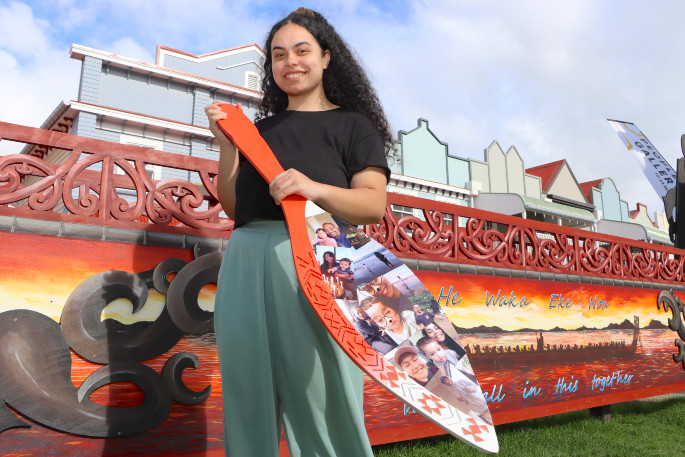 People from many countries have been telling their personal stories of how they arrived in New Zealand at the 'This is Us – he waka eke noa' workshops that have been held during July.
Stories from people who originated in Ireland, Israel, Slovakia, the Netherlands, Tolaga Bay and Niue to name a few, are being portrayed in an exhibition that is running for the next month at The Incubator.
'Where did we all come from?' and 'where are we going?' have been questions that many of us face individually and collectively.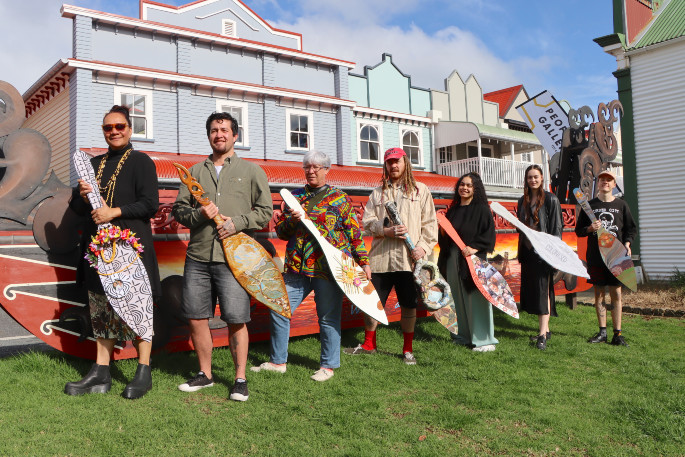 From left: Carolynn Tepou, Bronz Cross, Kaye Hubner, Liam Banbury, Leiona Tupou, Jera Mae and Rolph Hediger who have all filmed their personal stories and painted hoe to represent their personal journey on one side and their vision for Tauranga on the other side.
Workshop participants were encouraged to design their own hoe or paddle, portraying their personal journey on one side, and their vision for Tauranga on the other.
Marijke de Jong
Marijke de Jong, born in the Netherlands, immigrated with her family to NZ when she was about seven months old.
"My parents had no idea about this country. We travelled a lot as children and I went home to Holland when I was a teenager. I came back to NZ in my 20s."
Marijke's mother is originally from Israel.
"My grandparents are holocaust survivors. My grandfather was in Auschwitz and my grandmother was hiding like Anne Frank in the Netherlands but in much worse conditions."
During her late teens Marijke studied photography.
"I did my project on the Jewish culture in Auckland and discovered that there was a lot."
Thus began the start of a 20-year journey discovering this part of her identity. On visiting Israel, she found a sense of belonging, returning to make NZ her permanent home.
"I feel settled now and have a sense of identity while living in an adopted country."
On the back of her hoe, a Star of David with images of eyes that are open and closed represent how she started collecting parts of herself when she landed in Israel and her personal journey of awakening.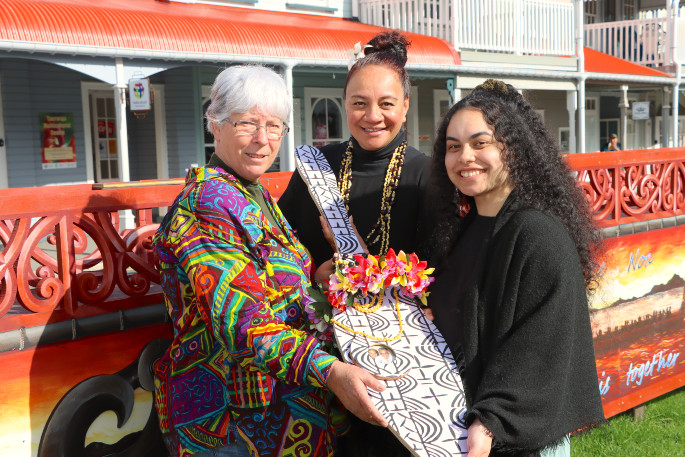 Kaye Hubner, Carolynn Tepou and Leiona Tupou with Carolynn's hoe
Carolynn Tepou, a descendent and daughter from Niue Island, hails from the villages of Alofi and Mutalau. Her hoe design incorporates a shell necklace and flower lei and honours her grandparents.
"Especially my grandfather who joined many Pacific Island families coming to New Zealand for a better life and better opportunities. I wanted to honour his ways of bringing us up. He was a man of faith and family. He was a hard worker and great provider."
"The flower head lei represents celebration and unity and what the Pacific Islands are all about. Coming together, enjoying one another over food, over culture, song and dance. It's a celebration."
The reverse side is about new ideas, hopes and dreams w
ith symbols of Christianity and Pasifika represented in the cross, fish, and olive leaf.
"Being a woman of faith, my hopes for Tauranga are that we are kinder, loving on humanity. It's about making a difference. I connect to this because of faith, family, culture, song, dance, language and words, and I'm proud to be from Niue."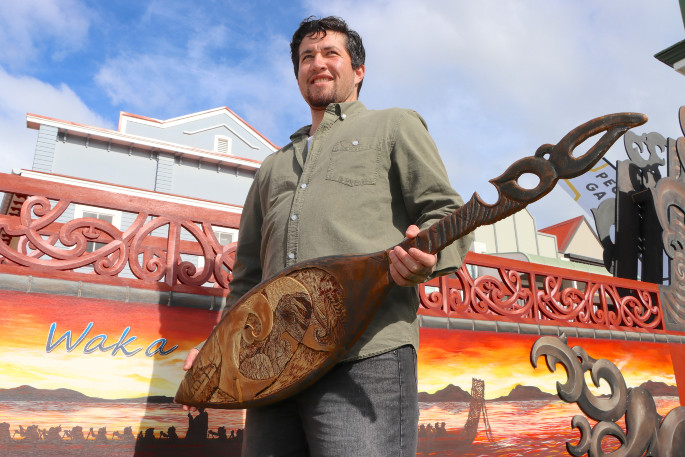 Bronz Cross
Bronz Cross from Tolaga Bay has incorporated East Coast rivers and mountains in his hoe design.
"My uncles and aunties all gave me different stories about our iwi and where we've come from. The past is almost dark. I definitely felt the impacts of colonisation. I saw a generational hurt in my people and wondered why."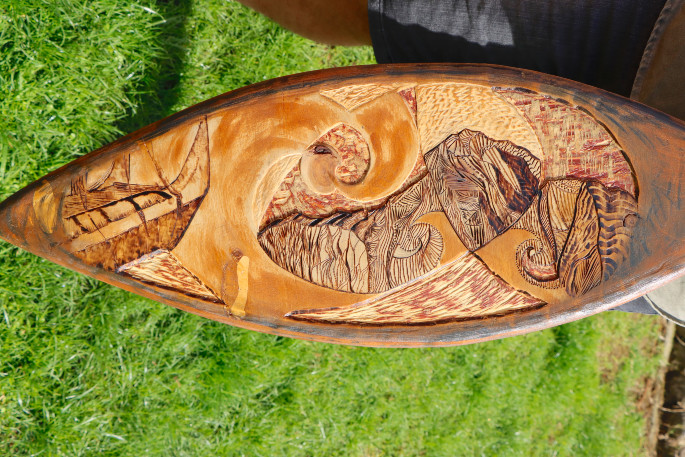 Some of the close-up detail on Bronz Cross's hoe
Bronz says he sees the past as something to learn from, something to propel us forward.
The back of his hoe portrays his vision for the future. His theme of hope, life and peace also is displayed in Les Geraghty's hoe design.
"My great-grandparents came out from Ireland, leaving in 1865, approximately ten years after the Irish famine and arriving in New Zealand a year after the Battle of Gate Pa," says Les.
His hoe features a celtic cross, a map outline of Ireland, a tear presenting the sadness of leaving Ireland, photographs, a silver fern with both a green and silver side, and the Southern Cross.
"My dad used it as a metaphor for me and my siblings that we should always look up, be positive and take the opportunities that come along in life."
A three-leaf clover in the design stands for faith, hope and love "which embodies my outlook on life".
Karolina Bemova arrived in NZ about 16 years ago while visiting her mother.
Her hoe incorporates Slovakian designs and hearts, and reflects her desire for people to combine cultures, taking the best from each culture, not dividing and highlighting differences, but bringing them together.
"The theme of Matariki is seven sisters so there are seven hearts. Down the bottom on one side is a Maori design and the opposite side has a Slovakian design."
The 'This is Us – he waka eke noa' project is a collaboration between Tauranga Sunrise Rotary club and the Incubator. It began in June with the unveiling of a beautifully painted seven-metre-long waka, representing not only the first journey over water by early Maori settlers, but a journey that each immigrant has made when moving to New Zealand.
The culmination of the project is the exhibition of the painted hoe, now on display at the Incubator until September 26.
More on SunLive...