Lovebirds on the YWAM Koha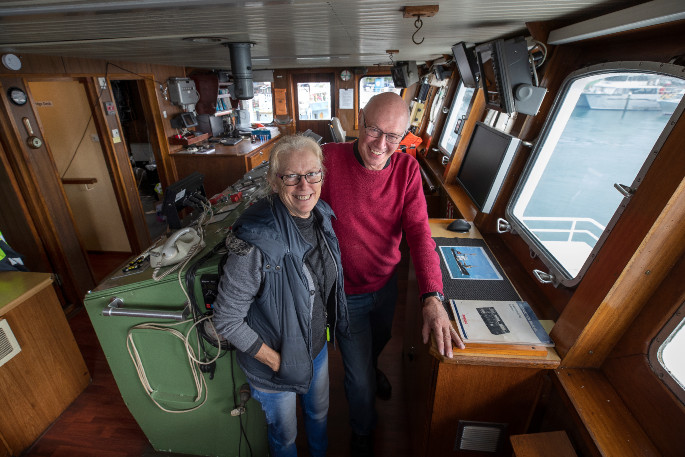 When driving over the Tauranga harbour bridge I often look down at the YWAM Koha ship berthed at the end of the dock.
It was due to sail to the Pacific Islands in May but because of the global pandemic had stayed here. I wondered about the crew on board, where they all hailed from and how they'd fared.
I'd also heard there had been a post-lockdown wedding between two of the captains.
The YWAM Koha is a NZ-registered medical aid ship, but it's also Tauranga's own. Director Marty Emmett says over the last year a deep sense of connection has grown between the Tauranga community and the vessel, with many locals volunteering their time and expertise to help with the ship's mission of taking medical aid up into the Pacific Islands.
The plan is for Koha to be open for public tours later this year, but being curious, once we reached Alert Level 1 I went on board to check it out.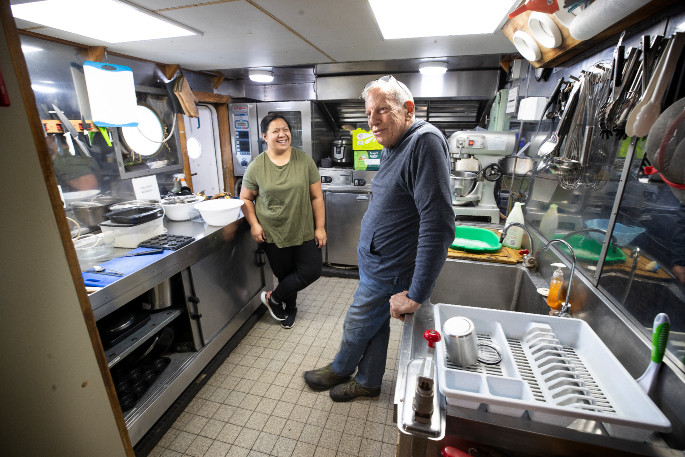 Shaileerae Cabreros and Bryan Clark in the YWAM Koha's galley
After signing in, it was up and down little steps until popping through one door I found myself in the galley where Bryan Clark, Koha's chef from California, was working away on food preparation with Shaileerae Cabreros from Hawaii. Shaileerae arrived last July, and Bryan in March, just before the nationwide lockdown. They are feeding around 18 people twice daily.
"Once in a while I surprise them with French toast, pancakes or eggs," says Bryan who has worked in the newspaper world for 46 years. "It depends on how early I wake up or how much coffee I've had."
He laughs as he recounts becoming the adopted grandfather of a family of seven who arrived for a week to volunteer their time on board.
He's a grandfather himself 15 times over with nine greatgrandchildren living back in the USA and Canada, staying connected via the internet.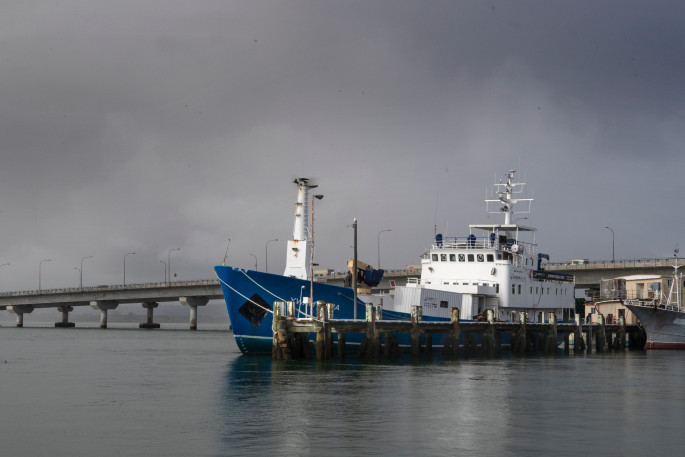 The YWAM Koha berthed near the Tauranga harbour bridge.
Each week Koha receives food from Good Neighbour through their Food Rescue programme.
"It's been amazing," says Marty.
We head up more steps until reaching the bridge, we find the newly married captains – Stephanie and Jonathan Birdsall.
Both from the UK, they also both attended the Maritime College in 1974.
"Stephanie started her cadetship with BP in 1974 and I started mine with Mobil Oil in 1973," says Jonathan.
They became more aware of each other during the last decade and found they often missed each other by days as Stephanie would finish on board a ship with Jonathan arriving to captain the same ship shortly afterwards.
They made a point of meeting up in Brisbane last year and a romance blossomed. Their original plans to be married in the UK with family around them in June were quashed by the pandemic. Jonathan works week on and week off as a captain for the Interislander ferry but had taken five months break to attend a YWAM DTS course in Nelson.
Stephanie flew into NZ just before lockdown and when the country returned to Level 3 they made the decision to go ahead with a small low key wedding. Koha's crew however turned it into a bigger celebration, putting up bunting around the deck with a ship party and cake.
The vessel and its crew are hoping to welcome the public aboard mid-October, Covid dependent of course.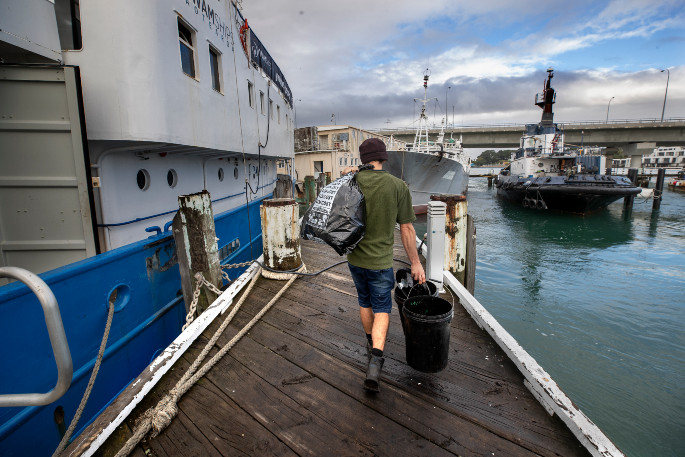 More on SunLive...