What's on - markets, art, live-stream rugby final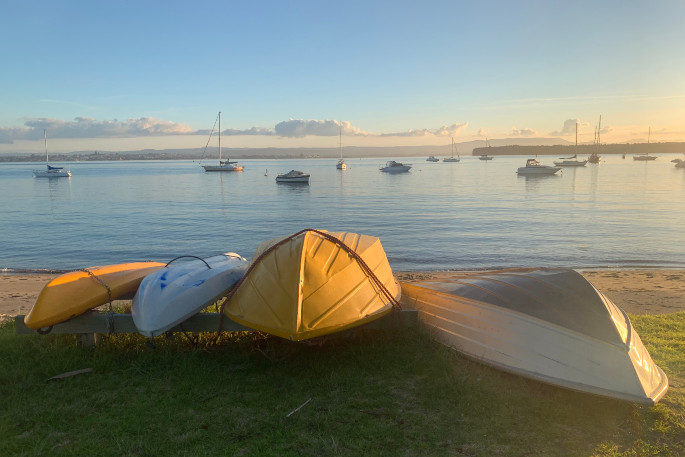 Good morning and welcome to Saturday. Kia harikoa. Kaua e manukanuka. Kia hari to whanau me o hoa.
Cloudy spells are expected today with a chance of a shower. Northwesterlies will be dying out in the evening.
It's a two-clothing-layer day with an expected high of 17 degrees, and an overnight low of 10 degrees. Low tide is at 9.32am and high tide is at 4.06pm. Sunset is at 5.52pm.
What's on today?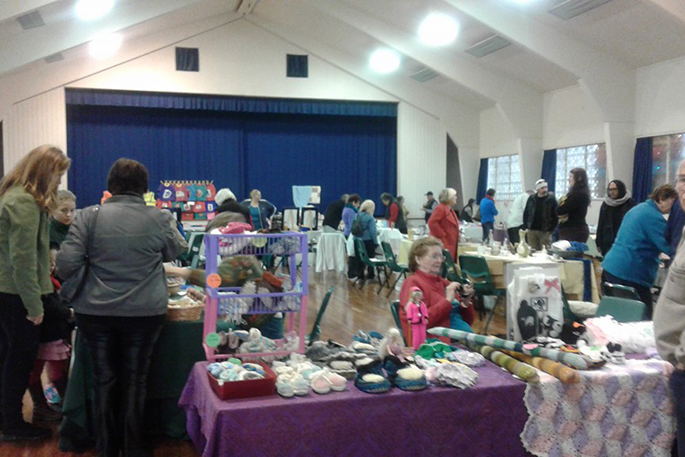 Greerton Hall Market
Come along to the Tauranga Farmers Market which runs until noon at Tauranga Primary School. Enjoy fresh regional produce and artisan foods direct from the producers.
The Greerton Hall Market is also on today from 8am with indoor and outdoor stalls.
For those loving in Papamoa, there is a market day being held at the Papamoa Community Centre from 10am – 2pm.
The Mount Maunganui Half Marathon is being held today from 8am -12noon at Mount Maunganui.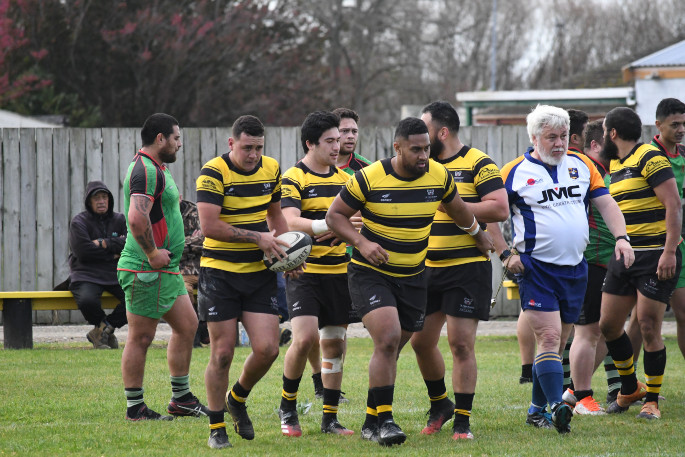 Te Teko play Opotiki at 2pm today in the Farmlands Co-operative Eastern Bay of Plenty Senior Men's club rugby final. The Bay of Plenty Rugby Union will be livestreaming the final on their Facebook page www.facebook.com/boprugby
Come support your local community rugby teams. The Bay of Plenty Rugby draw is available here. Remember there are strict level 2 restrictions in place.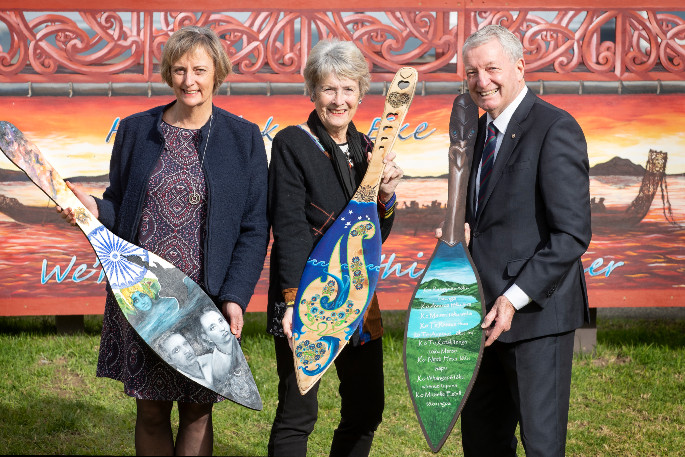 Tauranga Sunrise Rotary Club president Rhonda Wisbey with Rotarians Pauline Cowens and Les Geraghty holding some of the painted hoe that are being exhibited at the 'This is Us - he waka eke noa' exhibition. Photo: John Borren.
'This is Us – he waka eke noa' – the exhibition that is the culmination of this project is being held at The Incubator today, and is open from 10am – 3pm. Come along to this interactive exhibition of designed hoe (paddles) and stories by those who participated in the 'This is Us – he waka eke noa' workshops. More here
The Tauranga Girls College Expo 'Artful Wahine' is open today in The People's Gallery at The Historic Village in 17th Ave from 10am – 3pm. This exhibition showcases work from the college's art students.
Join an online beginners' carving workshop using soap. As part of the 2020 Tauranga Moana Matariki calendar of events the Incubator Creative Hub is proud to be presenting a series of workshops celebrating Maori artists and their art forms. This series of online tutorials have been made available by support from The Tauranga Creative Communities Scheme.
At The Incubator Creative Hub at Tauranga Historic Village, there are many exhibitions, workshops and events happening daily. For more information click here. Exhibition hours are 10am – 2.30pm.
What else is on today?
16th Ave Theatre
When the Wind Blows. Touching, dark comedy. Runs until 11th Sept at 16th Ave Theatre. Bookings thru iTicket
---
A Course In Miracles
Nondenominational transformational teaching aimed at bringing you peace through forgiveness & love. Forgiveness workshop. Online. Release the past. Get over it. Txt 0210 274 2502
---
Association Croquet
At Mt Maunganui, 45 Kawaka St, beside Blake Park. Mon, Wed, Sat at 9:15am for 9:30am start. Visitors & new players welcome. Ph Jacqui 07 574 9232
---
Bay Network Singles Club
Join a bunch of over 50 years young singles for dinners, pot-lucks, lunches, occasional outings. Mostly weekends. Give us a go! Ph Jonathan 572 2091
---
Beth-El Messianic Family
Celebrate the Sabbath (Sat) as Yeshua (Jesus) & all believers did. All welcome. 10am, Otumoetai Primary Hall or Zoom 599-965-041. Joel van Ameringen 021 768 043 BethEl.org.nz
---
BOP Tall People Club
People taller than 5''8 (178cm) who live in BOP please join our new social club & Facebook group. Ph 0210 226 2619
---
Free Macular Degeneration Seminar
Hotel Armitage, 9 Willow St, Tauranga 10am-11:30am. To register ph Macular Degeneration NZ on 0800 622 852
---
Greerton Hall Market
Last Saturday of month. 8am-12pm. Stalls inside/outside. Discounts for charity groups. Refreshments available. Ph/txt for site. Tricia 07 543 1487 or 027 908 2952, www.facebook.com/greertonhallmarket
---
Jigsaw Library
10am-12. Variety of 500 puzzles. Hire Charge: 50c under 1000pcs, $1 for 1000+pcs. St Stephens Jigsaw Library, cnr Highmore & Brookfield Tce
---
LOL Laughter Wellness
Sessions on hold until we return to Covid Alert Level 1. Keep laughing, it makes everybody wonder what you have been up to. LOL
---
Mount Country Music
2nd Saturday monthly 1-4pm Senior Citizens Hall, 345 Main Rd, Mt. Mostly country, good backing band. Ph Dick 027 493 8458
---
Omokoroa Bowling Club
Sat & Tues 12:30-4pm, 30 Hamurana Rd, $5. Beginners & visitors welcome. Ph 021 255 6415
---
Papamoa Radio Control Yachts
DF65s sailing daily, pond behind Monterey key 1-3pm. All welcome. Ph Dusty 021 076 1252
---
Petanque
At Club Mt Maunganui, Kawaka St every Tues & Sat, 1pm. Boules & coaching available. Ph/txt Maryan 022 070 8200 petanquetauranga@gmail.com
---
Tauranga Farmers Market
7:45am-12 at Tauranga Primary School. Rain, hail or shine. Direct from the producers, fresh regional produce & artisan foods.
---
Tauranga Fuchsia Group
Last Sat of month at Art & Craft Ctr, Elizabeth St West 1:30pm. Learn how to care for fuchsias. Ph Pat 579 1655 or Noeleen 578 4643
---
Triumph & Tribulation Concert
BOP Symphonia's concert at Holy Trinity Church is cancelled due to the continuation of Covid Level 2 restrictions.
---
Under the Stars
Community meals for the homeless & needy. Thurs 12-1:30pm & Sat 5-6pm. 45 Cliff Rd. Also accepting food donations. Ph Laura 027 555 2872
---
We Will Ride Fast
Contemporary alternative music including projected visuals. Dance beats, funky guitars, passionate vocals. Awesome! 7pm, Jam Factory, Historic Village, 17th Ave. Book @ www.theincubator.co.nz
---
Welcome Bay Worship
Church of God's Love (7th Day) 10:30am using WBCC premises opposite primary school. All welcome. www.churchofgodslove.com
---
More on SunLive...