Seasonal worker was family's 'right hand man'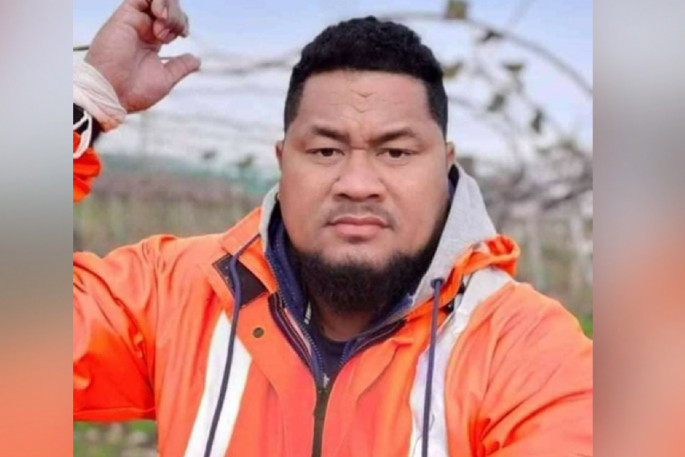 Five days before he was due to return home to his wife and daughter in Samoa, 36-year-old seasonal worker Vaetasi Selesele Asiata died in a vehicle crash in Tauranga.
Samoa's chief coordinator for seasonal workers, Lemalu Nele Masinalupe Leilua says the driver had been the group's team leader and Vaetasi was in the front passenger seat.
"They were returning from their shift, were all tired…" says Lemalu.
Lemalu says Vaetasi was part of a team of 10 RSE Workers who arrived from Samoa in November and due to return in June but their contracts were extended.
Vaetasi was originally confirmed on a flight due to leave New Zealand on July 31, but changes to Samoa's State of Emergency restrictions allowing flights every three weeks instead of two prompted the reschedule and change of plans.
Lemalu says Vaetasi and his team had been working in the Hawks Bay area, but shifted to Tauranga where they were able to get more work picking kiwifruit, while awaiting their flight home.
Vaetasi's grieving wife Lucy Selesele Vaetasi McCarthy issued a public post on Facebook expressing her disbelief at the news of his sudden death. Messages of condolences from friends and family have also flooded social media since the accident.
Vaetasi's sister Tipesa Gaspian Fomai says the family is still coming to terms with their tragic loss.
"It really is so sad. We were so happy when he said he will be back but it turns out he won't be back alive," says Tipesa.
"He is the right-hand man of my parents. The family really can't accept the fact that he is really gone especially Lucy."
Tipesa says it was Vaetasi's third time to New Zealand as a seasonal worker. His earnings had enabled him to build a new home for his family.
The single vehicle crash near the Sandhurst Drive on-ramp on Maunganui Rd was reported to Police at 5pm on Sunday, August 23.
Two other people injured in the crash suffered moderate to serious injuries while four passengers escaped unharmed.
A 35-year-old Samoan seasonal worker was charged with careless or negligent driving causing death and was due to appear in the Tauranga District Court on Wednesday.
Vaetasi is survived by his parents, Asiata Mati and Taai Asiata, and his wife Lucy Selesele Vaetasi McCarthy and their one-year-old daughter Charity.
More on SunLive...