Coast carers needed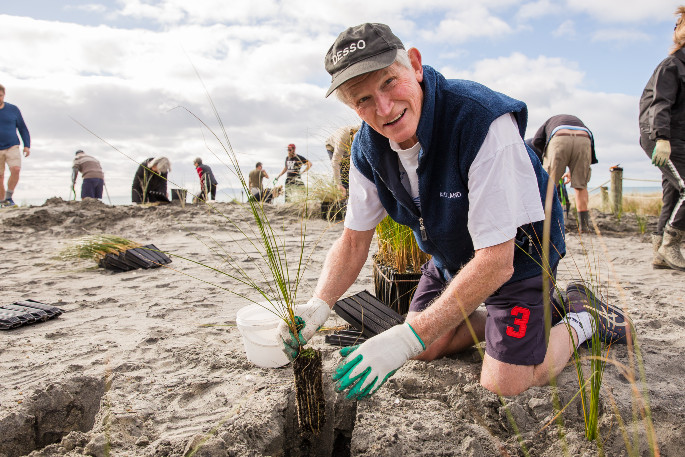 Coast carers have three opportunities to help protect the sand dunes at Waihi Beach, Papamoa Beach and Ohope Beach tomorrow, the last Sunday in August.
"All that's required is to turn up wearing covered footwear; and bring gardening gloves, a water bottle, a friend or three, and a smile," says Coast Care regional coordinator Paul Greenshields.
Coast Care will be providing planting equipment and light refreshments and asks everybody to maintain a two-metre distance from other planters in accordance with Alert level 2 guidelines
Digging in the sand is easy and dune restoration can be enjoyable and rewarding.
"The dunes provide a buffer between the land and the sea and native dune plants play a vital role in anchoring and maintaining healthy and stable sand dunes, binding blowing sand onto the beach. Without these plants, the sand blows away and dunes disappear - leaving the land vulnerable to weather and wave surges.
"The popularity of many beaches, changing climate, pests and development pressure are all affecting the health of our coast, particularly dunes. The work of Coast Care groups is important in making sure our beaches remain for many more years to come," says Paul.
The Ohope working bee will be held on Sunday, August 30 from 9.30am – 11am opposite Tuati St, Ohope.
At Waihi Beach and Papamoa Beach the working bees, also on Sunday, August 30, get underway at 10am and finish at 12noon. Meet at the eastern end of Broadway Rd in Waihi, and at the beach access opposite Douglas Pl in Papamoa for those working bees.
Each of the three beach locations will have a Coast Care flag near the roadside, for easy spotting.
A further coast care planting working bee planting along the estuary margins in Maketu will be held on Sunday, September 13, from 10am – 12noon. Hosted by Coast Care Bay of Plenty and Maketu Ongatoro Wetland Society, the meeting point for this planting event is Kaituna Cut carpark at the end of Ford Rd.
For more information on these family-friendly events go to: www.boprc.govt.nz/coastcare
More on SunLive...