Hitting the campaign trail together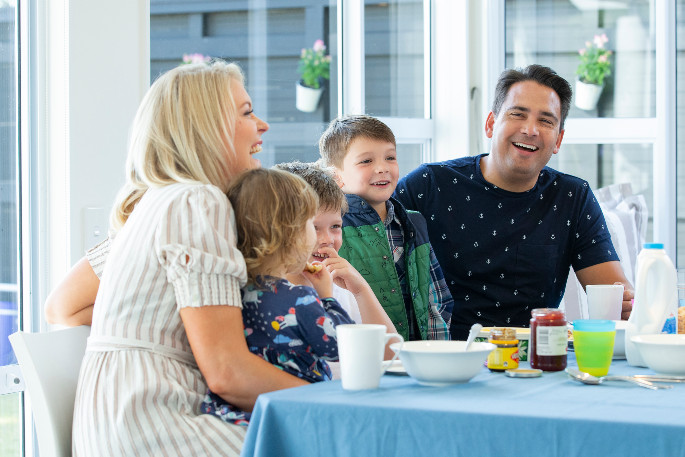 Why are Simon Bridge's billboards decorated with blue fairy lights? It seems he has new campaign managers running his re-election effort this year.
Sons Emlyn and Harry helped launch their dad's campaign from their couch, live-streaming an interview asking Simon some curly questions on taxes and grilling him on the economy.
His fireside chat at The Weekend Sun was probably more relaxed.
"Tauranga is a great place to raise a family, people move here from far and wide," says Simon.
"I think it's getting harder though, with making ends meet and keeping money in your pocket. And land for housing is becoming more expensive."
He says there's not enough being done in terms of houses, roading and transport, and dealing with gangs.
"I'm really clear about what I would do if re-elected and certainly if there's a National-led government - we would make sure that we're growing the economy and keeping that strong.
"When we were in government, we made Tauranga stronger economically with supporting the kiwifruit sector when it had PSA, and with supporting the set-up of the PlantTech Research Institute.
"I'd make sure we're freeing up land by RMA reform. We have elderly and solo parents with maybe one child, living in smaller places. Freeing up and getting old state housing stock transformed would be transformative for Tauranga."
He's determined to get the Tauranga Northern Link built.
"We'd actually make it happen. The government says it wants to do it but there's nothing happening.
"Labour makes first-class announcements with second-rate delivery."
He also wants to get four-laning to Hamilton built.
"And I'm committing to getting started on Hewlett's Rd and Totara St for the port traffic there. Out through Barkes Corner and Tauriko we need a big solution. There's a lot to get cracking with."
Simon has heard many say they feel they're living in a less safe community with greater social problems.
"I want to see a specified gang unit here that's really tooled up to deal with the gangs. We're seeing too much crime from them, too many problems and they've been peddling meth.
"There are some real areas of deprivation that have health and social wellbeing effects. I want to see more beds for the homeless and wrap-around teams for social agencies so we can deal with the underlying causes of homelessness, and help with mental health issues better."
He is committed to government leading the development of a cultural hub in the Tauranga CBD.
"Nelson, Napier, New Plymouth, they've all got one. As we've grown, we should have a cultural hub, a museum to tell our stories and appropriately house all our history we have, both Maori and Pakeha."
More on SunLive...