Port of Tauranga profit $90million despite Covid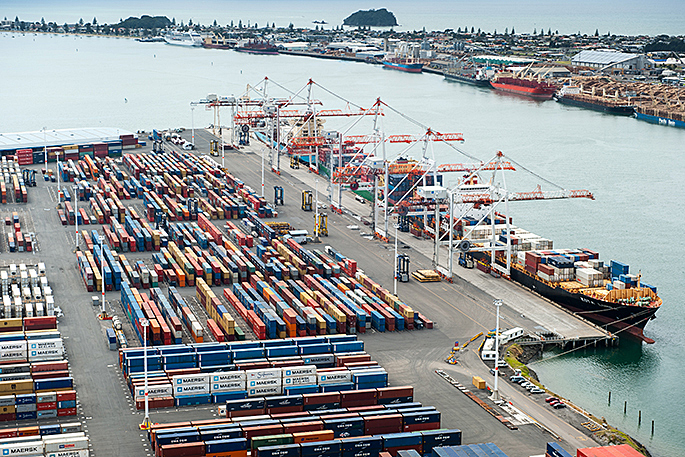 The Port of Tauranga is reporting a group net profit of $90million and increased container volumes despites disruptions from the Covid-19 pandemic.
New Zealand largest port's profit is on 24.8 million tonnes of trade and it had an annual revenue of $302m down $11.3m on 2019.
Container volumes increased 1.5 per cent in the 2019/2020 financial year.
Port of Tauranga's chair, David Pilkington says the results reflect the turbulent year and are a strong performance in view of an almost 22 per cent reduction in log exports.
"Some of our customers saw record export volumes, while others were unable to operate during the lockdown," says David.
"Port of Tauranga is New Zealand's major international hub port so it is not surprising that we have seen the effects of the global upheaval."
The Covid-19 pandemic has had a wide-ranging impact on the business, including shipping cancellations, reduced cargo volumes, operational challenges and increased costs, and the resulting economic recession in New Zealand and the world.
"We are better positioned than most, due to our track record of strong capital discipline, our conservative balance sheet and capacity headroom."
"Our diversity of cargo gives us some resilience in terms of revenue, while the strength of our people and processes has really shone through in keeping New Zealand's most efficient port operating."
Port of Tauranga has extended its strategic alliance with New Zealand's biggest container exporter, Kotahi, through to 2031. The Port also has long-term freight volume agreements in place with other key exporters such as Oji Fibre Solutions and Zespri International.
"These long-term partnerships give Port of Tauranga certainty to plan for the future, and to expand capacity in a way that matches customer demand rather than investing speculatively.
"It's vital to have strong relationships with our customers to ensure we have the freight volume to attract the big ship services."
David believes shippers will increasingly seek out the lowest carbon supply chain, which they can access through the bigger ship services calling only at Tauranga.
Larger vessels of 7,500 to 9,500 TEUs have a carbon footprint more than 31 per cent lower than the average size vessels calling in New Zealand previously.
"We are the only New Zealand port able to offer the efficient, short transit time services that these larger vessels bring."
Port of Tauranga has formed a joint venture with Tainui Group Holdings to develop the 30 hectare Ruakura Inland Port at Hamilton. The partnership will help Waikato-based importers and exporters to easily access the direct rail link to Tauranga.
Port of Tauranga chief executive Mark Cairns says the port team put in an outstanding performance to keep essential imports and exports flowing throughout the Covid-19 lockdown.
"Our team and partners managed a record cargo exchange on the Sally Maersk container vessel during lockdown."
He says they transferred a total of 9,367 TEUs in two and a half days, obliterating the previous record exchange of just under 7,000 TEUs.
"We also commissioned our ninth container crane, which arrived in pieces in February and was in service just 11 weeks later."
Port of Tauranga is now planning for the next stage of cargo growth and, in response to customer demand, intends to add another container vessel berth to the south of the existing Sulphur Point wharves.
"We take a long-term, strategic view of our infrastructure investment to ensure we can provide importers and exporters with the facilities they will need in the future," says Mark.
The board has declared a final dividend of 6.4 cents per share. The special dividend scheme will be suspended, with funds reserved to accelerate capital expenditure but the ordinary dividend policy will pay between 70 per cent and 100 per cent of underlying net profit after tax.
More on SunLive...