2020 Farmlands Eastern Bay Premier Final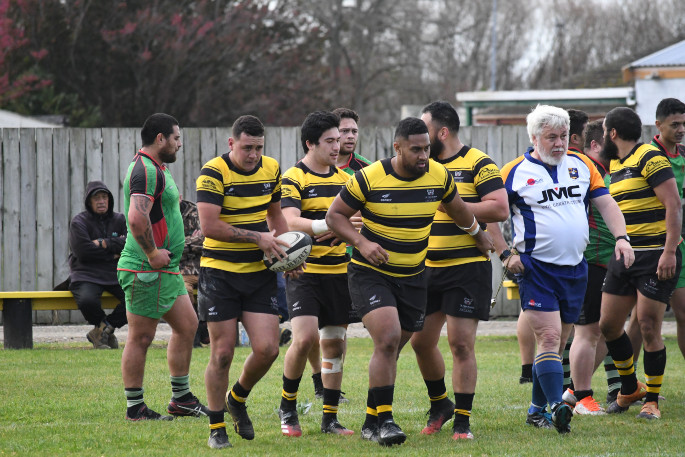 After defeating Galatea/Waiohau 28-10 in the semi-final last weekend, Te Teko have earned the rights to host this year's Farmlands Co-operative Eastern Bay of Plenty Senior Men's club rugby final as they go up against Opotiki for the title at 2pm on Saturday.

With the 2020 Baywide club rugby season being interrupted due to COVID-19, the men's senior competition was made into a local round with the Eastern Bay of Plenty Sub-union committee taking charge.
This meant that the competition format was shortened to seven-week round-robin format with the eight teams playing each other once.

Going undefeated all season, Te Teko are looking to continue their streak this Saturday. Last time these two teams met in Round Three of the 2020 Farmlands Eastern Bay competition, Te Teko came away with the win 34-17.

"This is huge for the team but more so our small community," says Te Teko spokesperson Anthony Studer. "This is more than just rugby to us here in Te Teko as this is used to unite our community.
"We have been pretty spoiled over the last six years as we have been in six respective finals and the last four been at home. So to host this one and it being the first Eastern Bay final for over 25 years is pretty exciting. We would like to congratulate Opotiki as the other finalist.

"A huge thank you to our supporters, our major sponsors Putauaki Trust and Omataroa Rangitaiki No. 2 Trust as without them, this would not have been possible in this crazy year we have had," says Anthony.

"For us it represents the best in the Eastern Bay of Plenty, and the ultimate goal being crowned the best Team in the Eastern Bay of Plenty," says Te Teko Captain Te Oranga Headifen.

"Every team in the Eastern Bay of Plenty Club scene are all closely linked to each other so we have great banter. We are pumped to get out there and represent Black and Yellow. TTK All day" says Te Oranga.

Opotiki successfully defeated Paroa 48-15 at home in last weekend's semi-final, claiming their spot in the 2020 final. They are looking forward to making the bus trip to Dunderdale Park with Opotiki Captain Luke Morris proud to lead his team to the final.

"The boys are excited for the challenge ahead. Texas have set the bar in the Eastern Bay for the last few years so it's good to see where we are," says Luke.

Farmlands Cooperative Regional Manager Dolly Halley says the sponsorship of the senior men's club rugby competition is a positive reflection of the company's connection to the Bay of Plenty community.

"We are a community focused company and therefore supporting the BayWide Club Rugby competition was a no brainer for us. Being able to support our local community is our focus and this is a perfect fit for our company," says Dolly.

The Bay of Plenty Rugby Union will be livestreaming the final on their Facebook page here: www.facebook.com/boprugby/

It is set to be an action-packed afternoon of rugby at Dunderdale Park with the Te Teko U12's and U13's playing against Waikite and Te Puna respectively before the Senior final.

Under the level 2 COVID-19 measurements, Te Teko rugby club, in conjunction with Opotiki and the Bay of Plenty Rugby Union, are well prepared to follow their Covid-19 Safety Plans with regards to hosting home games under alert level 2 restrictions.

Other than those spectators, players and team personnel arranged to attend through their clubs, all other spectators are advised NOT to attend and instead watch the matches on the livestream.

2020 Farmlands Cooperative Eastern Bay of Plenty Senior Men's Premier Club Final
Saturday August 29
Dunderdale Park, Te Teko
Gate entry fee: $4.00 per person (cash only)
Curtain Raiser games:
9.30am: Te Teko U12's vs Waikite U12's
11am: Te Teko U13's vs Te Puna U13's
Watch the livestream of the 2020 Farmlands Cooperative Eastern Bay of Plenty Senior Men's Premier Club Final on the Bay of Plenty Rugby Facebook page: www.facebook.com/boprugby/
Please remember if you are a player or involved with one of the teams playing:
If you're sick or have flu-like symptoms, STAY HOME. Don't go to rugby this weekend.

If you're going to attend a venue as a spectator, follow the wishes of the host club. Check in, use the hand sanitizer, avoid physical contact with people and stay 2 metres away from the person beside you.

If you attend a club room afterwards, only 100 people are allowed! You must check in, use hand sanitizer, be seated and be served.
More on SunLive...