Jetstar suspends New Zealand flights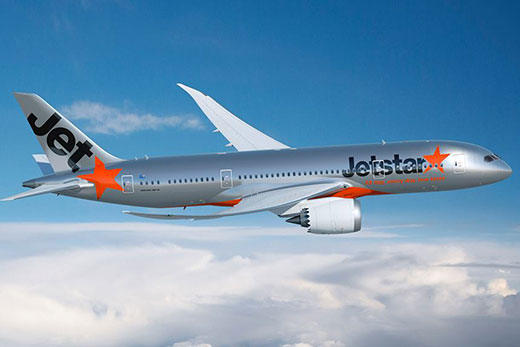 Low-cost carrier Jetstar has suspended flights in New Zealand for at least 11 more days, citing difficulties of operating while social distancing rules are in place.
Following a resurgence of Covid-19 in New Zealand the Qantas subsidiary suspended all flying in New Zealand until August 26.
That has now been extended to September 6 following Monday's announcement by Prime Minister Jacinda Ardern that Auckland will remain in alert level 3 until midnight Sunday.
A Jetstar travel alert, published just before midnight Monday, said as a low-cost carrier it was unable to continue its operations in New Zealand while there was a requirement for airlines to keep the middle seat free.
"The limitations on the number of customers that are allowed on board our aircraft make the operations of our flights unviable."
Auckland has been in alert level 3 since August 12 while the rest of the country has been in level 2.
Under alert level 3 people can travel on domestic air services for only a handful of specific reasons such as if they are travelling to do essential work, facilitating shared caregiving arrangements, relocating a home or business, travelling for medical reasons, because of an emergency or to give effect to a court order.
Under alert level 2 New Zealanders can travel, but they must do it in a safe way and remember to keep a record of their journey.
Physical distancing applies and people should not travel if they have been requested to self-isolate/quarantine, have symptoms of Covid-19, or are awaiting Covid-19 test results.
Jetstar says affected customers were being contacted and offered options, including the ability to change their travel date (to fly between September 7 and 24) at no additional cost or receive a credit voucher for the full amount of their booking.
Meanwhile, Air New Zealand is mandating the wearing of masks or face coverings on its flights from August 31, in line with a Government order that will mandate face coverings to be worn on public transport.
Air New Zealand chief executive officer Greg Foran says customers flying from Auckland had been required to wear masks while at level 3 and it had been recommended for customers travelling from other ports.
It was also reviewing its domestic network and would be contacting customers who may be affected by the extension of current alert levels, he says.
"We understand the impacts these disruptions cause to our customers and we'll do our best to get our customers to where they need to be," Greg says.
Fare flexibility is still in place and the airline encourages those who no longer wish to fly to opt to hold their fare in credit through its online booking tool.
Air New Zealand chief commercial and customer officer Cam Wallace said in a tweet on Monday the airline was blocking for sale 120,000 seats on about 3000 flights between August 27 and September 6 to ensure social distancing requirements were in place.
It was also working on reinstating arrangements so people in the same bubble, such as families, could sit together.
More on SunLive...