Feedback needed on plans for Katikati reserve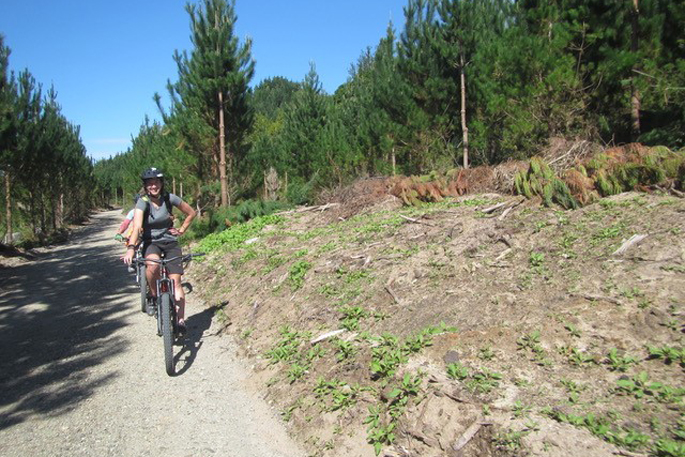 Public feedback is sought for a proposed new recreation area near Katikati dedicated to horse riding, mountain biking and walking.
Western Bay of Plenty District Council is seeking feedback on the draft concept plan for Lund Road Reserve
The reserve, which includes the Waitekohe Stream, is an 89ha area with a mixture of native bush and pine forest located between Lund Road and Thompsons Track Road Katikati. Similar to TECT Park, forestry will continue on the site, while offering recreational use of the land.
The draft concept plan for the area includes horse and mountain bike trails and proposes separate carparks for various users – equestrian, mountain bike, and events or overflow.
The Western Bay of Plenty District Council has worked with a local recreational group, the Katikati Recreational Park Development Group, to make the most of the existing forestry trails and provide for both mountain biking and horse riding, as well as adding some new proposed trails.
As part of the consultation, council is also proposing to change the name from Lund Road Reserve to Waitekohekohe Reserve to better reflect its historic significance. Also the key access points are now on Thompsons Track Road – not Lund Road as originally intended.
Waitekohekohe is the name gifted by local hapū Ngai Tamawhariua in reference to the ancestral name for the area and its relationship to spiritual waters, a sense of yearning and climbing trees and vines.
Council's policy and planning manager Emily Watton says the draft concept plan has taken into consideration the many views shared through council's online engagement earlier this year and through engagement with people with particular interests in the use of the reserve.
Emily says some people had expressed concern at the decreasing number of safe horse riding areas within the district and that, while TECT Park in upper Pyes Pa was a popular horse riding area, there was no equivalent area in the western end of the district.
"Council proposed this development in its Reserve Management Plan in 2018. Over the past two years, council has worked with a group of local enthusiasts to develop these concept plans, on which we are now seeking wider community feedback.
"We have amended our original plans to take into account safety concerns about the conflict of use and improved access from trails to the carpark. We are now proposing a separate carpark for mountain bike riders, a separate one for horse riders and an additional overflow or events carpark" says Emily.
Council will address some other concerns through good signage and public awareness of council's bylaws and policies relating to removal of litter and waste, dog control requirements, fire safety and that no freedom camping will be allowed at the reserve.
Some aspects of the project are still in progress and will be implemented over time with support from locals and community groups – such as the installation of ttrack features and environmental enhancement and planting.
Council is hosting a 'have your say' drop in day at Katikati War Memorial Hall on Saturday, September 5 from 10am until 2pm.
People can share their views on the proposed concept plan until Friday, 2 October through the website.
Feedback can also be posted to Draft Lund Road Reserve Concept Plan, Western Bay of Plenty District Council, Private Bag 12803, Tauranga Mail Centre, Tauranga 3143.
Hard copies of the draft concept plan are at council offices at Barkes Corner, Greerton and service centres in Waihi Beach, Katikati, Omokoroa and Te Puke.
More on SunLive...