Not the usual suspect: How a cop got convicted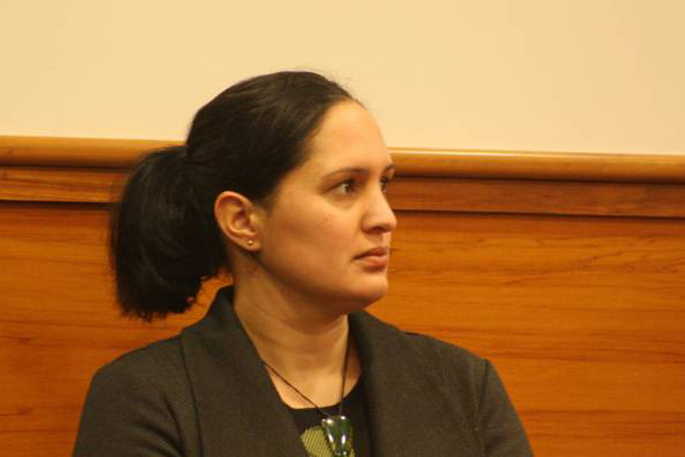 She was a top sportsperson collecting awards for her achievements.
She'd been on television as a 'role model' encouraging others to follow a similar path on her rising career.
She was a new mother.
For all these reasons Melissa-Mae Ruru wasn't the sort often found in the dock of the Rotorua District Court.
But there is another reason Ruru wasn't one of the usual suspects.
She was a cop fighting a two-year battle to avoid conviction and keep her identity secret.
When Detective Sergeant Darryl Brazier addressed the jury of six men and six women at Ruru's trial for attempting to defeat the course of justice and forgery he made the point that this case wasn't business as usual.
"This investigation from the outset was nothing like the normal police investigation," he told the court as the saga neared its end last week.
The person in the dock a few feet away had been, up until 2018 when she was charged, a serving police officer.
Caught between the demands of working in a small town with people she knew and the desire to keep them on the right side of the law, Ruru was not, however, "an ordinary police officer".
That was the claim made by her lawyer Bill Lawson back in July 2018, when he successfully fought to keep both her name and occupation wrapped in legal suppression.
Bill said his client was not only special as an officer, or as a detective, but "as a role model".
He said she had appeared on the television show Women in Blue and had been used to encourage other Māori females to consider a job in the police.
Bill also argued suppression was necessary to avoid earlier cases in which Ruru had given evidence becoming compromised.
In a written ruling, in which Ruru was referred to as 'Ms X', Judge Marie McKenzie backed this view.
"These kinds of allegations are frequently regarded as indicative of character even before they have been proven and, regrettably, even after an acquittal".
She can only now be named in the wake of her conviction last Friday.
Ruru was convicted alongside co-accused Tyson Sykes, a former Olympic boxing hopeful, after a two week trial – among the first jury trials to resume in New Zealand after Covid-19 restrictions lifted.
It saw the magnifying glass put on social media, the potential for conflicts of interest among officers working in the communities they grew up in, and included an injection of Hollywood star power when Temuera Morrison, famed for his Once Were Warriors role as 'Jake the Muss' took the stand.
It was a saga that has its origins as far back as 2016.
That was when Sykes received a Community Work sentence for driving while disqualified, and Ruru took on the role of sponsor, the person responsible for signing off his work hours and ensuring the correct tasks were completed.
Sykes was granted the unusual opportunity of conducting that work at his family's Sykes boxing gym, largely due to the esteem Ruru was held in as a serving police officer.
"She presented as being very intelligent and professional, asked all the right questions. . . by nature she's a police officer, a position of trust, the perfect sponsor."
That was the view of Emma Ellis-Jones, the probation officer involved with Sykes' 2016 community work, and it was a sentiment echoed by Michael Abraham, who oversaw Sykes' 2017 community work, again for driving offences.
"Ms Ruru was a police officer and was considered to be an outstanding citizen."
The Crown case against Ruru was simple. She signed off false records about Sykes' community work, forged his signature on those documents and an Olympic athlete form for the 2016 Games.
They had the document analysis, and the social media messages, to prove it, claimed Crown prosecutor Hayley Sheridan.
"These forms were submitted and the intention was for Mr Sykes to escape the full impact of his sentence."
Hayley said the messages also included "jokes about community work, including that it's too easy".
One message exchange, which related to the Olympic forms, saw Ruru tell Sykes "if anyone rings, you just signed this form in front of me".
"OK mate I trust you," Sykes replied.
"The messages make it very clear it was Ms Ruru who signed that form," Hayley said,
One exchange saw Ruru message Sykes to say, "I'm just going to sign them for you if that's OK".
Sykes replied "Sign away".
Bill argued that the messages were taken out of context, and that in fact Ruru was using humour to motivate Sykes to stay on track with his Community Work.
When Ruru gave evidence herself, he asked her about some of the message content.
"You just signed it in front of me, what does that mean?"
"I just needed to confirm with him, to confirm that was what happened, just to confirm."
Unsurprisingly, it was a topic Hayley took Ruru to task on too.
"Are you telling Mr Sykes to lie?"
"I'm just reminding him what happened," Ruru said.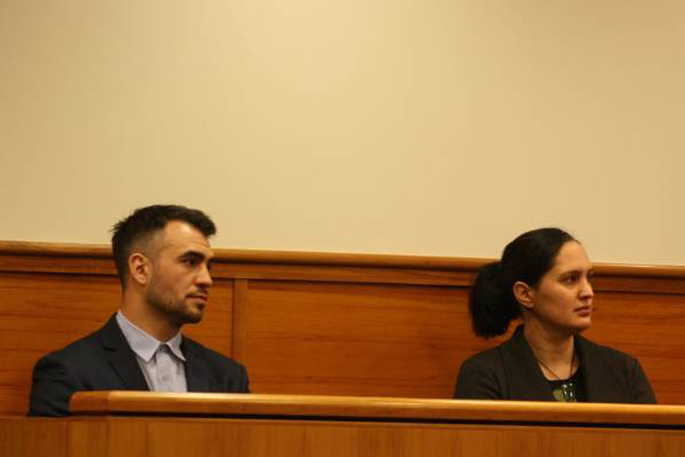 Tyson Sykes and Melissa-Mae Ruru in the dock at Rotorua District Court at the start of a two-week jury trial, one of the first to take place in New Zealand after Covid-19 restrictions eased. Benn Bathgate/Stuff.
Ruru maintained her denials of any wrongdoing under questioning, at some points wiping away tears.
"I didn't want Tyson to become another statistic, especially him being a male Māori," she said at one point.
The Crown also relied heavily on evidence from police senior document examiner David Boot.
"The signatures on the athlete agreement form and the community work attendance records are copies or simulations of Tyson Sykes' genuine signature style," he said.
David stood firm under questioning from Bill too.
He asked him whether the signature examples he examined were copies instead of originals, whether fatigue could have an effect on a person's signature and about the email he received with the copies.
It stated it included two forged signatures.
"Then you go along and complete your investigation and confirm in your opinion they are forged?" said Bill.
He reserved his most combative questioning for Darryl Brazier, the officer in charge of the investigation and the man who, back in 2018, arrested Ruru.
He asked why certain leads were not pursued by police during their investigation, particularly relating to social media messages referencing Sykes' doing gardening work at her rental property.
At one point he said to Darryl "I ask the questions, you answer them."
He also asked why Darryl did not investigate social media references that Sykes' had community work hours signed off for helping Ruru move house.
"This investigation from the outset was nothing like a normal police investigation," Darryl said.
"The person we were investigating was a serving member of the police. It was dealt with by people outside Rotorua, a covert operation for obvious reasons so no enquiries were made with any witnesses associated with her in any way because it would not remain a covert investigation."
Asked why those enquiries were not made after Ruru's arrest, he said "in my opinion there was ample evidence to charge Ms Ruru".
The jury were also treated to a touch of Hollywood when Temuera Morrison took the witness stand.
He trained at Sykes gym, he said, because "when you've got a face like mine I'm always the bad guy, physical roles, so I need to be quite fit."
Temuera also referenced his iconic role for that training, as "I had to become that brute".
He claimed he saw a sea change in Sykes' attitude around the gym as he mentored the young boxers, and was quick to praise Ruru.
"A real role model, not like us Hollywood people," he said.
"To me she lived and breathed the law."
He agreed Sykes' had a "peculiar sense of humour" but insisted Ruru kept him on track.
"We always knew there was that line with Mel when it came to doing the mahi. . . there was no beating around the bush."
In her summing up for the jury, Haley described Ruru as "evasive".
"She was reluctant to admit some things that seem pretty clear on the evidence. . . you may think that reflects on her credibility.
"He needed to get that community work sentence out of the way in 2016 and 2017. . . Ms Ruru allowed him to take the easy way out, and they were both prepared to deceive Corrections," she said.
"They both committed the offence of seeking to defeat the course of justice.
Bill again argued humourous exchanges on social media had been taken out of context, took aim at the extent of the police investigation and referred to an incident when Ruru was told of a pending police search of Sykes' property.
"This information was given to Ms Ruru with the expectation they would catch her red handed, but unfortunately Ms Ruru is the honest police officer we are telling you she is."
It took the jury just a few hours to disagree.
Ruru and Sykes are set to be sentenced on October 30.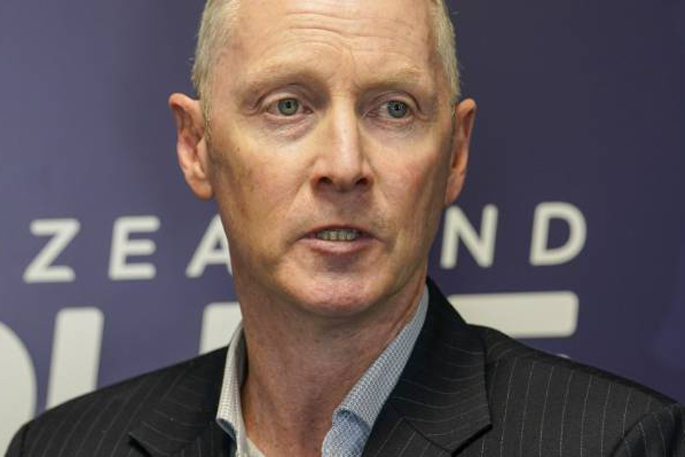 Police Association president Chris Cahill says the police were sometimes too eager to charge their own for criminal offending, something not supported by the conviction rate. John Cowpland/Stuff
'Police are held accountable'
New Zealand Police Association president Chris Cahill says Ruru's conviction demonstrated no-one was above the law, but he also took aim at what he says is an over zealousness on the part of police to charge their own.
"It just shows it's important police are held accountable," he says.
He also says the case highlighted the twin perils that can accompany social media use, and policing in the community you grew up in.
He says officers sometimes had to work among people they have "grown up with who have taken a different path".
Chris says it is important officers declare any relationship that had the potential for a conflict of interest to their superiors, and to treat anything they say on social media "as if it would be published on the front page of the paper".
He also says this highlighted the conflict involved in a serving officer overseeing a community based sentence, something he says should be subject to a blanket yes or no from police, though he would "lean towards" it being prohibited.
He also stressed that convictions for serving police officers are rare.
"The charging isn't rare unfortunately, we believe police overcharge officers."
He says there is a "very low conviction rate" for officers facing charges and says that often when facing things like minor driving offences, diversion was not offered.
"We don't think that's fair."
More on SunLive...