Bridge-rescued Lilly the cat is not doing too well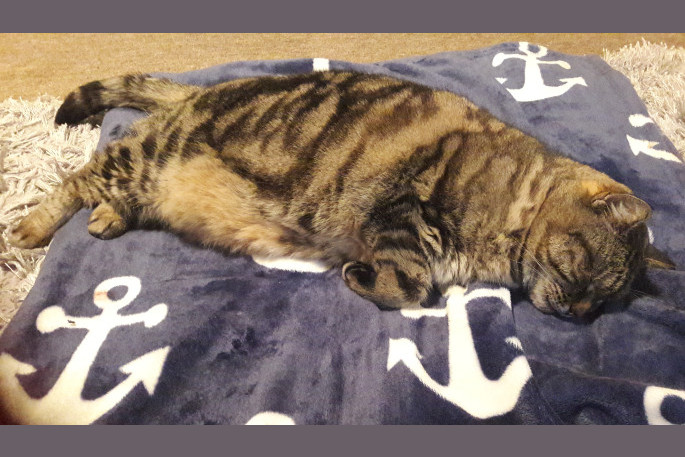 The owners of Lilly, the cat rescued by Police from the middle of the Tauranga harbour bridge on Saturday afternoon, say she is not doing too well today.
Lilly was taken to Bethlehem Vets this morning after spending an uncomfortable night back at her home in Otumoetai and her future is looking bleak.
"The vet thinks she may have been hit by a car," says a family member. "There is damage to the back part of her body."
The owners have no idea how Lilly who lives in Otumoetai, came to be in the middle of the harbour bridge, with busy traffic all around her.
"She was at home at 10am on Saturday morning. Then she was reported about 12pm on the bridge.
"How she got there no one knows as she lives in Otumoetai. She's a fat little very friendly cat, and doesn't wander from home.
"She's a loved cat and not a stray. We think she may have come out of someone's car on the bridge. And it looks like she's been hit by a car, but no one has come forward. We don't know if someone picked her up from Otumoetai. She is friendly and we'd hate to think that someone deliberately picked her up."
Police rescued Lilly on Saturday soon after they were advised of a cat stuck on the bridge. They reported that Lilly was safe and well, was taken for a vet check, and that the owners had been contacted.
"When they picked her up at the SPCA, Lilly was walking around, but as soon as she got home, she suddenly deteriorated," says a family member. "When I saw her last night she just lay on the mat. She moved slightly and had pain and yelped. Then she coughed twice and a bit of blood came out of her mouth."
The owners got her into the vets as soon as they could for a thorough check.
"It's not looking good. There is no feeling in her tail at all. She hasn't done a wee or a poo. The vet is concerned that if she doesn't do one today then it's not good for her, as she is in pain.
"She may have to be put to sleep tomorrow."
More on SunLive...