They hear it all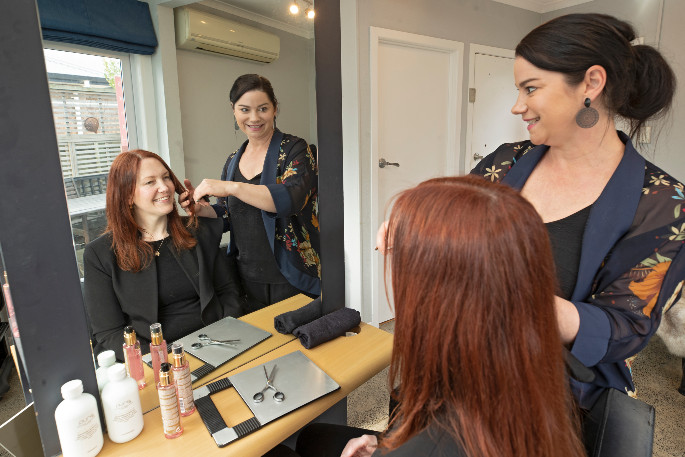 Sitting down in a hairdresser's chair you expect to get a haircut but what many people don't realise is they get an unofficial counselling session of sorts.
By opening up to the hairdresser or barber about your day, you're lightening the load and can walk out with a new 'do but also a better mood.
Studio 134 owner Theresa Keen says this is true for a lot of her clients who may just talk about their bad day at work or open up about deeper issues but they often leave feeling happier.
"Some people will not tell you much at all, they'll just sit there and chat away. But then you get other people who sit down and it all comes out.
"I think there's so many people that are very anxious and overworked, underpaid all that sort of stuff."
Theresa says the relationships she has with clients is often more like a friendship because they have been coming to her for years but she maintains professional boundaries.
Her longest customer has been with her for 26 years and she has done her hair for school balls, her wedding and been through life's ups and downs together.
Theresa says because she has a smaller salon she is often one-on-one with a client, so people are more open with her.
"I think it's probably really good for people to be able to talk like that and to let something go. But we're not therapists, we're not trained to be therapists."
Theresa just listens, doesn't judge and very rarely offers advice.
Co-owner of Refinery Studios Greg Stapleton has built up strong relationships in the nearly 30 years he has been a barber and stylist.
He recently sold one of his businesses in Te Awamutu but still has clients make the trip to Papamoa for their clip and chat.
Some clients will open up to Greg about something they haven't spoken to anyone about before.
"Some people don't really want to convey a lot of personal information to family members or people that are close to them and they want to know an alternative perspective from someone that's not emotionally involved with them."
He has customers chat to him about everything from relationships issues to financial problems or some clients who haven't had strong father figure will look to him for reassurance or just share their school results.
"It's very important to listen once they start opening up. You don't volunteer anything to them unless they're like looking like they need a bit of reinforcement or validation."
Greg is happy people feel comfortable talking to him especially with suicide rates amongst teenagers and farmers quite high.
"Sometimes it's good that if you have an encourager in the community it helps people get perspective again."
Both Theresa and Greg reiterate that they're not counsellors and recommend people seek professional help if they need it.
More on SunLive...