A blank page for Mount streets design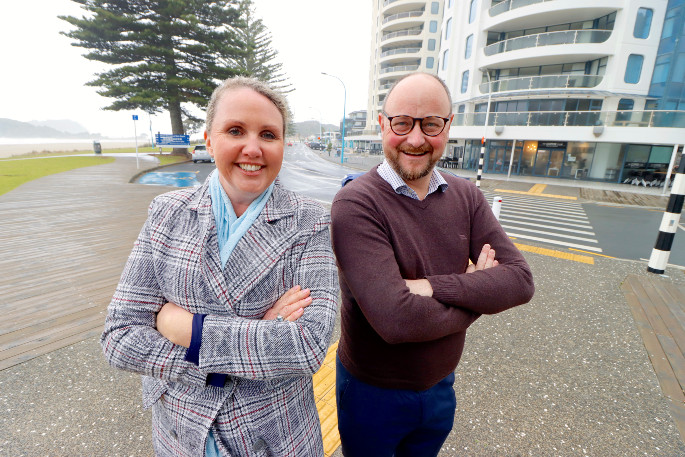 A new approach is being taken to community engagement and design for a project aiming to innovate streets in Mount Maunganui.
The Tauranga City Council is creating a community design group to provide input into the design process as well as doing multiple rounds of community engagement.
The project will trial temporary changes to four areas of road in Mount Maunganui north, the areas are The Mall, Marine Parade between Adams Avenue and Banks Avenue, Marine Parade between Banks Avenue and Tay Street and Banks Avenue and Salisbury Avenue.
Project manager Guy Protheroe says the innovating streets project will look at safety but also amenity for those areas.
"What we want to do is create an environment that is comfortable for everyone and is as usable as possible for everyone within that particular area.
"The co-design aspect of the whole project is very crucial and it's quite ground-breaking as far as Tauranga is concerned with this kind of project.
"In a sense we're not going in with any preconceived ideas, other than that we want to improve safety and amenity in the area."
The plans for the streets are yet to be determined because community feedback and the design group will form an important part of the project.
Parts of the trial could include separating different modes of travel or slowing traffic with chicanes, narrowing the carriageway, street decorations, signage and altering parking layouts, says Guy.
There is also a chance to look at how to make the area even more attractive it could be achieved by using different surfacing or by adding seating and play opportunities, he says.
One of the ideas proposed for testing is a separated cruiseway along Pilot Bay accompanied by a one-way traffic system.
The idea has caused some controversy with many residents opposed to it but Guy says it is just one idea and it may not go ahead.
Mount and Papamoa ward councillor Steve Morris says the Mount is an iconic a popular destination so the trial needs to consider all users.
"There has been a lot of discussion about a one-way system. That could be one of the solutions, but nothing has been decided yet and there are many other potential options we could trial."
Funding for the trial has come mainly from Waka Kotahi NZ Transport Agency, with 90 per cent of the $990,000 coming from NZTA and the other 10 per cent from council.
Guys says a portion of the budget is being used for the engagement and design process with a wide range of viewpoints represented in the design group.
The group will have around 24 people and include a member of the Mount Residents and Ratepayer Association, a person from each street in the trial who is in favour of changes and one who is opposed, as well as business representatives, someone from the Port of Tauranga, Mount Lifeguard Service and a number of other interested parties.
Council is also in consultation with Tangata Whenua to find out how they want to engage in the project.
Councillor Dawn Kiddie says having community heavily involved and starting with a blank slate for the project is really important because there have been a lot of preconceived ideas.
"We're starting with a blank sheet of paper. This is a trial and a trial only that does not mean that the trial will go ahead if it's not a success. If it's a win that's great. What we can't reflect on is past projects."
The first round of public consultation is happening now, the design group will start work in late September, with more community engagement in November. Designs will be finalised in December and work on the trials will begin in March 2021 with feedback sought again once the trials are in place.
To give feedback or to register for selection on the design group, visit: www.tauranga.govt.nz/innovatingstreets
More on SunLive...