Room to share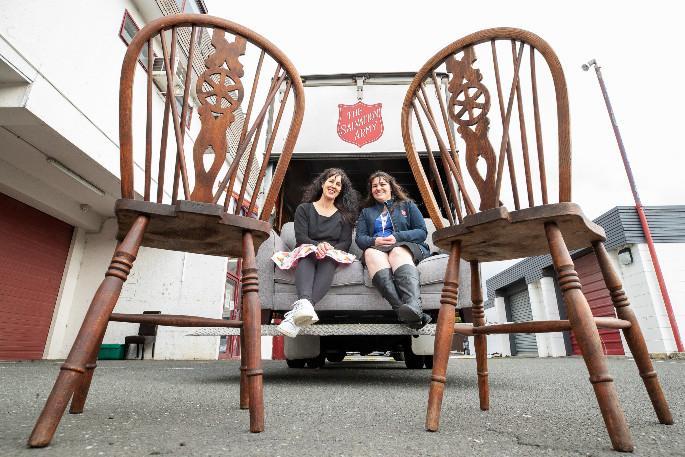 A call for storage has led to an ongoing collaboration for Awhina House, which will help the shelter support women moving into permanent housing.
The shelter was offered a motel room's-worth of quality furniture from the team at Ambassador Motor Inn, who had some to spare following a renovation.
"It was probably the biggest furniture donation we've ever had," says Awhina House general manager Angela Wallace.
"They offered us a table and chairs, a bed, bedside tables, a TV cabinet… enough to furnish an apartment.
"We really didn't want to say no, but we have no storage at Awhina House. So, we put the call out on Facebook to see if anyone had some space."
The call was answered by Salvation Army Community Ministries manager Davina Plummer.
The organisation has a large storage unit, and transport, for the furniture.
"We have 21 transitional houses ourselves and store furniture to help people moving into permanent homes," says Davina.
"When I saw the post, my first thought was: 'we're already doing this, let's work together'."
Angela says sharing the storage unit will provide a buffer, making supporting women who move out of Awhina House much easier going forward.
"It's difficult to know when someone will need furniture, because even when they're ready to leave Awhina House there's a housing shortage to contend with.
"There's even more furniture to come from Ambassador Motor Inn – and now we don't have to say no.
"Salvation Army Community Ministries are always generously giving furniture to people, and it's so special that Awhina House get to be a part of that."
Davina says continuing to share storage space with Awhina House is a 'no brainer'.
"It just makes sense to collaborate. It aligns with what many social services throughout Tauranga already do: work together to complement each other.
"It's one of our city's greatest strengths."
More on SunLive...