Tauranga Council agrees to appoint observer team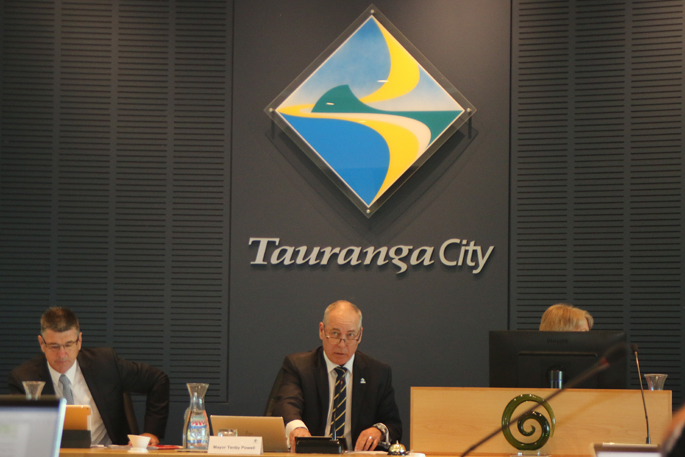 Tauranga City Council has agreed to appoint an observer team to help resolve their ongoing conflicts.
This decision follows an emergency meeting to discuss the report from the Department of Internal Affairs.
The DIA sought information so that it can advise the Minister of Local Government (Nanaia Mahuta) on action she may need to take pursuant to part 10 of the Local Government Act.
Elected members have voted in favour of option two, where council will initiate action to proactively address the situation.
At today's meeting, the elected members considered a report on governance issues and a recommended plan to address strained relationships which have been the focus of media and social media commentary.
The ongoing issues include Tauranga Mayor Tenby Powell being censured for inappropriate language and comments made about councillors in an internal council meeting in March.
Powell says he sees the appointment of an observer team a good move.
"I am sad we got to this point. Collectively, we have to change.
"It's time to move forward and to work together. You have my commitment that I will do better."
Councillor Bill Grainger also supported the recommended motion.
At the meeting Grainger told others he had "never seen anything like this" in his five terms on council.
"There has been hate and personal grievances, but nothing like this."
Councillor Baldock says he has also seen some "bad behaving" in the past, but this is the first time it has been out in the open.
Councillor Jako Abrie says the conflict felt like a reality TV show.
He welcomes the opportunity to getting in "referees" to ask questions about councillors behaviour.
Councillor Kelvin Clout says the toxicity within council must come to an end.
"We can do better, we must to better."
The DIA has requested the council provide assurance and evidence that it is taking proactive steps to "restore trust and confidence in its ability to meet the Crown's expectations of a high-performing council".
What does option two involve?
Option 2: Initiate by Council Resolution Action to Address the Problem
This option would be Council initiating an action to proactively address the situation.
The advantages of this option are that it:
· Enables the Mayor and Councillors to have a high degree of control and to design a process which is agreed by majority to be appropriate in the circumstances.
· Reduces the likelihood of direct Ministerial intervention under Part 10 of the LGA.
While this option could take a number of forms, it is suggested that Council appoint a Review and Observer Team. This would be analogous to the arrangements that the Minister could instigate under the LGA.
It is suggested that the Council appointed Review and Observer Team would be:
A minimum of two and maximum of three persons;
Made up of individuals with appropriate skills and experience in the local government sector and governance;
Appointed for an initial term through to 30 June 2021, with a review at or around 31 March 2021 as to the appropriateness of extending beyond 30 June 2021;
Focused on support, monitoring and reporting on progress in restoring the strong unified leadership needed to advance the city's interest.
More on SunLive...