Seeking community input for Mount streets trial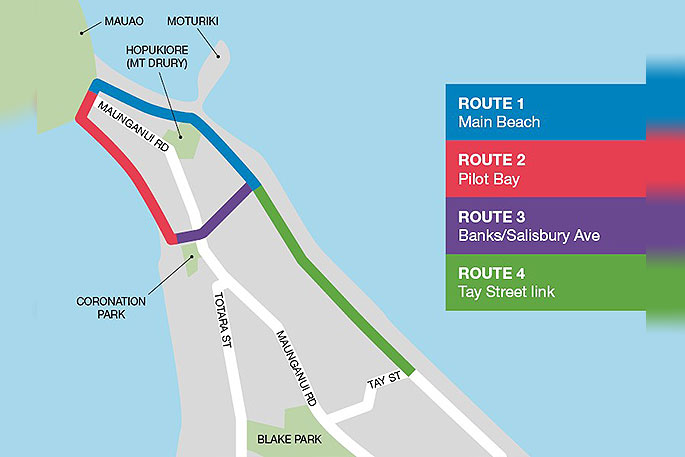 Tauranga City Council is seeking feedback about a trial to test temporary changes to street layouts in Mount Maunganui north.
The first of three rounds of community feedback for the project 'Innovating Streets at The Mount' is open from August 19 to September 7.

Tauranga Mayor Tenby Powell says the project is a great opportunity to try innovative, temporary solutions at The Mount, which have been co-designed with the community.
"It's very difficult to understand what effect changes in street layouts can have on you just by looking at a drawing.
"A significant benefit of this approach is that people can experience proposed street changes in real-life, while there is flexibility to fine-tune elements of the trial during its lifespan, especially looking at effects on traffic and parking."
"The co-design aspect of this project is extremely important to us. We want to understand the needs and priorities of the users of these streets before we do anything," says Mount Maunganui / Papamoa Ward Councillor Dawn Kiddie.
"Apart from providing the opportunity for people to provide feedback online, we are setting up a Community Design Group with approximately 20 community representatives.
"They will help develop and guide the plan, to make sure that multiple interests and viewpoints are heard and considered."
Fellow Ward Councillor Steve Morris says The Mount is an iconic and hugely popular destination, so they need to ensure that the Innovating Streets trial considers the needs of all users.
"There has been a lot of discussion about a one-way system. That could be one of the solutions, but nothing has been decided yet and there are many other potential options we could trial, such as focusing on street art, signage or alternative parking layouts."
The Mount trial is being supported through Waka Kotahi NZ Transport Agency's Innovating Streets pilot fund. $1m + (ex GST) has been set aside for the temporary works identified through the co-design process, of which Waka Kotahi is funding 90% and Tauranga City Council 10 per cent.
To understand how council and the community can make The Mount safer, more accessible and more attractive, council needs to know:
1. How easy and safe you feel moving around The Mount?
2. Which routes should be included in the trial?
3. What do you think we should change and what should we keep?

Four popular routes in The Mount have been identified where changes could be tested to street layout: Main Beach, Pilot Bay, Banks/Salisbury Avenue, and Marine Parade between Banks Avenue and Tay Street.
Feedback can be submitted at www.tauranga.govt.nz/innovatingstreets. Or people can visit the Mount Maunganui Beachside Holiday Park, Mount Maunganui Library, Mount Hot Pools and Baywave to pick up a print copy of the form, or call council at (07) 577 7000.
For more information about the project, to submit feedback or to apply to be a member of the Community Design Group, visit www.tauranga.govt.nz/innovatingstreets.
More on SunLive...