Running with Matt at the Mount Half Marathon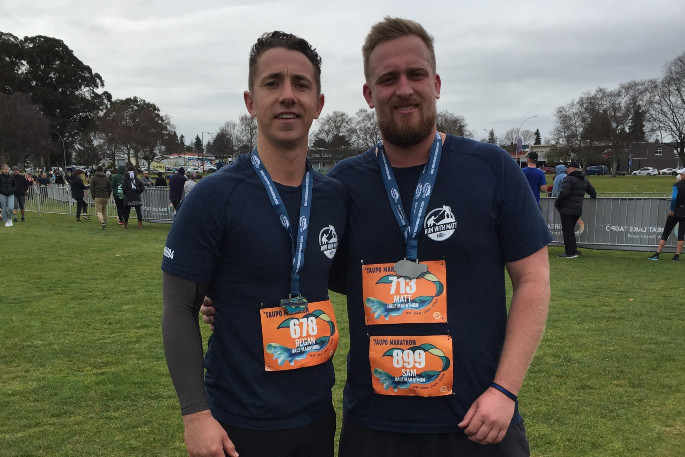 Matthew Hunt, the slain police officer killed in Massey, Auckland, on June 19, was passionate about sports and fitness, according to his family.
His friend Sam Swaffield, along with other friends and police officers from Auckland, are planning to run in the Mount Half Marathon later this month.
"We are coming down to run the Mount Maunganui Half as part of six runs we're doing for Matt across the rest of the year," says Sam. "And some people who didn't even know Matt but have been impacted by it are joining us."
On August 2, the friends ran the Taupo Half, all wearing the same 'Run with Matt' clothing.
"About 20 of us ran in Taupo. About 12 from friends and family and eight officers from different stations in Auckland came down and joined us as well which was really cool.
"We had signed up for most of the runs before Matt passed. We had always decided to do six.
"Everything we do is in honour of Matt. Whilst we fully support [Matt's mother] Diane Hunt's petition to make a change in New Zealand, the runs are more about just us coming together as a group of friends, and anyone else across the country who has been impacted by this tragedy to just come together and do something that's positive."
"I will never get over what has happened to my son," says Diane, who has written to Prime Minister Jacinda Arden asking for a legislative change so those convicted of murdering police officers are ineligible for parole.
Coinciding with Matt's birthday on July 30, Diane launched the petition requesting the House of Representatives urgently amend the Sentencing and Parole Acts to automatically decline parole to anyone convicted of murdering a police officer. It has since garnered more than 33,000 signatures.
"For Matt, being physically active was a big part of his life. For us, we are doing these runs to help remember Matt for how he lived his life, not how he died," says Sam.
In 2009, Sam and Matt were part of a group of Orewa College students who raised funds for Koru Care.
"A couple of guys in that group will be doing the runs with us. Some of them live overseas now. Regan Green who was also at Orewa College is doing all the runs with me and we've got at least 20 people coming down from Auckland to the Mount to do the Mount Half. We expect some more people to join in as we go."
Matt has strong connections with Mount Maunganui, says Diane.
"The Mount has a special meaning to us as a family and we have spent some lovely times there. Matt and his friend Sam Swaffield had organised to run six half marathons this year and the Mount is their next one. Matt's friends will be running it in honour of him."
For 21 years, Diane's parents and Matt's grandparents Rita and Derek Winterbottom lived in Grenada St, Mt Maunganui.
"My mother died in July 2019 and father in January 2020.
"My parents were lifetime members of the vintage car club and were part of the BOP vintage car club for the 21 years they lived at the Mount."
Regan and Sam have set up a website www.runwithmatt.co.nz and Facebook group which have information about the half marathons.
Following the Mount Maunganui Half Marathon on August 29 the group will take on the Mt Cook (Aoraki) Half Marathon on October 3, Auckland on November 1, Queenstown on November 21 and Omaha on December 6.
"We've got kind of quite a core group that are going to maybe not do all of them, but will do the majority of them. So we've already got about 30 people coming to Queenstown. And then Omaha in December at the end is going to be a really big one we think. We're going to try and get over a hundred people to do that one," says Sam.
"The Auckland one I think is also going to be really busy. As it gains momentum and as people find out about it and want to do more, then they'll just join in."
This is the first time that Sam is running in each of the half marathons.
"Matt hadn't run any of them either. We had signed up to them as a way of getting to see some of the country and have a bit of a challenge along the way.
Matt was a keen fan of the Blues at Eden Park and his seat has now been painted blue.
"Eden Park kindly offered to do that. They have a couple of seats that they call their 'Hall of Fame' seats in the stadium, and Nick Sautner who is the CEO offered to turn Matt's seat blue, which was a very nice gesture."
There are 'Run with Matt' T-shirts being sold at cost price.
"The reason why we're doing that is because that's a way for people to be part of something. The more people we have running in the shirts, the more supported everyone feels as a group going through what is a pretty challenging time at the moment."
"The announcer at the start of the Taupo half mentioned that Matt had signed up to do the run, and that we were there to run it in his honour. And I was wearing his time chip - his race number.
"It was really nice out in the course as we were running, with people saying nice things and wishing us well.
"It was a beautiful day in Taupo, there wasn't much wind, we had a lovely day down there. Matt loved the Mount. Hopefully the Mount Half is the same."
Constable Matthew Hunt joined the NZ Police in 2017 and worked at the Orewa and Helensville stations before moving to the Waitemata road policing team, based at the Harbour Bridge station.
Diane says Matt was the perfect person to be a police officer.
"Matt was such a lovely person. He so wanted to be of assistance to anyone who needed it and had a wonderful career ahead of him," says Diane.
Matt had a BA in Criminology and planned to join the CIB and advance through to Detective, she says.
"He was more than capable of this."
Prior to joining NZ Police, Diane says Matt worked as a case manager at Paremoremo Prison, starting the role at age 22.
"He was respected and they have asked me to come out to the prison to accept a condolences book they have signed."
Before the case manager role Matt worked at Auckland District Courts where he ended up scheduling court cases.
"Matt had so much to offer. I will never get to see the amazing man he would have become and perhaps he would have married and had children.
"I really don't know what else to say, it's all so tragic and horrible. It's really hard for me to actually believe this has happened to be honest.
"My son lost his life whilst serving his country. If you truly believe what was said by numerous politicians after Matt's death that police lives matter, passing this legislation should be done without delay," says Diane. "I believe our sentencing laws for murder do not adequately condemn the actions that result in the murder of police officers."
The petition runs until September 1, 2020.
More on SunLive...