Inside the testing line in Rotorua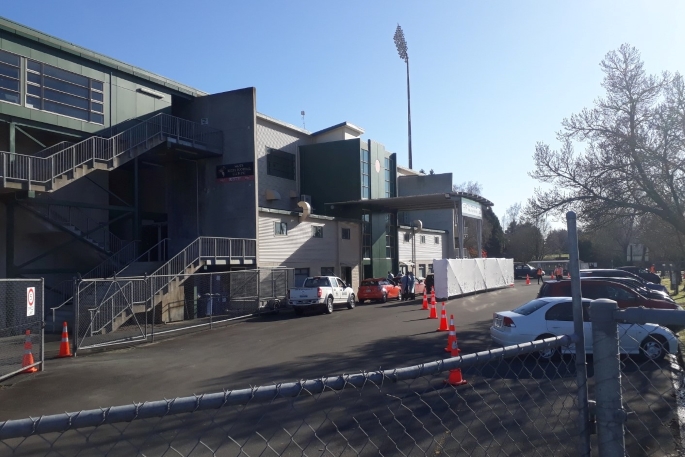 Rotorua resident Danielle Campbell wanted to be safe, rather than sorry, when it came to finding out if she had COVID-19 or not.
She joined the hundreds, if not thousands, of people who have been testing at the Rotorua International Stadium.
Following her test, Danielle, who is also studying as a journalist, put pen to paper to describe her experience.
Read more below:
It's 2.15pm. Clouds are forming. I'm going to get a COVID test at the Rotorua international stadium testing station. It's for peace of mind.
I shimmy past in my car. Not too many in line. Yay!
Security are on the ball, directing people where to go. The road cones are all out and lanes are clearly marked.
All staff on sight appear in masks. The Testers look like they're all decked out in ppe gear.
I have my mask. Others waiting in line do too.
Mr Deets-taker approaches. He's polite and calm. He takes my rego plate number along with my other details. He reckons there's a 15-20 minute wait at most and that I've come at a great time as there's only a few of us here. Great!
The line is moving in an orderly fashion. Bonus.
Traffic dribble by slowly. They gawk in, curiously. Maybe they're like me weighing up whether to take the test or not. How long will it take? What will it be like? I went passed twice before I actually entered.
A passing car of people yell out as they scream by. It's Friday.
Security talk casually amongst themselves in low tones. They're chuckling away with Mr Deets-taker about something.
Everyone is calm. There are no dramas here today.
As we wait to be tested, some people are on their phones. The lady behind me is actually reading a book. She came prepared.
Ten minutes have passed. Another two cars move in to be tested, as another car enters at the back of the cue. It's a well-oiled machine.
There is only one car in front of me now. Butterflies have suddenly appeared in my stomach. No. They're river-dancing Wetas.
It's been fifteen minutes and two more cars arrive.
The security guy beckons me to move forward. It's my turn! I approach. Those dang Wetas are now in my mouth!
As I move further in I can see a very small line of folks who have walked in to be tested. They are all being tended to by an ample number of people on hand.
A lovely lady ushers me in. I pull up alongside her. Although she is all covered up in ppe gear, a bright, warm 'smile' emanates from her eyes.
She greets me and tells me in a caring voice, what is going to happen next.
My river-dancing Wetas are calm.
She prepares the testing kit while another nice lady with a clipboard records more health details about me.
I'm asked whether I've been in contact with a confirmed case or a probable case. She inquires whether I've been overseas or to Auckland. She re-confirms my phone number, birthdate and my regular doctor. She asks if it's ok to access my health details if need be, I agree.
It's time.
Smiling-lady offers up a tissue and asks if I can sneeze into it, keeping the tissue with me. I do so.
She now reveals what looks like a very long, but skinny cotton bud. She asks me if there is a nostril I'd prefer her to take the swab from. I'm not fussed.
She asks me to tilt my head back slightly and proceeds to enter my nostril with the long, skinny cotton bud.
It's a most peculiar feeling as she reaches and explores further up my nasal passage with the cotton swab. She gently swirls it as she goes further still.
It feels really squishy and jelly-like up there for some weird reason! Wow! I have never been that far up my nose. A very unusual feeling indeed. And then it's done.
She withdraws the cotton swab as my eyes start to water uncontrollably. Oh no, I can feel a huge sneeze about to burst forth. Before she can finish asking me if I'd like another tissue, my nostrils cough and splutter in delayed protest at the intrusion. It's all for peace of mind, dear nostrils.
I'll get the results within 48 hours. They wish me a good weekend. I reply in kind.
I gaze at my watch as I exit. It's 2.35pm. I'm done and dusted in 20 minutes. Less time than it takes to get fried chicken through the drive-thru.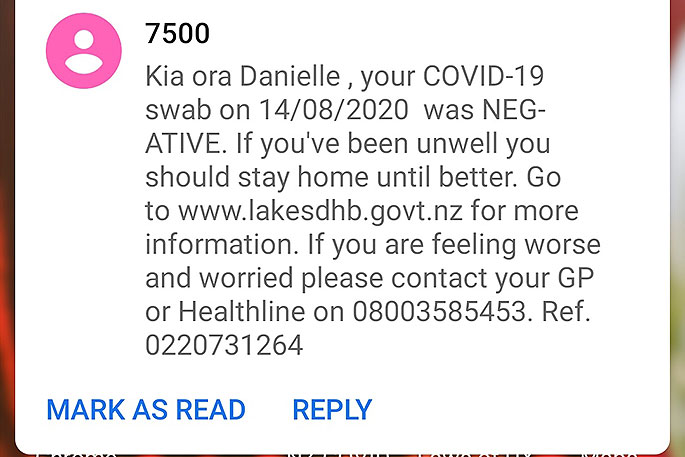 Update:
My test results came through 67 hours later. It's a negative for me! Was it worth it? Yes. Would I do it again? If it meant keeping everyone around me safe, hell yes!
More on SunLive...