COVID-19 testing is free says Minister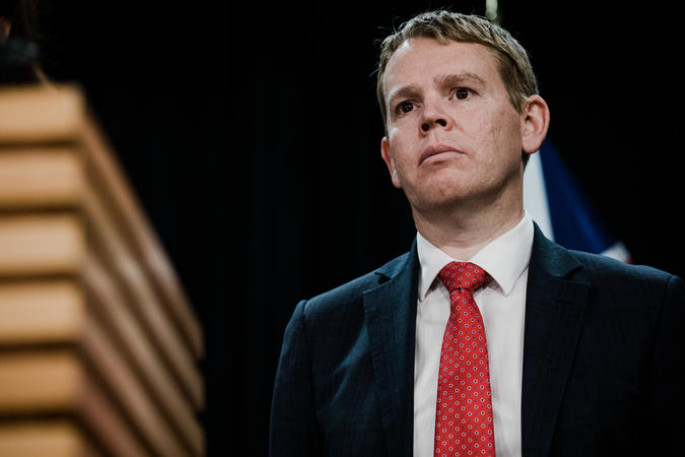 The Minister of Health Chris Hipkins has confirmed this afternoon that COVID-19 testing is free.
It has also been confirmed that testing for the approximately 6000 workers at the Port of Tauranga will begin on Monday.
During the question and answer time at today's Ministry of Health COVID-19 update, the Minister was asked about urgent clinics charging in some cases hundreds of dollars for a visit to have COVID-19 testing, even when the person presenting was symptomatic.
"It should not be happening," says Hipkins. "COVID-19 tests are free. The Government is paying for those to make sure they are free.
"We have been very clear on that, in fact we've gone as far as to have posters printed up which will be put in all GP practices up and down the country to make it clear that you should not be charged for a COVID-19 test."
The General-Director of Health Dr Ashley Bloomfield added that if there are specific examples brought to his attention [of people being charged for COVID-19 testing] he will ensure it is followed up.
Testing to begin at Port of Tauranga
The Minister was also asked when would there be a COVID-19 testing station for the Port of Tauranga.
Hipkins replied that he understood that there was a mobile testing site at the Port of Tauranga. He was quickly corrected by the General-Director of Health Dr Ashley Bloomfield.
"That's going in tomorrow [Monday]," says Dr Bloomfield.
"We do acknowledge that that will take a little longer to get through than the testing at the other ports and border entry points," says Hipkins.
"So we will certainly exercise a good degree of flexibility there to recognise that that's going to take a bit longer.
During the live national Sunday COVID-19 update question and answer time, Dr Bloomfield received a text from the Bay of Plenty District Health Board chief executive.
"They've been working very closely with the port," says Dr Bloomfield. "They've made a building available. There are eight nurses going in tomorrow, as well as admin and IT support.
"They will be testing now through the week for as long as they need to. And likewise, in terms of testing at both the Tauranga and Auckland port, putting a priority on port workers who may have had, or been more likely to have had contact with crew from ships in particular. So that would be the pilots, stevedores and others."
On Friday the Minister of Health made an order under section 11 of the COVID-19 Public Health Response Act 2020 in accordance with sections 9 and 14(3) of that Act requiring nearly 6000 people with links to the Port of Tauranga to be tested for COVID-19 by no later than 11.59pm on August 17.
This order includes everyone who has worked at the port, including shipping agents, stevedores, drivers picking up or delivering cargo, contractors, suppliers of goods and services, classification societies, government agency employees and any crew members who may have come ashore.
The Road Transport Forum – RTF – chief executive Nick Leggett responded on Saturday afternoon saying that the interpretation of the Ministry of Health Order was "causing mayhem at ports for trucking operators.
"This panicked reaction over a weekend threatens to bring the supply chain to a halt," says Nick in a press release. "Ports of Auckland and Port of Tauranga are putting alerts out on social media saying truck drivers have to be tested. But there doesn't seem to be the capacity to test them in this panicked timeframe. This is a complete mess."
The BOPDHB released a message of reassurance for Port of Tauranga workers early on Saturday evening.
"Staff have been working over the weekend with port staff, to set up a testing station on-site at the port, to ensure sufficient capacity to test all required workers," says BOPDHB's Interim CE Simon Everitt.
"We will be prioritising port staff who have been on-board a vessel in the last 14 days and/or those who have been in direct contact with crew," says Simon. "Testing will begin next week.
"Port of Tauranga staff will be contacted by their company to allocate them a testing slot.
"If a staff member is unwell or has symptoms, please seek treatment from their GP and remain off work."
Workers have already been getting tested at their GP's practice. Some also took to social media saying that they found they were expected to pay $234 for a COVID-19 test despite saying they were workers at the Port of Tauranga, and that they also had family members who they thought were displaying COVID-19 symptoms. They said they had been told that because they were not displaying symptoms that they had to pay for testing.
The Second Ave Accident and HealthCare in Tauranga say there is no charge for patients presenting at Accident and Healthcare for covid swabs, but these people need to be symptomatic or have been given a directive to get tested.
"In the first instance, we ask you to please contact your own GP for testing," says an Accident and HealthCare spokesperson. "If you do not have a GP, please phone Healthline on 0800 358 5453 who will assess you and advise where to go for testing if required."
"All consultations with general practice for suspected COVID-19 are free. Testing is free to anyone presenting with symptoms of COVID-19 and for those who have been identified as a close contact or are required to be tested as directed by the Ministry of Health.
"COVID-19 testing is also free for specific groups of people who need surveillance testing as identified by the Ministry of Health. These people do not need to have symptoms. As practices are busy testing people who have symptoms we often set up separate testing facilities for these groups."
"We acknowledge the uncertainty that workers have being feeling about how to organise their tests," says a BOPDHB spokesperson.
"We ask that people be patient as they will be able to get tested over the next week, and that people wait for further instructions from their employers, and allow general practices to focus on testing those people who have symptoms of COVID-19 and require testing."
More on SunLive...