Matariki Award is 'extra special'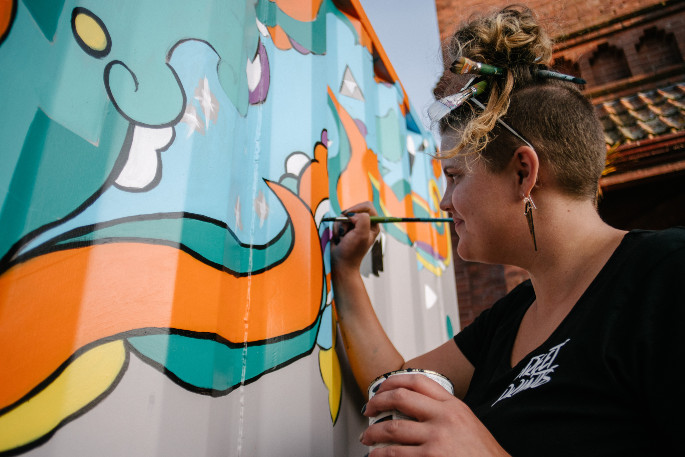 A young mental health advocate is stoked to be nominated for a national award that is created 'for Maori, by Maori'.
Former Otumoetai College student Jessica Collins (Ngati Porou) is a finalist for the Te Whetu Maiangi Award for Young Achievers as part of Nga Whetu o Matariki.
The 23-year-old led the Mana Whenua Hikoi in 2018 during which she walked 668km over 21 days to honour the 668 people who committed suicide the previous year in 2017.
As well as raising awareness of the mana whenua approach to suicide prevention, the hikoi raised $2500 for Lifeline, the national crisis support line which that year had lost its government funding.
The idea for the hikoi came about whilst Jessica was studying Maori Visual Arts at Massey University in Palmerston North.
As a teenager, she battled with her own mental health issues and in more recent years several of her friends have taken their own lives.
In 2019 Jessica staged an art exhibition called Resilience largely based around the hikoi.
She was awarded the Prime Minister's Exemplar Award at the New Zealand Youth Awards in 2018 and received the Sir Edmund Hillary Youth Achievement Award at the annual Graeme Dingle Foundation Excellence Awards in 2017.
But Jessica says being nominated for a Matariki Award is extra special.
"The Matariki Awards feel a lot more special to be nominated for, as they are for Maori by Maori - and I don't just feel like another token Maori in this space.
"I am humbled to be a finalist, however I am just trying to normalise and live by the ways of our tupuna."
Jessica says it's important Maori mental health is at the forefront of conversations and systemic racism is addressed within health spaces.
"We need to keep the discussions going about how to indigenise our mental health spaces and cater better to the tangata whenua of Aotearoa."
Colonisation has caused much mamae or hurt, and intergenerational trauma for Maori which can be healed by the ways of our tupuna, she says.
"I know that if the knowledge of our tupuna was not stolen from us, awards like this would be going to communities of Maori who are thriving."
She says rangitahi are leading the way into the future to create a more indigenous space for the future generations "to feel empowered as Maori".
Next year Jessica plans to start her masters and continue researching kaupapa Maori mental health frameworks.
More on SunLive...