Electric ferries mooted for Tauranga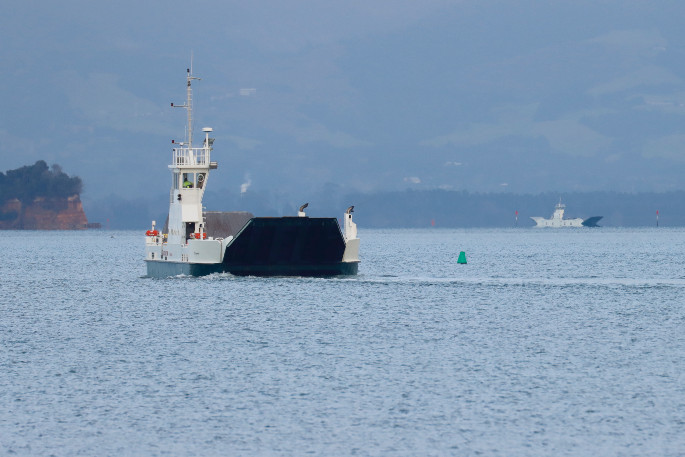 Tauranga City Council is considering backing a ferry service between Omokoroa, Tauranga and Mount Maunganui.
Last Friday Tauranga City Councillors John Robson and Heidi Hughes and Deputy Mayor Tina Salisbury took a trip to Auckland to check out the ferry service there.
"There's some exciting opportunities with a New Zealand company who are prototyping an electric ferry," says Hughes on her Facebook page.
Mayor Tenby Powell says that when he started as mayor he asked where the ferry service that used to run between the Mount and Tauranga went to.
"I was delighted to discover that Priority One, our Economic Development Agency, had been working on its re-establishment," says Powell, posting to his Facebook page on Tuesday.
"Long story short, we suggested they put their foot down on what we believe is, a very important commuter transport and tourism project."
Priority One's business partnership manager Mark Irving says that there are no comments from Priority One at this stage, however in an article on its website he writes that the ferry service is a logical solution to help ease congestion.
"The Western Bay of Plenty has a congested transport system, exacerbated by low utilisation of public transport, a dependency on single occupancy vehicles, congested freight networks and major physical constraints to the development of roading and public transport infrastructure," says Irving.
"A commercially viable ferry service appears a logical solution to help move commuters efficiently between highly populated, isolated areas such as Omokoroa and Mount Maunganui which also enjoy proximity to Tauranga Harbour."
An update provided by the Mayor this week on the outcomes of the meetings that were held include that Priority One have determined that a service would be able to operate within Tauranga harbour with a reasonable schedule (30/45 mins peak), operating between Omokoroa, Tauranga and Salisbury wharf.
"Four vessels would be needed, they would need [to] be high speed but low wake/wash to preserve the environment," says Powell.
"Servicing via the Marine Precinct is an important part of this project and will create circa 150 jobs - some 80 of which will be employed as ferry service ops/admin staff, with about 70 more employed in engineering, service and support roles. Not to mention local tourism."
Powell says there is the possibility of using leased vessels in the short term, with availability being dependent on timing.
"The Mount to Tauranga, as a first step, is being modelled at present," says Powell. "Meetings have been held with staff from all three councils and NZTA. Clearly an NZTA subsidy will be pursued and Government are excited by this project.
"Floating/land based infrastructure is usable but all wharves are in need of upgrades. Alternative fuel sources are in play – electric and possibly hydrogen. The electric option is very exciting and modelling shows this will work with a quick recharging capability during stops."
The mayor says "this is a high level overall to bring you up to date on this work-stream and get your feedback and ideas".
"The devil will be in the RMA and funding detail."
More on SunLive...