Cold calling Copper Feel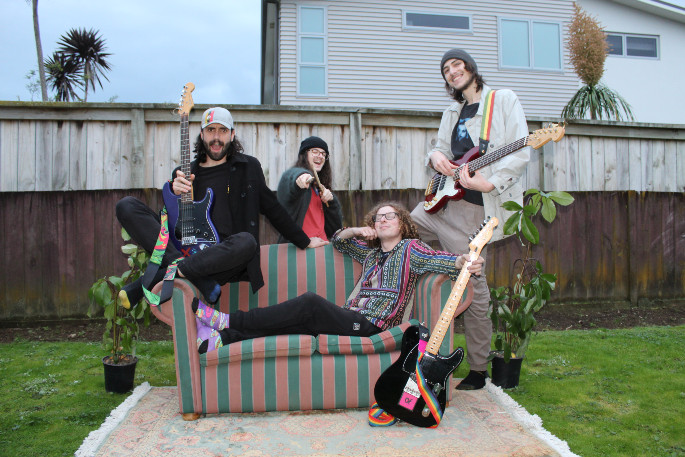 Times may be tough for up-and-comers in the music industry, but Tauranga-based band Copper Feel is finding success through cheeky persistence.
Whenever The Edge radio station's night show asked for callers, Copper Feel bassist Callum Thorburn was ready, phone in hand.
Over several weeks, Callum got through to the show, and on air, about five times.
No matter how unrelated the topic, he committed to plugging for his four-man indie/reggae rock band of 19-21 year-olds, which has been performing in the Bay and beyond since 2018.
After consistently hearing: "hey, can I tell you about my band, Copper Feel?" the show's Auckland-based hosts began recognising Callum's voice – it became a running joke.
Copper Feel guitarist Matty McFarlane says the band, which also features singer and guitarist Sharn Wiltshire and drummer Tyrone Dyer, are stoked with Callum's old-school cold calling marketing scheme.
"He'd message the band group chat every time he got through, and tell us to turn on The Edge," says Matty.
"He managed to plug our social media platforms, our EP that's coming out in summer and our EP fundraiser gig at Waihi Beach Hotel last month.
"It was crack up – he just kept getting through."
As a joke, the hosts told Callum that Copper Feel should play at The Edge's Pak 'n Rave, a concert the station plans to host at Pak 'n Save Cameron Rd during shopping hours.
By coincidence, Copper Feel ended up on the line-up anyway.
"I work at Pak 'n Save Cameron Rd as an online shopper," says Matty.
"My manager knew I was in a band and asked if I wanted to be a part of the line-up.
"When The Edge night show called to tell me the good news, they had a good laugh when they found out I was in Copper Feel – this random band that they keep hearing about."
One of the hosts called it "the best marketing ploy from any band in New Zealand".
While the Pak 'n Rave details are still being confirmed, Sharn says Copper Feel will be there with bells on.
"There's something really down to earth about jamming at your local supermarket. We're looking forward to it."
More on SunLive...