Little sleep for mask makers in Tauranga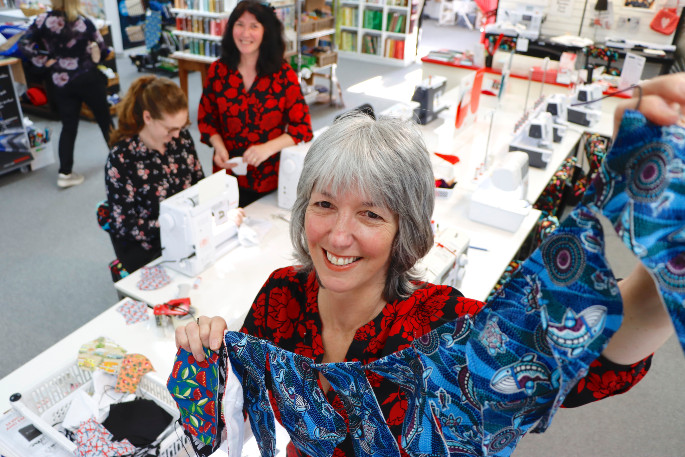 Tauranga businesses have been inundated with face mask orders this week after the region's jump to Alert Level 2.
Bernina Sewing Store on Cameron Road was forced to stop processing orders after taking more than 1500 orders on Wednesday alone.
Store co-owner Robyn Kurd says it has been all go this week, having to get extra staff in to help produce masks at a rapid pace.
"We have stopped orders until next week so we can fulfil the 1500 orders. We will start taking orders again on Monday."
Face masks range in price from $6 to $10 and the wait time for one is a week.
They have also sold thousands of metres of fabric and elastic instore to people who are making their own masks.
Lanaco filters are also selling like hotcakes, she says.
Robyn says they are only ordering elastic and fabric from New Zealand suppliers.
Since the country first went into lockdown in March, the store has sold more than 3000 masks.
Initially, she received mass orders of 600 masks from the local kiwifruit industry.
Bernina Sewing Centre staff members worked seven days a week throughout lockdown and it hasn't really slowed down since.
Demand rapidly increased again when the Ministry of Health advised all households to add sufficient masks to their emergency kit on August 6.
"Last night (Tuesday) I finished at 11pm and I started again at 4am this morning (Wednesday). If I have a few hours' sleep I just wake up and start sewing.
"I am running on empty, but lots of coffee is the secret," Karen says.
It is a similar story for Mount Alterations in Mount Maunganui, which took about 500 orders for masks on Wednesday.
Employee Sara Marks says by 11.30am they had taken 400 orders and the wait time for a mask is about three days.
Sara expects the team will be working flat out over the weekend to fulfil orders.
Local not-for-profit, Masks for Tauranga, took to Facebook on Wednesday saying they are sold out of face masks.
They are warning customers to expect delays.
The organisation donates one mask to a local charity in need for every mask sold.
So far they have donated to charities including the Woman's Refuge, The Salvation Army, Huria Marae Kai Aroha and Awhina House.
Amcal Mount Pharmacy employee Charmain Capon says they have seen an "insane amount" of mask request since the move to Level 2.
"People were walking in the door - and ringing - straight from when we opened at 8am, putting in their order for masks."
On Wednesday they sold about 450 disposable masks.
More on SunLive...