LIVE: 14 new confirmed cases of COVID-19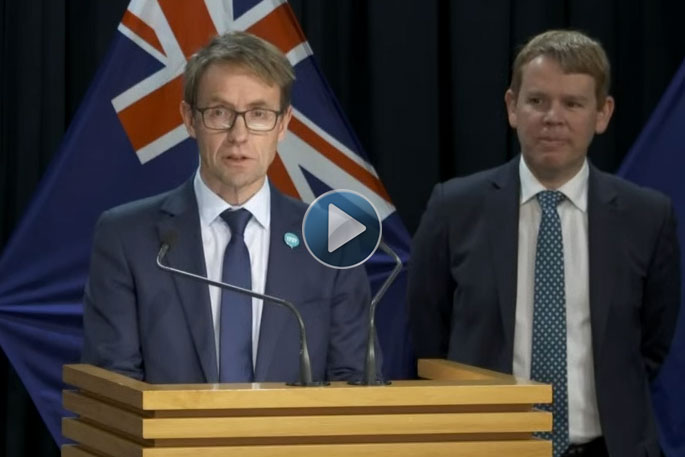 UPDATE: There are 14 new cases of COVID-19 being reported in New Zealand today.
One of these cases is a woman in her 30s who arrived from the Phillipines on August 8 and has been in managed isolation in Hamilton. She has since been moved to a quarantine facility in Auckland.
The remaining 13 new cases are linked to the previous four cases, all of these are in Auckland.
Director-General of Health Dr Ashley Bloomfield says the 17 cases in the community are being treated as a cluster.
"We know that with clusters, there is always more cases.
"We are expecting more cases from this cluster."
Ashley says there is one probable case linked to the new outbreak.
All the cases in the community are in isolation.
"All the new confirmed cases will be managed in a quarantine facility. This is different to previous cases that had been treated in self-isolation"
Ashley says the quarantine facilities are set up to deal with the cases.
A detailed list of where the Auckland family visited during their trip to Rotorua on the weekend has also been released.
"If you were at one of these places at these dates and times there is a small possibility that you may have been exposed, and so you are considered to be a casual contact. It is advised that you self-isolate and get tested for COVID-19," says Dr Neil de Wet, Medical Officer of Health for Toi Te Ora Public Health.
"You can come out of self-isolation when you have a negative test but you should remain vigilant for any symptoms.
"If at any later stage you have symptoms that may be COVID-19 you must immediately self-isolate and get tested."
| | |
| --- | --- |
| Places visited in Rotorua | Date and approximate time |
| Wai Ora Lakeside Hotel | Saturday 8th Aug from 3:30pm until Tuesday 11th Aug at 9am |
| Herbs & Spices Thai Restaurant | Saturday 8thAug, 8:00pm-9pm |
| Fat Dog Café | Sunday 9thAug, 1:30pm-2:30pm |
| Pak'nSave Rotorua | Sunday 9thAug, 2:30pm- 3:00pm |
| Rotorua Heritage Farm 3D Art Gallery | Monday 10thAug, 3:00pm – 4.30pm |
| Skyline Rotorua | Sunday 9thAug, 4:00pm - 5:50pm |
| Burger Fuel Redwood Centre | Monday 10thAug, 7pm-7:30pm |
| Don Kebab | Monday 10thAug, 7pm-7:30pm |
There are currently no other known possible exposure events of concern in Rotorua but this list will be updated if any others are confirmed.
Public health teams are also following up a boat cruise in Taupō – those on the boat cruise who may be contacts are being followed up directly.
"From the information we have currently, we are not aware of any other possible exposures of concern in Taupō," says Dr de Wet.
It can take from 1 to 14 days after exposure to COVID-19 to start developing symptoms, so anyone who visited these places at these times should remain vigilant for the symptoms of COVID-19 for two weeks from when they may have been exposed.
The symptoms of COVID-19 may include a cough, a fever, shortness of breath, a sore throat, runny nose and temporary loss of smell.
EARLIER:
Director-General of Health Dr Ashley Bloomfield will be providing an update on COVID-19 at 1pm today.
As of yesterday, there were four confirmed community transmission cases of COVID-19 in Auckland and one in a managed isolation facility.
There were also four probable cases announced at the 4pm media update on Wednesday.
Ashley says these people have symptoms and are linked to the four cases from Tuesday.
He says these people are self-isolating and are awaiting test results.
Five cases of COVID-19 have recovered so the number of active cases in New Zealand remains at 22.
Ashley says a woman in her 20s who tested positive visited Rotorua from August 8 to 11 while symptomatic.
Based on the information about the visit to Rotorua he says none of the contacts are considered close contacts.
Ashley says the visit to Rotorua had not resulted in a positive test for any of the close contacts of the positive case and her child.
He says the symptomatic family members had visited Waiora Lakeside Hotel, the Skyline Gondola and Heritage Farm and 3D Gallery.
SunLive will be proving an update this afternoon for those who are not able to tune into the livestream above.
More on SunLive...