Updated list of BOP places positive cases visited
Hundreds of people in their cars have been lined up outside the Rotorua International Stadium and a testing centre on Vaughan Road this morning waiting for COVID-19 tests.
The Lakes DHB has also updated the locations in Rotorua where a woman and child from Auckland - who tested positive for COVID-19 - visited over the weekend.
As of 9.30am today, the Lakes DHB states the woman and child stayed at the Wai Ora Lakeside Resort on Sunday and Monday and visited;
- The Fat Dog Cafe on Arawa St on Sunday between 1.30pm and 2.30pm.
- Skyline Rotorua on Sunday between 4pm and 6pm.
- The Heritage Farm and 3D Gallery on Monday between 3pm and 4pm.
- Burger Fuel Redwoods on Monday between 7pm and 8pm.
"Anyone who scanned in with the [Covid tracing] app in those times will be alerted," the Lakes DHB states.
Meanwhile, the DHB is asking people waiting to be tested to stay in their vehicles and not walk to the testing centres on Vaughan Road and at the stadium as staff expect to be busy all day.
The DHB says 389 Covid-19 tests were carried out at its Vaughan Road testing centre yesterday, more than double its previous day, and is encouraging people with any symptoms to get tested.
Rotorua Now visited the stadium pop-up testing centre this morning where hundreds of people were waiting in their cars to be tested.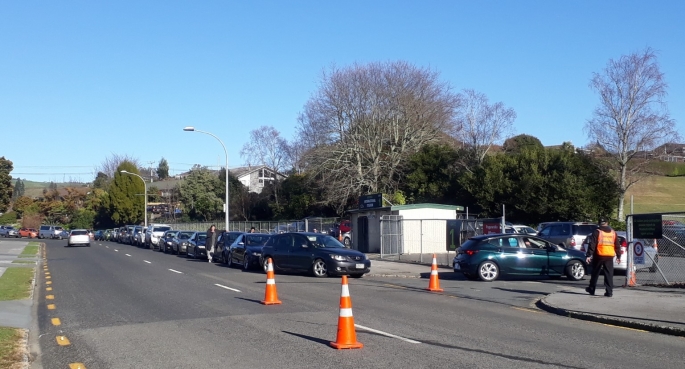 The queue of cars stretched down Devon Street West and up onto Pukehangi Road as far back as Carter Drive.
One person spoken to near the front of the queue said they had been there for over an hour but were happy to wait as they had visited Skyline Rotorua on Sunday.
The testing centre at the stadium will be open until Sunday from 9am to 4pm. The Vaughan Road testing centre will stay open from 9am to 4pm seven days a week.
Rotorua Now will update this story as more information comes to hand regarding the places visited by the woman and child from Auckland.
Key messages for Alert Level 2:
• keep your distance from other people in public.

• wash your hands.

• sneeze and cough into your elbow.

• keep a track of where you've been and who you've seen.

• wear a mask if you can.
If you're unwell:
• If you're sick, stay home. Don't go to work or school. Don't socialise.

• If you have symptoms of cold or flu call your doctor or Healthline and get advice about being tested, or go along to the testing centres.

• If you have been told to self-isolate you must do so immediately.
More on SunLive...