App helps seniors stay steady on feet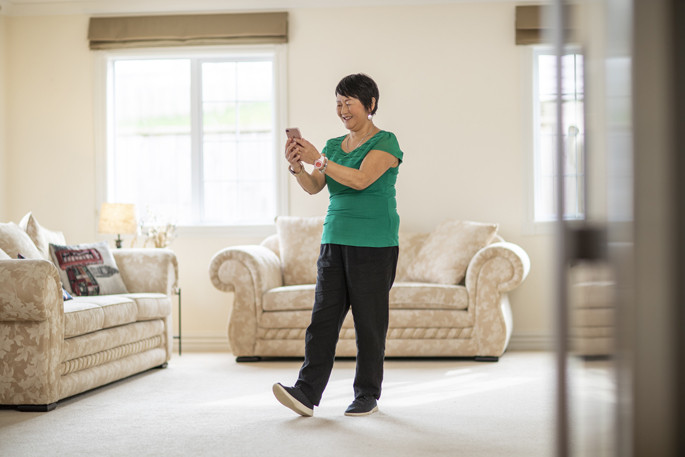 ACC is funding the trial of a balance training app designed to help seniors stay steady on their feet.
The app—Nymbl—uses dual tasking combining simple balance exercises with brain games, to challenge both the brain and body.
"There is a perception that as you get older, falls and fractures become an almost inevitable part of life, and we want to challenge that—falls can be prevented" says Kirsten Malpas, ACC Injury Prevention Leader.
"By investing 10 minutes a day, a few times a week, in the comfort of your own home, you can improve your balance and maintain your independence and confidence."
Kirsten says balance is about mind and body.
"You need the strength to stop yourself from falling, but you also need the reflexes to sense and react quickly when you might fall.
"Older Kiwis, like every other age group, will have a range of fitness levels. However, fitness is not necessarily the same as balance so we're encouraging everyone—from couch potatoes to marathon runners—to download it and give it a go."
In 2019 more than 160,000 Kiwis over the age of 65 experienced a fall that required medical care, and ACC spent $216 million on helping them recover.
ACC is funding the trial as part of their older people's programme, Live Stronger for Longer, which is focused on preventing falls and fractures.
"Falls have a significant impact on a person's quality of life, especially if it results in a fracture, so we want to do what we can to prevent them from happening in the first place," says Kirsten.
"We support community-based strength and balance classes around the country, and this app works well alongside those and other physical activities. The movements adjust to your fitness level, and as you get better the challenges get harder.
"If the trial is a success, and we see that people are responding positively and want to use an app to improve their balance, we will look at how we can make an app permanently available in New Zealand for our older people."
The trial is funded for Māori and Pasifika aged 55 and over, and everyone else aged 65 and over.
The Nymbl app is available on both Apple and android smartphones and tablets and thanks to ACC funding is free for the first 5,000 subscribers.
To register for a free subscription, head to www.fallsfree.co.nz and answer a few questions about your current fitness level and goals.
More on SunLive...