A chorus of praise for opera lunch fundraiser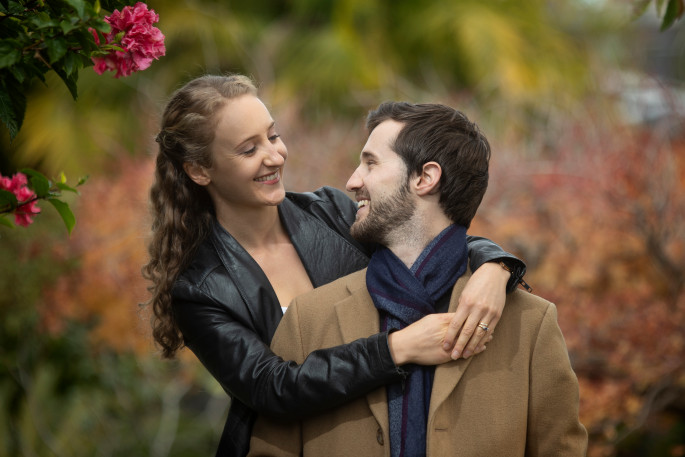 Singing the praises of the Tauranga Opera Forum's – TOF - Opera Lunch Scholarship fundraiser at Daniels in the Park last Sunday, the audience waxed lyrical about all aspects of the event.
The capacity crowd enjoyed elegant surroundings, a superb three-course lunch, bubbles, many sponsor-provided raffles and outstanding singing by some top notch performers, says TOF concert reviewer Ali Woodwick.
"How lucky to have snaffled two emerging NZ Opera singers, Anna and Angus Simmons, for a riveting performance of a bracket of songs from Mozart's Le nozze di Figaro and Verdi's Falstaff," says Ali.
"Anna's clear soprano voice and Angus's rich baritone blended seamlessly together. It was also a treat to listen to Glenese Blake duet with Anna in the beautiful Sull'aria from Figaro. The harmony was breath-taking."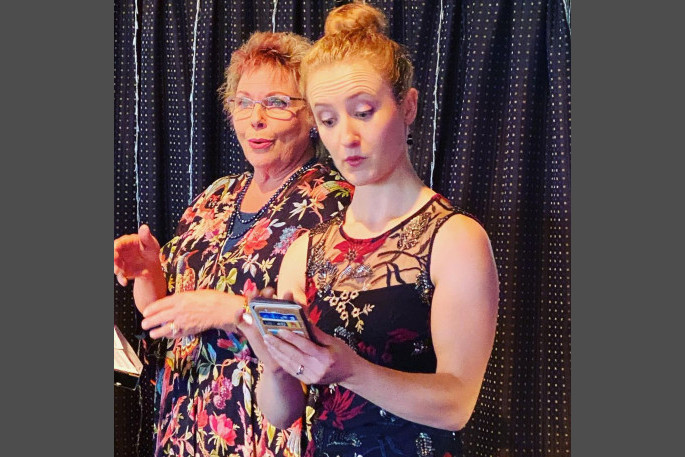 An iPhone was used as a modern substitute for a letter in Mozart's piece. Photo: Greg Brownless.
Glenese, along with Jan Beets, Wendy Coster and last year's scholarship winner, Ella Paterson were the other accomplished singers who performed at the fundraiser.
"Every performance was classy and engaging. The audience got the chance to sing the rousing Chorus of the Hebrew Slaves and the well-known Brindisi from La Traviata. A lot of fun.
"Later, everyone joined in some old favourites to acknowledge Armistice Day. Not only was pianist Leon Grey the accompanist, he also added to the ambience with relaxing background music throughout the afternoon."
Former Tauranga mayor Greg Brownless emceed the event.
"Greg Brownless did a superb job as MC," says Ali. "A full programme kept him busy and his witty opera-themed quips added more mirth to an already jolly crowd."
"A very successful event for us," says John Hodgson, chairman of TOF. "And one which we hope to repeat in some form or another every year."
Importantly, the money raised goes to TOF's Opera Scholarship programme for secondary school students. The programme is designed to provide for 12 months' singing tuition.
TOF holds opera screenings on the third Thursday of each month at the Tauranga Boys College theatre.
"Mix and mingle starts at 5.30pm," says John, "and a $20 donation gets you a glass of wine, canapés, a chance to win one of three raffle prizes and a professional opera screening."
A concert for scholarship hopefuls is also planned for Sunday, September 6. For more information phone John Hodgson 027 284 9738.
More on SunLive...