Giraffe warmer no stretch for caravan people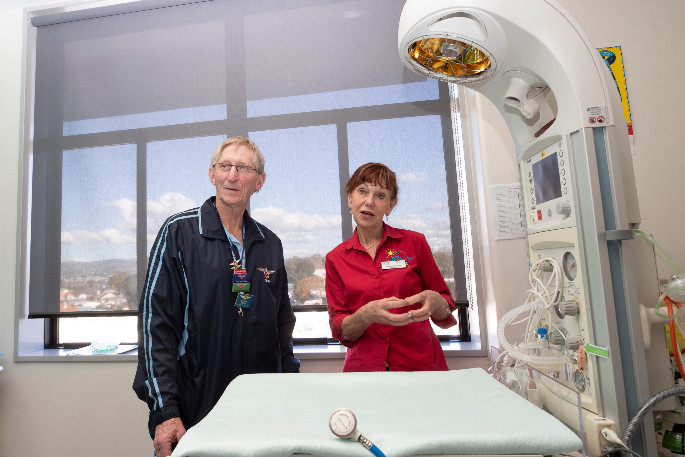 The Tauranga Hospital children's ward is $2500 closer to purchasing a lifesaving piece of equipment for sick babies, thanks to a joint donation from two Bay of Plenty organisations.
New Zealand Motor Caravan Association Central Bay of Plenty Area chairman Frank Parry handed over the cheque on Tuesday, August 5 to paediatric ward clinical nurse manager Lynnece Dowle-Back.
Most of the money was raised at the NZMCA Christmas rally last year and the rest was donated by the Vehicle Testing New Zealand centre on Maleme Street.
The contribution will go towards a giraffe warmer, which helps provide a life-sustaining environment by directing heat to an infant.
Lynnece was over the moon with the "absolutely wonderful" donation, saying the giraffe warmer saves lives.
"They are like a big incubator in a lot of ways. You have everything in there you need to keep the baby safe and warm.
"They are also what you call a resuscitaire – so if the baby gets into strife there is a resuscitator on it.
"The sickest, sickest babies go on these."
She says the items are worth around $30,000.
Frank says the group has been donating to local causes for the past 10-15 years.
Last year they donated around $2000 to the TECT Rescue Helicopter.
"We try to choose something that we know needs the funds and a lot of us are grandparents," Frank says.
"We have a very strong following, we have more than 4000 members just in our area which is why we can donate this amount."
Lynnece says the hospital already has several giraffe warmer's, however they are in need of another.
Currently, there is one in the paediatric ward and more in the Specialist Baby Care Unit.
"An extra one will always be helpful. As you know, money is really scarce. Donations are just wonderful - they just enable things to happen more quickly.
"It's all about our tamariki – we have to have the best equipment for them."
More on SunLive...