A time of passion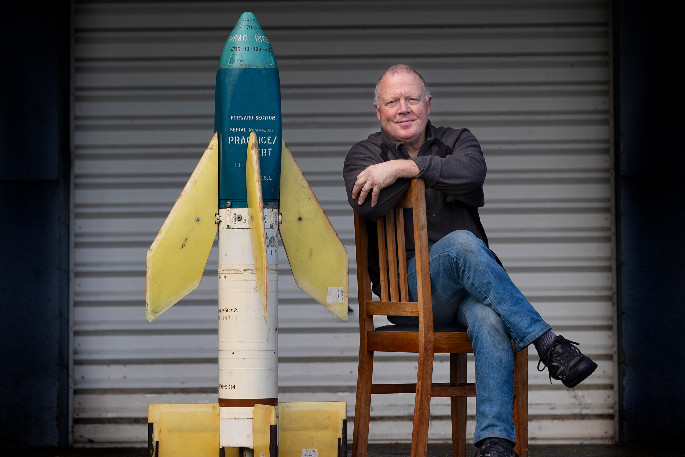 Dave has been collecting military memorabilia for 46 years.
"I have visited a lot of the battle fields and cemeteries in France and Belgium and places like that. It's just something that started. In 1974 I think I kicked it off and collected all sorts of bits and bobs over the years."
His impressive collection, which includes two tanks, is safely hidden away. A lifetime of collecting that would be the envy of even a well-stocked museum.
Back at his house he's happy to share his passion for collecting, standing beneath a tiger moth propeller, inherited from his grandfather who served in both world wars. But he's equally as worried that people don't understand and are fearful after the events of last year – the mosque shooting in Christchurch.
"It wasn't our fault. It was the police vetting system. They let it down."
So now, law abiding citizens can no longer pursue their passion for semi-automatics and automatic weapons. They had to cash them in and now they need a new hobby.
"It's just been a nightmare really [the shooting last year]... it has sort of taken away the semi-automatic style of collecting and now people are going back to the bolt action rifle collecting sort of thing. The money they have got they are spending in the older style stuff."
The upcoming Tauranga Militaria Show is evidence of that with 86 exhibition tables booked so far, which means enthusiasts will have a vast array of 'bits and bobs' to peruse.
Which brings us back to Dave's Seacat (surface to air) missile. It will be sitting on one of the tables and he is confident he will get more than $1000 for it.
Like a lot of things, he purchased it and asked questions later.
"You grab things when they are there and then you find you haven't got room for it so it has to go somewhere."
He initially tried to sell it on TradeMe three years ago but the police turned up and took it away. It was returned just last month after being checked out by the navy and stamped it 'free of explosives'.
"It went through a lot of drama with the cops taking it off me because they thought it was full of explosives… I had to go to court to get it back."
But if you want to hear the story from Dave himself you will need to head to the Militaria Show at the Greerton Hall on August 15-16; from 9am to 4pm on Saturday and 10am-3pm on Sunday.
More on SunLive...