World class athlete wins BOP cross-country champs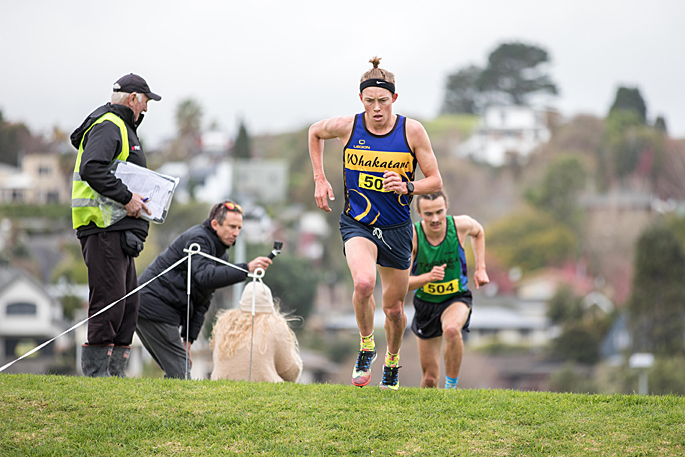 Two Bay of Plenty athletes have secured a place in the National Cross-Country Championships after taking out the top spots at the Waikato-Bay of Plenty champs.
Hayden Wilde came first in the senior men's 10km beating Tauranga's Samuel Tanner by just 38 seconds in the race at Waipuna Park on Saturday.
Craig Kirkwood coaches both runners and says they are pleased with their results.
Sam ran the Steigen 3000m challenge in Hamilton last week and broke the New Zealand junior 3000m record with a time of 7.57.57 minutes.
Hayden came in second in this race just a few seconds behind Sam.
Craig says longer races are more of Hayden's wheelhouse, whereas shorter track races are Sam's domain.
The two athlete have been training heavily for these races, says Craig.
Sam is exclusively a runner so trains most days and triathlete Hayden trains for 25 to 30 hours a week, either running, swimming or cycling.
As their coach Craig writes their training programmes and ensures they're not training to hard.
"I monitor all their workouts to make sure that they're getting out of it, what we want. They're not racing those workouts and going too hard. There is a danger if they end up racing all the time that they destroy themselves."
Despite being competitors the pair train together really well, says Craig.
"They're both world-class athletes in their own disciplines."
He says the calibre of the athletes at the Waikato-Bay of Plenty championships was really high but he would have loved to see more people participating.
"The talent that was there was really good.
"It was a good mix of athletes from different sports all thrown in together. It's cool to see that, but there was certainly a lack of strictly runners."
Hayden is part of a super league triathlon series and could be competing in Europe soon, if he doesn't, he and Sam will head to Dunedin for the national championships on August 29.
More on SunLive...