Average Tauranga house price now at $794k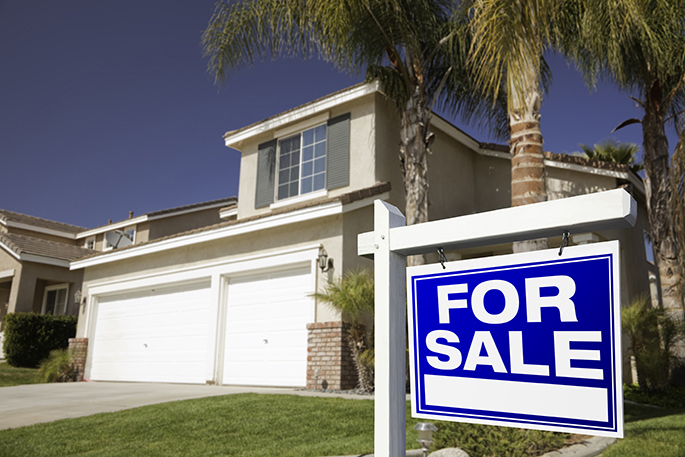 The latest QV data for Tauranga shows an average increase in residential property prices of 2.5 per cent over the past quarter and 7.5 per cent annually, bringing the average house price up to $794,004.
The number of new building consents issued by the Tauranga City Council has rebounded to pre COVID-19 lockdown levels.
Almost 60 per cent of the building consent value was issued in the Papamoa and Mount Maunganui suburbs and just over 25 per cent of consent value was issued in the Otumoetai and Bethlehem suburbs.
"Tauranga is one of the cities likely to appeal to the many New Zealanders returning from overseas," says QV Property Consultant Derek Turnwald.
"Employment prospects are strong and the city offers housing that is comparatively more affordable than Auckland.
"This is likely to ensure sales are strong particularly in the mid to high value range."
He notes that Tauranga still had a lack of listings while property owners wait to see what the future will hold with the uncertainty around COVID-19.
Nationally, the average value increased just 0.4 per cent over the past three month period, down from 1.3 per cent in June, with the average value now sitting at $739,151.
This represents an increase of 7.5 per cent year on year, almost unchanged from annual growth of 7.4 per cent last month.
The average value in the Auckland Region sits at $1,077,237, down 0.2 per cent over the last quarter, with annual growth at 5.1 per cent, down slightly from June's year-on-year growth of 5.4 per cent.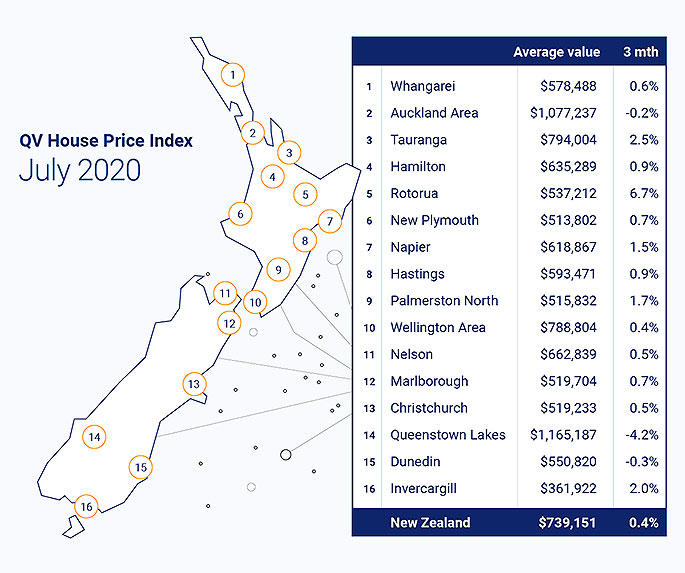 QV General Manager David Nagel says the QV House Price Data continues to reflect a gradual decline in quarterly growth in July, with the vast majority of the big towns we monitor showing a reduction in the rate of growth since June.
"But more importantly three of the locations have actually shown a decline in value levels since the end of April."
Auckland, Queenstown and Dunedin all showed values had fallen back over the past three months with Queenstown Lakes hit by the biggest fall losing 4.2 per cent over the past quarter.
"Dunedin is probably the biggest surprise, recording a 0.3 per cent decline over the past three months. However, it needs to be read in context given values have increased 20 per cent over the past year.
"There's been plenty of hype around demand and we're still seeing well attended auctions and open homes, especially for the more affordable housing stock. This has resulted in strong transaction numbers in the past few weeks, leaving limited stock. But there's also a lot of properties that aren't selling as buyers exercise both caution and patience as they search for a suitable property.
"Unfortunately first home buyers are competing head-on with the more buyer savvy investors and this has created a bottleneck of demand in the more affordable locations and property types.
"However, this has provided a level of confidence for developers to continue to feed the supply pipeline with the creation of new developments.
"Cashed up investors will also be keeping a close eye on the Residential Tenancies Amendment Bill, with anecdotal evidence of some investors holding back from adding to their portfolios until greater certainty of the political landscape. This has helped first home buyers more than hold their own in gaining their share of the market, particular at the affordable end.
"We're seeing some predictable value trends mixed with unusual data as the market tries to adjust to the uncertainty of the market, especially with an election looming. Reductions in value for tourist towns like Queenstown were forecast early, however the strength of towns like Rotorua were more surprising and likely a reflection of strong local tourism demand.
"A lot of commentators are looking at the strong annual value growth which is tracking well at 7.5 per cent however, what people need to be aware of is that most of that growth occurred in late 2019 and early 2020. The QV HPI quarterly data provides a better market barometer and the steady declines we're seeing in value growth even before the economic stimulus initiatives come to an end, creates some concerns.
"With an ounce of luck, including keeping our borders secure, we may get away with just a 5 per cent correction in property values by the end of 2020.
"That would be a great result given the exceptional value growth experienced throughout most of the country over the past two years. But there's still a lot that can go wrong over the next few months and we're not out of the woods yet."
A full breakdown of the QV House Price Index figures for July 2020 is available by clicking here
More on SunLive...