UPDATE: Woman charged for isolation hotel breach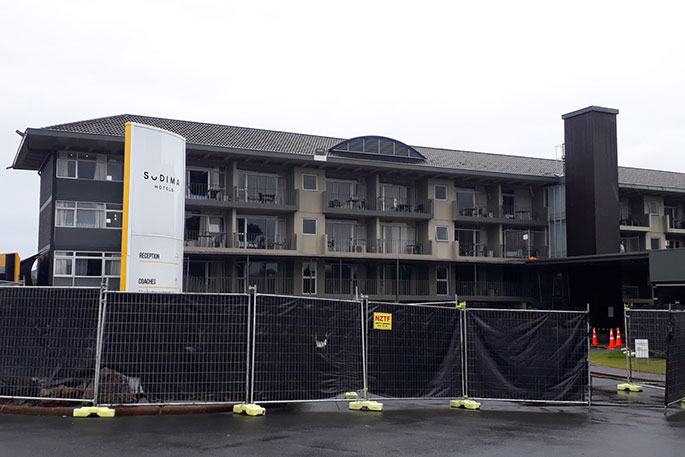 A woman has been arrested and charged after she allegedly pushed over a fence and tried to enter a Rotorua hotel being used as a managed isolation facility.
According to a statement from the Ministry of Business, Innovation & Employment Managed Isolation and Quarantine, the 45-year-old woman tried to enter the Sudima Hotel about 9.40pm on Wednesday night.
"A person was apprehended by Police after allegedly pushing a fence at the perimeter of the Rotorua Sudima managed isolation facility," the statement reads.
"The person did not come into contact with any other person at the facility or enter the building.
"They were arrested by police and have been charged with unlawfully being on the property."
Police say she was on the hotel grounds for a very brief period before she was seen by a police officer stationed at the facility.
Previous breaches at managed isolation facilities have involved people trying to leave the properties, with the latest on Tuesday when a man attempted to walk out the front door and a security guard intervened.
The person was handcuffed and taken back to his room where he received a strong verbal warning from police, says Air Commodore Darryn Webb.
Earlier this week, a woman was given a suspended sentence for fleeing managed isolation at the Pullman Hotel in Auckland on July 4.
In sentencing, the judge described the lack of any mental health assessment and additional care for those suffering from such issues in managed isolation as "a major failing".
There have been no other reports of people trying to enter managed isolation or quarantine facilities.
- Additional reporting by RNZ.
More on SunLive...