BOP addicts' families to benefit from $15k grant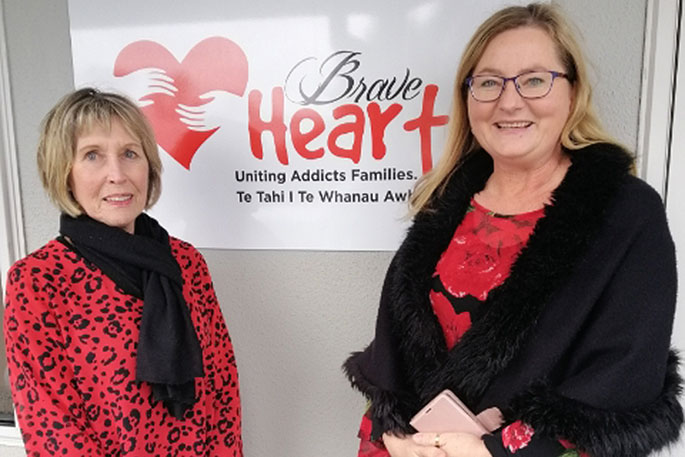 A substantial grant from BayTrust will ramp up the fight against methamphetamine and drug addiction in the Bay of Plenty by supporting the family members of those battling substance abuse.
Brave Hearts is a charity founded in Tauranga four years ago which now operates support groups nationwide.
They have just opened their first office in Girven Road and the $15,000 grant will be used to help cover operating expenses including a free helpline.
"The helpline receives about 30 calls a month. It's quite an expense but it encourages people to call from anywhere in the region," says Brave Hearts founder Erin O'Neill.
"If it's free, families are more inclined to associate that in their mind with help and support."
One-on-one sessions are held with families in Tauranga along with twice monthly support group meetings to educate people on the early warning signs of substance abuse.
Advice is also given on how to best support loved ones through an addiction.
"My passion is the parents," says Erin,whose own son was addicted to meth on and off for 10 years.
"The naïve person that I was, not knowing about the little plastic bags I found in his room or why the light bulbs in our house kept breaking… we now have a presentation that shows all of these signs. The addicts need professional medical help themselves but the family also needs help. And at some stage, when they're both ready, they can come together."
Erin's son is now drug-free and working full time with teenagers in Auckland to overcome similar problems.
Supporting him through his addiction journey took a huge toll on Erin's own mental and physical health.
She moved to the Bay of Plenty seven years ago for a fresh start but was dismayed to find meth was an even bigger problem here, prompting her to launch Brave Hearts and put her own knowledge and experience to good use.
"Part of what we do at Brave Hearts is to let people know to be quite vigilant and to watch out for behaviour patterns that change. Don't just think it's adolescent hormones, which is what we put it down to with our son."
Brave Hearts hopes to launch a new school-based programme in the Bay of Plenty in the near future to reach more parents who suspect their child may have a drug or alcohol habit.
"Teens are really scared to say 'I'm on meth' because it's illegal. You have to know what to watch out for."
Erin is most grateful for the "generous" BayTrust grant as Brave Hearts doesn't receive any government funding.
BayTrust CEO Alastair Rhodes says it's alarming to realise just how widespread methamphetamine addiction is in our Bay of Plenty communities.
"It's destroying lives and taking a terrible toll on families. While there is funding and help available for addicts themselves, we applaud Brave Hearts for looking after the unseen victims – the parents, grandparents, siblings, and children who want to help but just don't know where to start.
"We hope Brave Heart's new Tauranga office, and this $15,000 operational grant, will make a real difference and ultimately help support people to kick their substance abuse habits."
BayTrust's purpose is to provide charitable, cultural, philanthropic, recreational, and other benefits to Bay of Plenty communities through accelerating bold meaningful change, assisting local communities and the environment to flourish.
More on SunLive...