Reducing costs for 'crazy expensive' school balls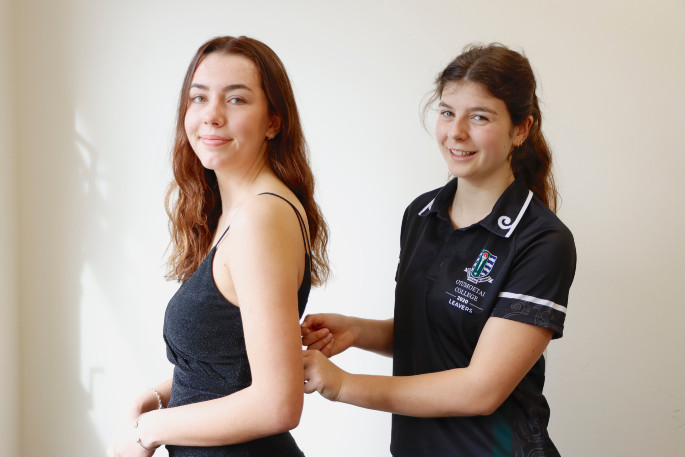 Otumoetai College student leader Baylee Dyer believes every girl deserves to experience their senior ball.
But, she says, not all students can afford to pay hundreds in preparation for the event - buying a ticket, a dress and getting hair, nails and make-up done.
So the Otumoetai College student has started a not-for-profit ball gown rental services to help combat the high cost associated with the formal events.
The idea came about after someone donated four dresses to the school for students struggling to afford dresses.
"I am involved with planning our school ball and after I collected the dresses I realised I could do much better than just the four. It took off from there."
Baylee then made contact with more than 100 current and past Otumoetai College students, asking if they would consider donating dresses to the cause, or selling them to her at a low cost.
"I have about 45 dresses now. It took me a long time to collect the dresses from around Tauranga and I got some posted in from Auckland and just paid for the postage."
She spent about $125 of her own money buying dresses and paying to have some dresses shipped to Tauranga.
Baylee told The Weekend Sun that cost shouldn't prevent students from attending their school ball.
"The ball is a part of your Year 13 experience, the cost of it shouldn't be the final deciding factor."
However, she says paying for everything can be "crazy expensive" and it's important to reduce the cost where possible.
"I went to the ball last year and it was crazy expensive. Especially for people going to more than one ball – it can really become a tax on the bank account.
"For a ball ticket at our schools it costs $80, makeup can cost anywhere between $40-80, nails cost about $25 and you can go crazy with dresses.
"My dress last year cost $150, but I do have friends that spend even more than that."
The not-for-profit, which is open to all Tauranga students, allows people to pay what they can for dress rental.
"People so far are offering between $10-25. They can pay the price they are comfortable paying – I will take everyone's offer," she says.
About 12 students are renting dresses from Baylee for the Otumoetai College ball coming up this weekend.
The proceeds of the gown hire will be used to dry clean the dresses and purchase more for the collection.
She hopes to see the initiative grow in years to come and is looking for someone to help carry it on next year.
To donate a dress to the cause, or for more information, email: dyerb@stu.otc.school.nz or visit: www.instagram.com/tga.ball.rentals
More on SunLive...